My first Solo Interstate ride On the 200 NS( 1870 kms, 4 Days, 3 States)
by surojit sadhu
(0 Votes, 5 Average Rating )
"Something happens at around 110 kmph - thunder-headers drown out all sound, engine vibrations travels at a heart's rate, field of vision funnels into the immediate and suddenly you're not on the road, you're in it. A part of it. Traffic, scenery, cops - just cardboard cutouts blowing over as you past. Sometimes I forget the rush of that. That's why I love these long runs. All your problems, all the noise, gone, and when you are alone in these circumstances, when you and your steed are really lonely, you feel really alive and you feel like you know who you are, what you want to do and you become one with your steed." – copied and edited to suit the needs...
I guess the will to do a solo ride, no matter how small was always there within me, But given my previous bike I wasn't confident enough to venture out alone.
The 200 NS gave me immense amount of confidence and I knew I can do a solo ride for any number of kms on it.

Wednesday 19th September, being Ganpati festival and a off-day at office,I decided to go for a ride, My First Solo ride from 16th-19th September. Others being busy with Ganpati decided to skip the ride, hence it was me and the NS, Lots of Apprehension, lots of 'its risky, lets not do it', lots of 'what if' came across but at the end we decided to do it. Some details :

Bike: Pulsar 200NS

Decided Route : Navi Mumbai - Hubli –Hospet –Hampi – Sirsi – Unchali falls – Yellapur – Dandeli – Navi Mumbai

Route Taken: Navi Mumbai - Hubli –Hospet –Hampi- Hubli - Dharwad - Dandeli - Molem - Goa - Belgaum - Navi Mumbai

Route Map.

Total kms covered: 1868
Total days : 4
Total Expense : INR 7900/-
Preparations before the ride:

Luggage Carried: I took a JoeRocket backpack from Ashutosh (xbhp id: Hyperion), stuffed in my luggage which included: a small first-aid kit, chain lube, camera cleaning kit, human-cleaning kit, my camera bag, a black cellotape, a few meters of thread, a double sided tape. After stuffing all these in the bag I noticed that I don't have any space for my clothes (which included one denim, 3 t-shirts and 5 pairs of inner wears- I guess riding with wet undies is most uncomfortable, hence the extra care) and my raincoat, hence decided to strap them to the pillion seat with a bungee net.

Extra Spare Parts taken: None
All the routes and distances were chalked out using google maps, and since I had google maps on my phone, I was not worried about anything. But however I had noted down some major points where i could get confused in a piece of paper and also the distances between major towns were noted down in the same paper.

But before I start the log, let me thank MG for letting me use his lens for 4 days.

DAY 1: The Initiation

Route Taken : Navi Mumbai -> Hubli -> Hospet -> Hampi

Route Map (Day 1)

Initial plan was to start the day at 4:00 AM and reach Hampi by 4:00 PM. But on seeing the map and speaking with a few people who have been to Hampi before, it looked very difficult. The total distance to be covered was around 750 kms.
I had set my alarm a 3:00 AM, and thanks to my late sleeping habits, I didn't realize when the alarm rang, when I got up it was already 3:40 AM, hastened up and I was ready to leave within 50 minutes, I was carrying my luggage in a backpack and some clothing were strapped onto the pillion seat using a bungee net. The plan was to take minimum breaks.

4:30 AM: I started rolling, since I live in Kharghar, I was on the highway within 10 minutesJ. I love to ride at this hour, minimal traffic on road, which means maximum speed. I wanted to start early and cover Mumbai-Pune in dark, because I know the road very well, well I ride to Pune almost every weekend, so I knew that I can cover this part really well in the dark, and hence wanted to reach Pune by dawn. I need to mention that the 55W headlamp of the 200NS does a fantastic job.

I had strapped my raincoat in the bungee net, it started raining when I was near the JNPT phata, so I took my first stop and put on the rain coat, and within 5 minutes the rain stopped. I was irritated, but decided not to stop again till I each Pune. I was easily doing 110 kmph+ till Pune. Once the daylight broke in I decided to increase the speed so that I can reach Hampi by sunset. I crossed Pune in no time.
I was well aware of the diversions that are there on NH4 after crossing Pune, in one such diversion the road was pretty bad and I was doing around 60 Kmph, when suddenly the car on my left decided to avoid a pothole and turned right and to avoid him crashing into me I had to accelerate and once I accelerated, immediately I saw a huge pothole just at the point where the diversion road joins the main road. I was like "My ride might come to an end in the next few seconds", having no option I decided to stand on the footpegs and just go with the flow. Luckily 200NS's stability and handling saved me. After that I said to myself "I need to cool down, best is to take a break".

6:40 AM: Reached McD at Khed-Shivapur, decided to take my breakfast break. I was happy that I was doing good speeds; I have covered ~ 160 kms in barely 2 hrs 10 minutes. So I knew that I had the liberty to take an elongated break. The place was still deserted with only a few others accompanying me. I knew this is going to be a long break as I had to freshen up also. Had a good breakfast with hot coffee and freshened up, and was ready to leave by 7:40 AM.
I guess we both had cooled down by now. I was calculating the distance in Kms and the time in minutes, because of the simple reason that I wanted to cover a km per minute. As soon I was on the highway I was doing 120 kmph+ speeds immediately. I guess it was still too early hence encountered very thin traffic in Khambhatki ghat, once past that I just kept ripping and tripping to the sound of the engine. In no time I crossed Satara and I was very happy with the rate at which I was covering distances.

But my happiness was short lived. Soon after crossing Satara, I got blocked by a convoy of govt. cars; some minister was on the move. They were driving at 75-80 kmph, yes that's good enough speed, but given that I needed to reach my destination before sunset, it became very frustrating after 5-10 minutes. I tried to overtake the last police jeep in the convoy; by the driver made his intentions clear by blocking me efficiently. My friend had once said that the police in the convoy has every right to push you off the road or even arrest you if you try to interfere (I still don't know how true is that). But that had put fear in my mind and the way the police jeep blocked me, I considered it safe to follow them. I followed them for more than 20 minutes, when suddenly a Maruti Suzuki SX4 came and started honking and tried to overtake the convoy, surprisingly he succeeded in doing that. This inspired me and I also kind of pleaded the police jeep to let me through, and in the next 45 seconds I was past the convoy. I was all smiles inside my helmet, and this was a big relief.
Again I started maintaining 125-130 kmph speeds. The bike feels very very stable at those speeds. No issues managing it. I just loved the feel of it. I noticed a lot of policemen on the sides of the road, I guess it was the 'bandobast' for the convoy I left behind. The sight of policemen all around made me rethink the speeds I was doing, but since none of them displayed any interest on the small fast moving object, I decided to continue at my speed. The policemen were there till Karad.

Soon after Karad I had to pull over to fill petrol, my bike did 310 kms before hitting reserve. This also gave me the opportunity to take a small break of 15 minutes. Till now I hadn't clicked a single pic, and being satisfied with the rate at which I was covering distance, I decided that I will take a photo-break once I cross Kolhapur.
As decided once I crossed Kolhapur, I stopped for clicking some pics. I was clicking the highway when suddenly I noticed a peacock near the farms that border the road, but unfortunately I lacked the equipment that could let me capture it, Nonetheless I made some snaps of the highway and pushed ahead. But seriously once we cross Kolhapur the NH4 is a treat, you can literally pin the throttle. The pics would make it even clearer I guess.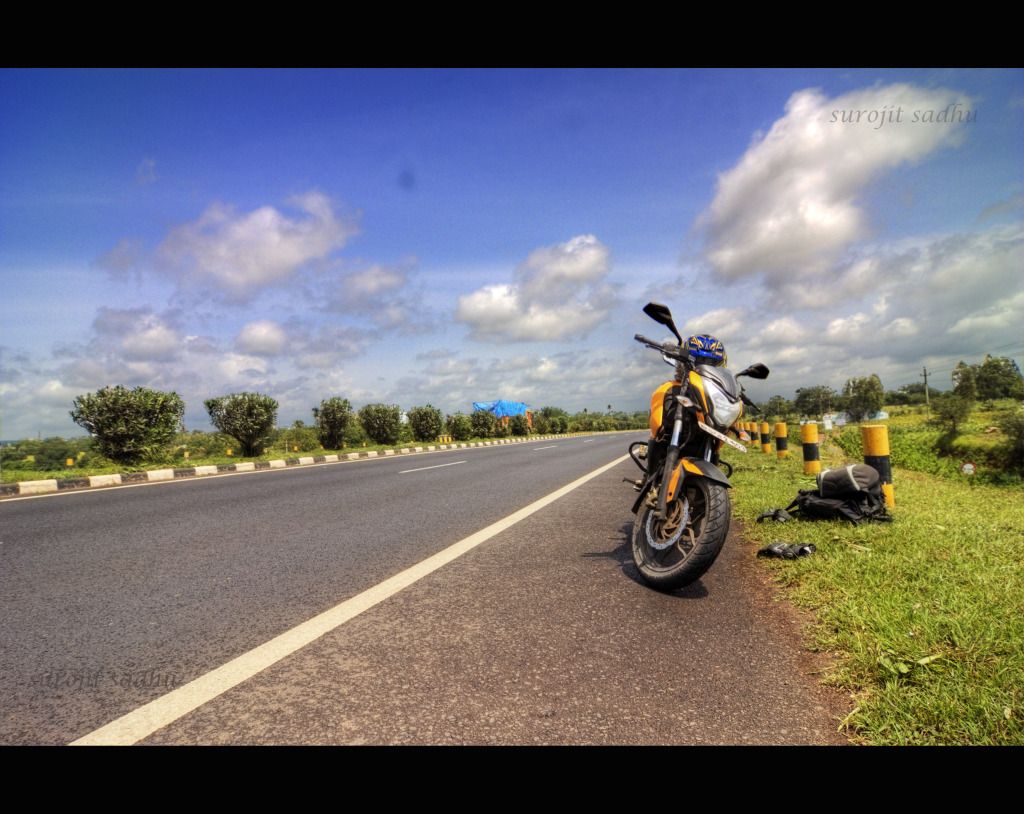 The Glorious boring NH4


1:00 PM: I kept on moving and soon after taking 4-5 water upload/water+minerals download break I made it to Hubli at around 1:00 PM. After asking for directions in the NH4 I came to Hubli town and decided to have lunch there. Had a good full-stomach lunch and was ready to leave by 1:40 PM. Now I had almost 155kms to cover till Hospet and the road was now a two-laned highway, so i knew it won't be possible to reach on time, but I decided to take it easy and to compensate I will skip the Sirsi-Unchalli plan and do just Hampi and Dandeli. This way I will be able to see these places better. I had already covered ~600kms in 570 minutes. But boy-o-boy the NH67 is an absolute delight to ride, Open fields on both sides and smooth tarmac, and what else does a biker need?

I kept on increasing my speed and soon I was again in the 120-125kmph range. But the Beauty of this place made me stop again and again for clicks. I guess I stopped 3 times for taking pics. Each time I packed my camera and moved a few kms ahead, I said to myself "this is a better place to click" and hence had to stop again and again. Here are some pics to justify my breaks.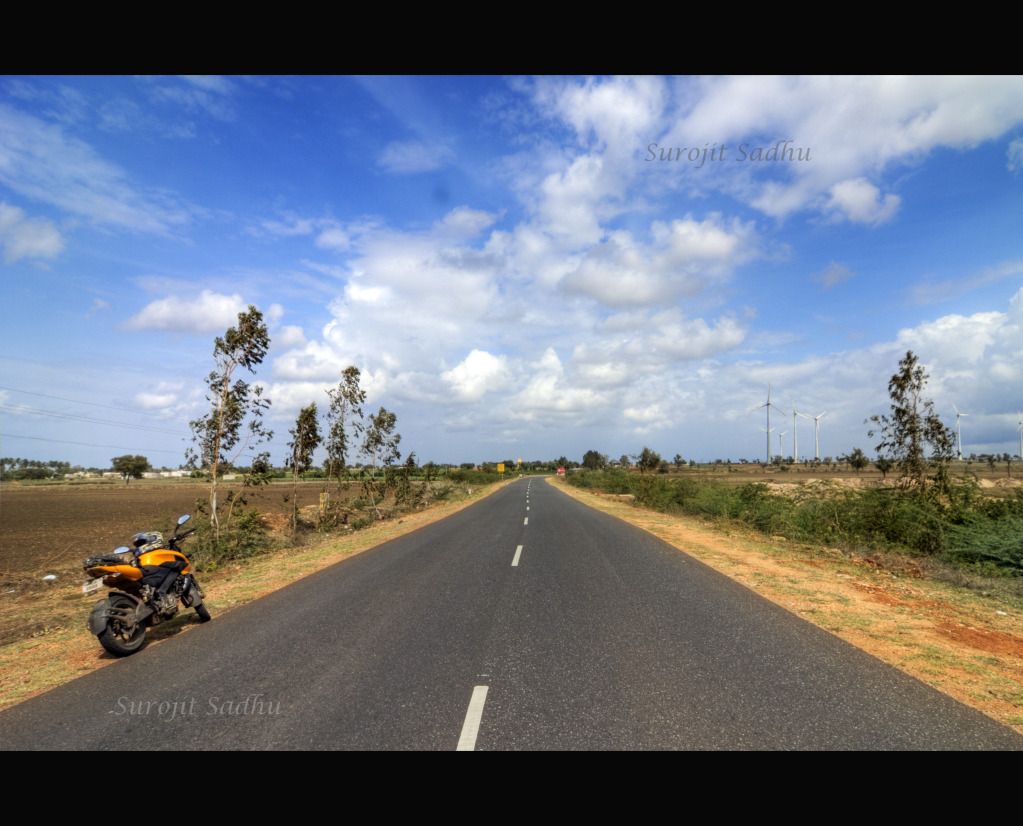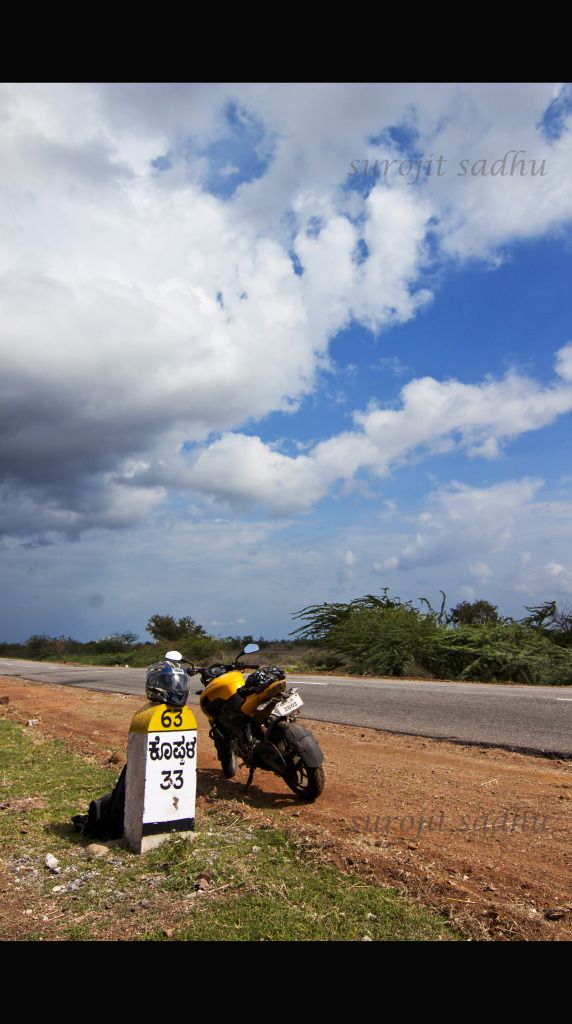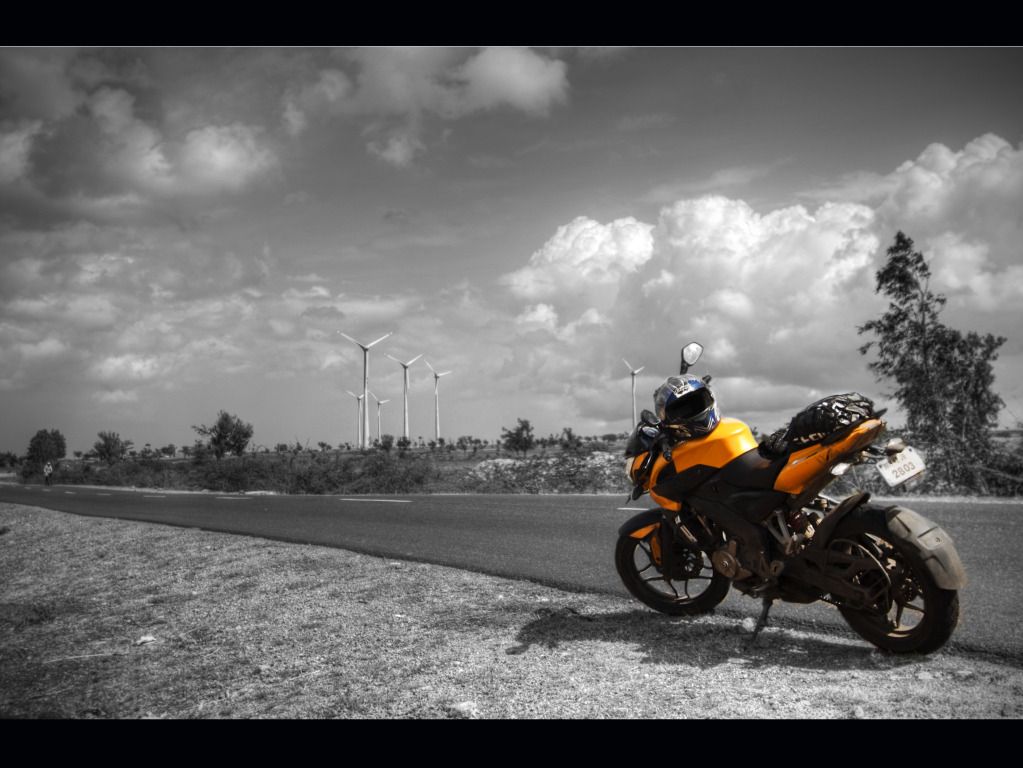 The super-awesome NH67

I stopped to re-fuel my bike once again. This was my third petrol break. Without wasting any time I was again back to 3 digit speeds.
Something really funny happened here. I was doing 110kmps and then I saw a 60 degree right hander ahead. Since I am still not comfortable at tackling right-handed corners at high speeds, I slowed down to the mid 70s. I was full-on in position and as soon I covered the corner I saw a board barely a few meters ahead "TAKE DIVERSION". I thanked god for my fear of right-handers . Because if it were a left hander I would have taken it at much higher speeds and would have been difficult to control. Back to the corner, the diversion wala road didn't help much in comforting me as it could barely be called as 'road'. Thanks to the NS's brakes I got away this time and then I decided to cool down a bit as it was nearly 3:15 PM and Hospet was merely 70 kms away. I knew I could make it on time even if I ride at sub 100 kmph. Enquired with a local about the road, if there are any more such patches, he gave me a green signal and said that the road is not as smooth ahead but there are no surprise-patches like this. But yes the NH67 is littered with speed-breakers, small ones, which can be tackled without touching the brakes.
Once you near Hospet, more particularly Hospet Steel ltd, the size of the speed breakers increases and you should get ready to be harassed by trucks.

4:40 PM: I reached Hospet and without wasting any time took a room in the first hotel/lodge that I saw. I also enquired about the parking options for my bike, as I didn't want to leave the bike unprotected. The conversation that followed is mentioned below:

Receptionist : Ok, so you are on bike, where have you come from?
Me: Mumbai
Receptionist (with a wide open mouth): How many days did you take?
Me: I started today morning at 4:30 AM.
Receptionist : Please tell me the truth.
Me: This is the truth.
Receptionist: Where are your friends then?
Me: I am riding alone.
Receptionist: I don't trust you.
Me: You are most welcome to do so.

After this I smiled at him and went to my room.

Dumped my luggage, got freshened, took rest for a few minutes, unpacked my camera from my bag and then headed for Hampi.
I was truely delighted with the way the NS handled the 760 kms. Yes I have upgraded from a 12 year old CBZ Classic, so doing 760 kms in 12 hrs was not imaginable to me. I would let the pics tell the rest of the story for rest of the day.

I just could visit the Virupaksha temple, So the pics below are all of the same complex.
The Virupaksha Temple Entrance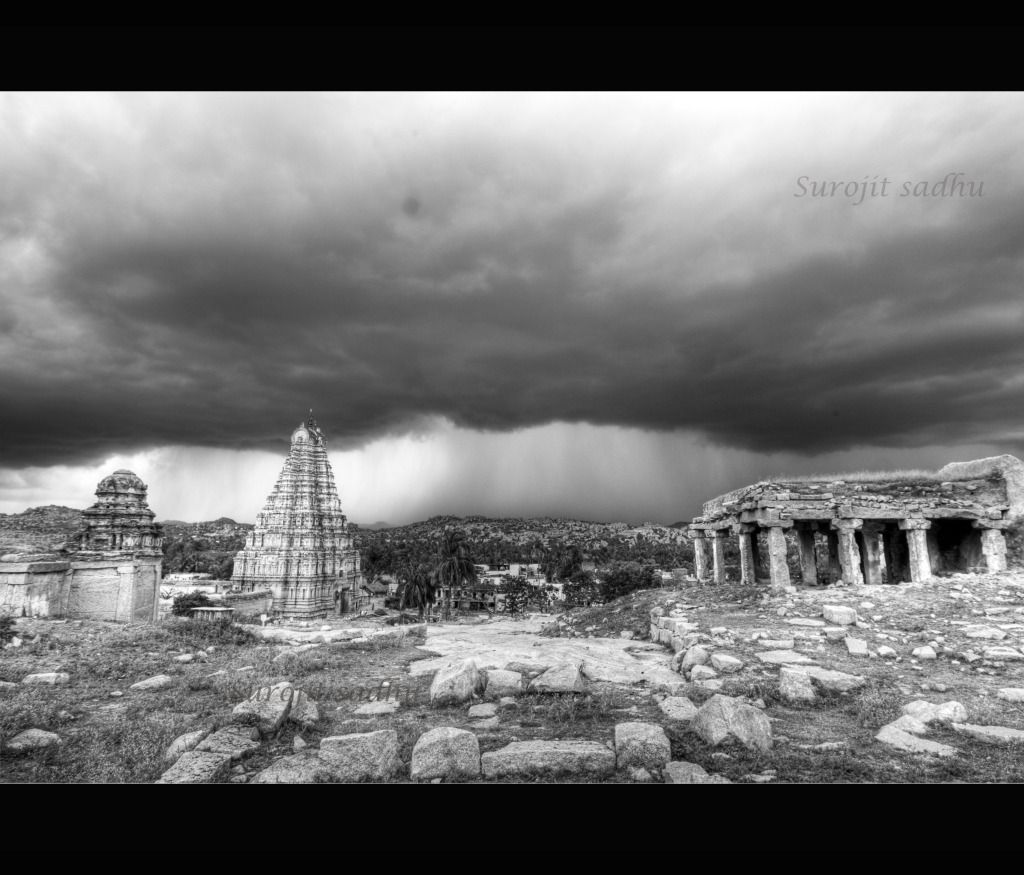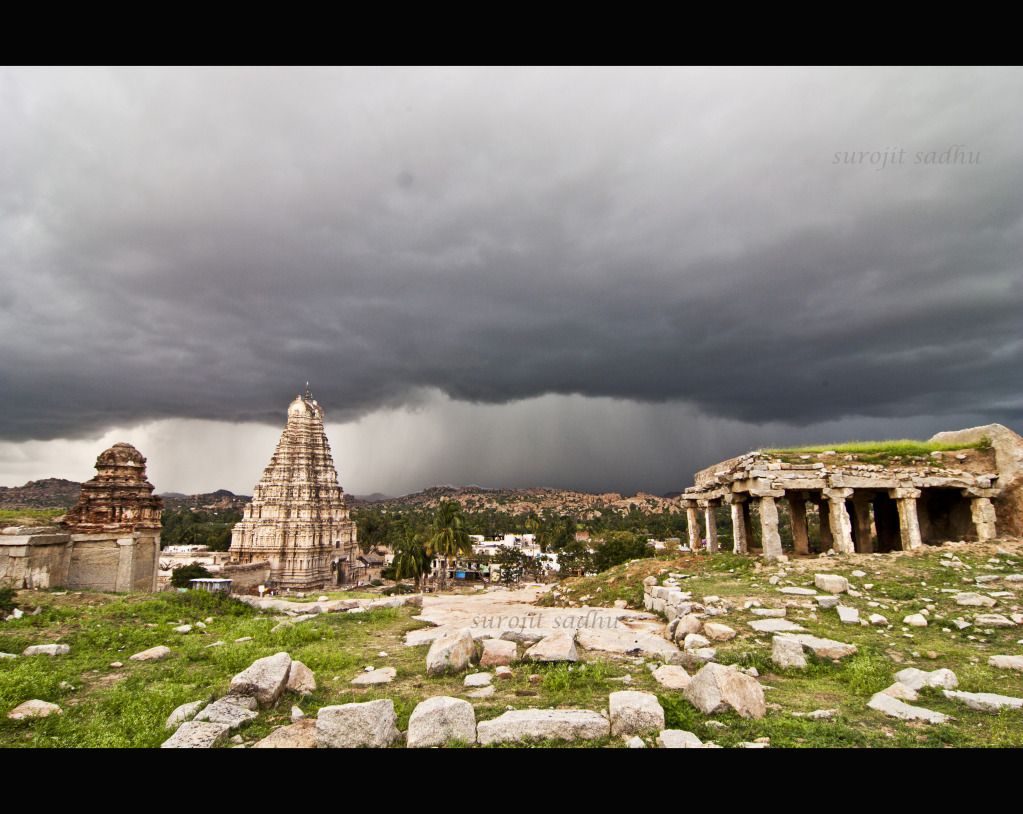 The Virupaksha Temple area with and without Colors.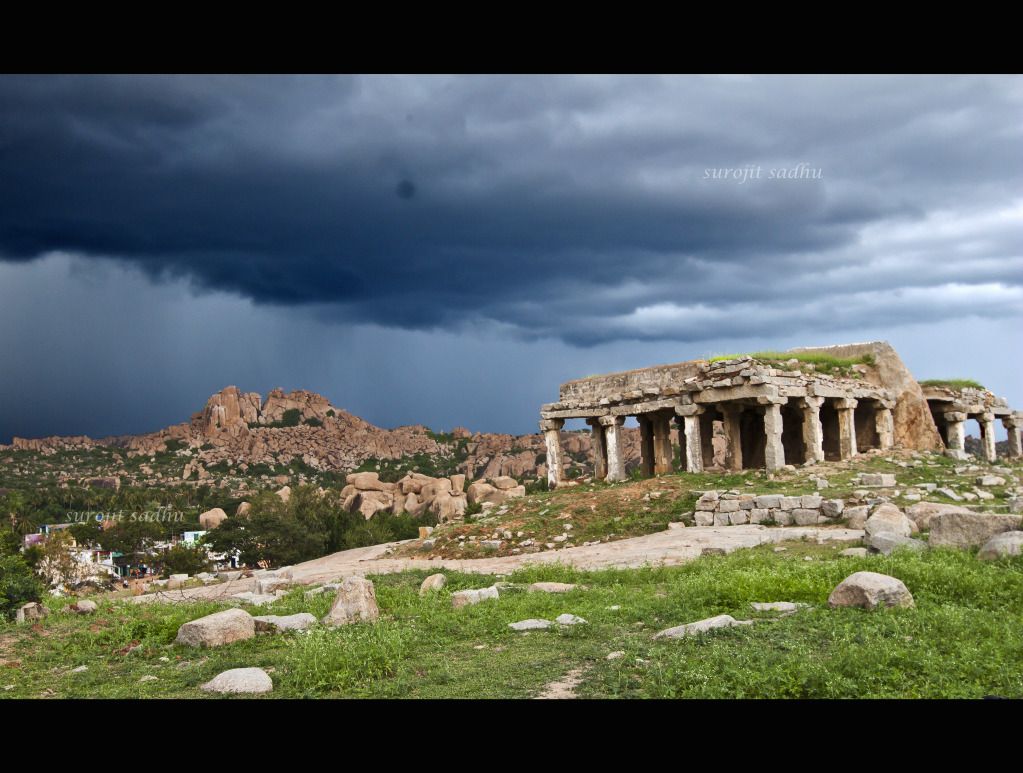 Peace and serenity is what defines Hampi.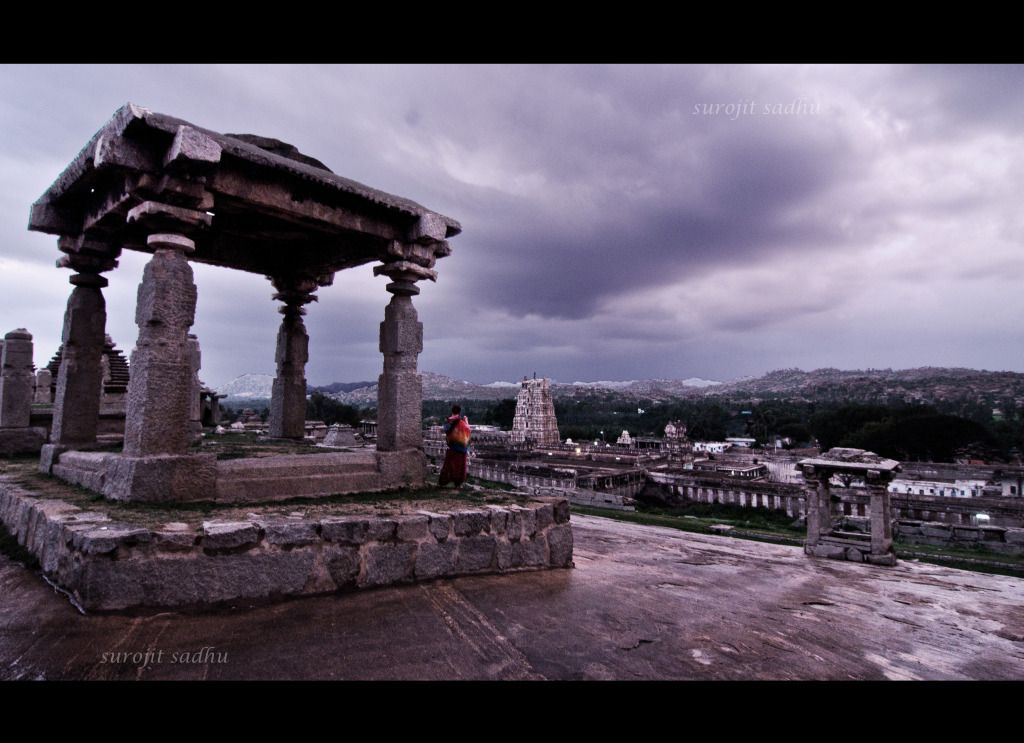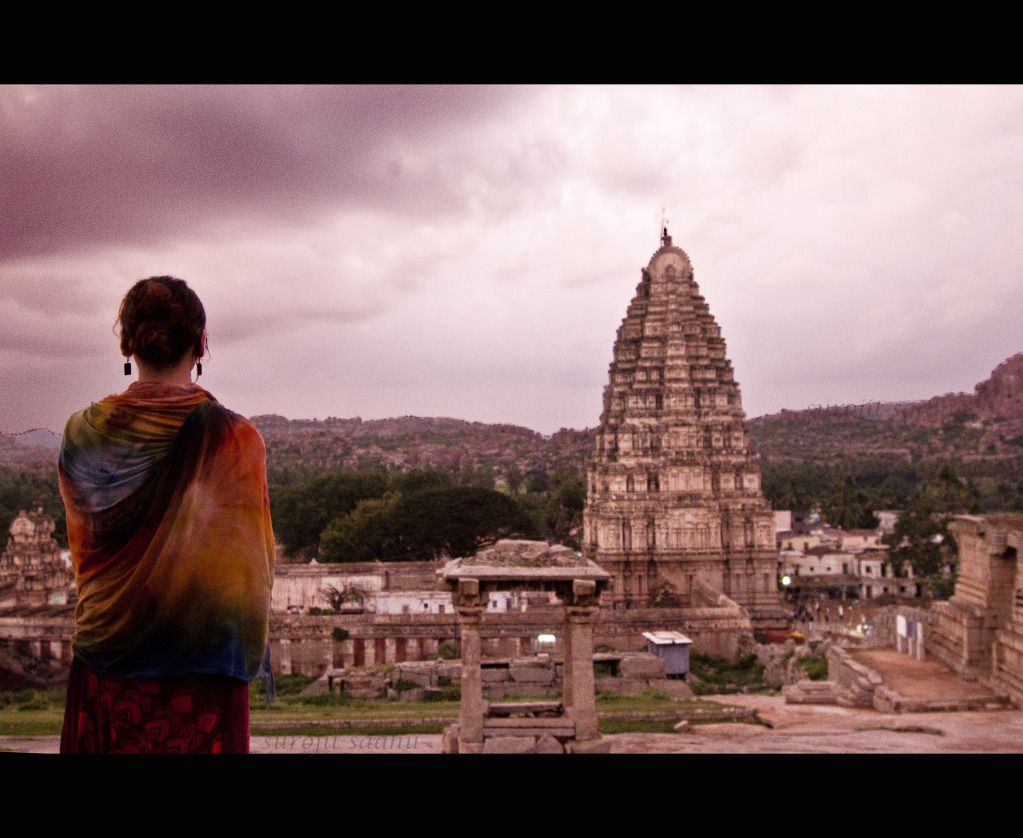 Admiring the Indian Stone Henge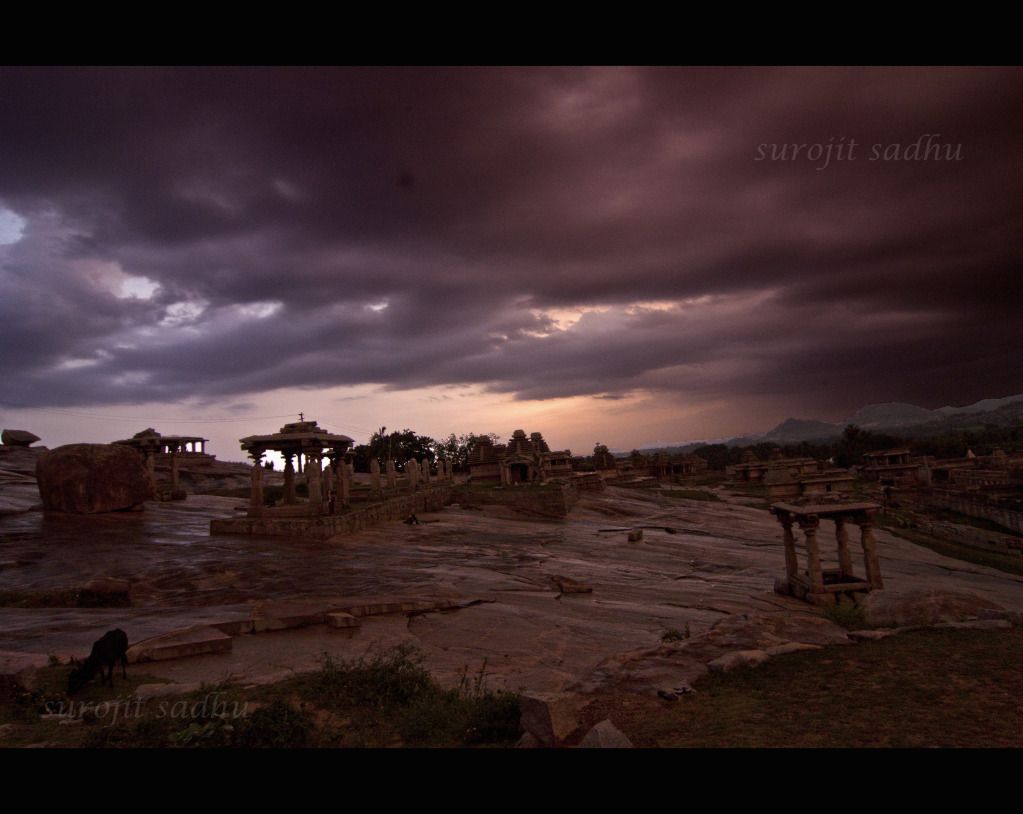 While I was clicking some pics, a security guard came to me and we started having a small conversation and he told me that I can get a room for around 100 INR in the Virupaksha temple complex, he even told me that photographers need to spend atleast 3-4 days in Hampi to get good clicks. It kind of sealed my plan that I will spend my trip in Hampi and then start back for Mumbai from here only.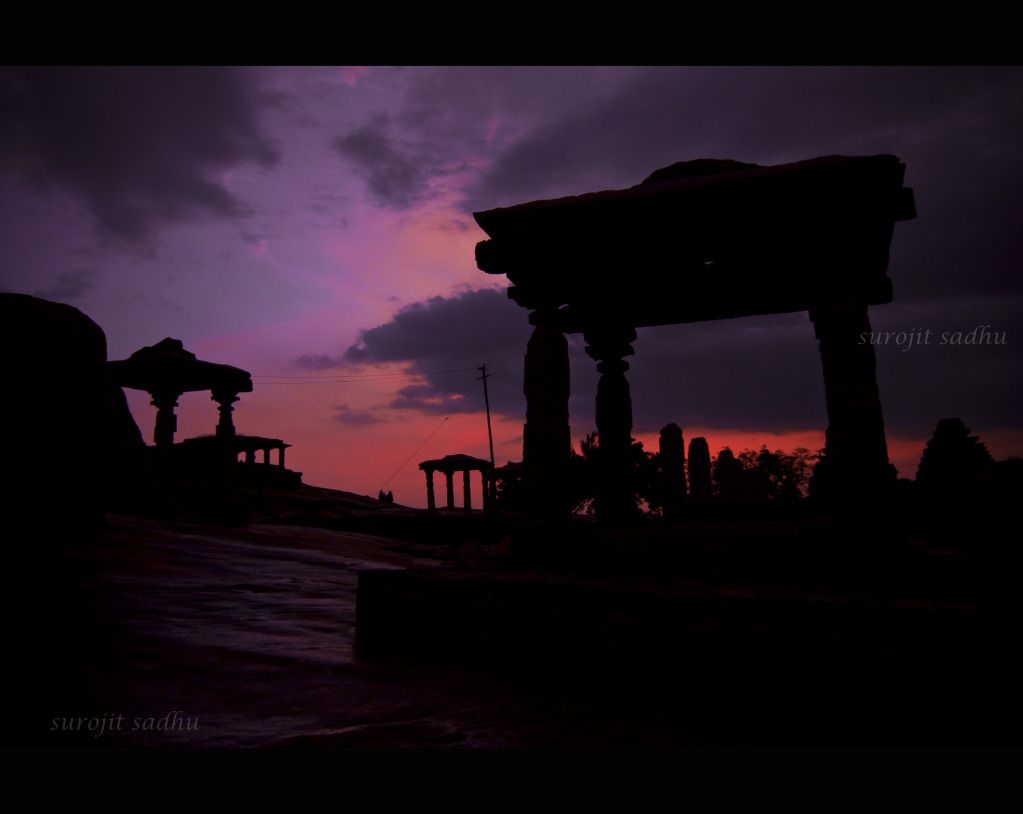 This is why I wanted to reach there before sunset, but I wasnt still satisfied with the Image.
Later when I came back from Hampi in the evening, he again asked the same thing, and all i said was "You don't believe me so there is no point in telling you anything." And then he smiled back, and showed me the place where I was supposed to park it. After being assured of the safety of the bike, I went to my room and ordered food and went to sleep.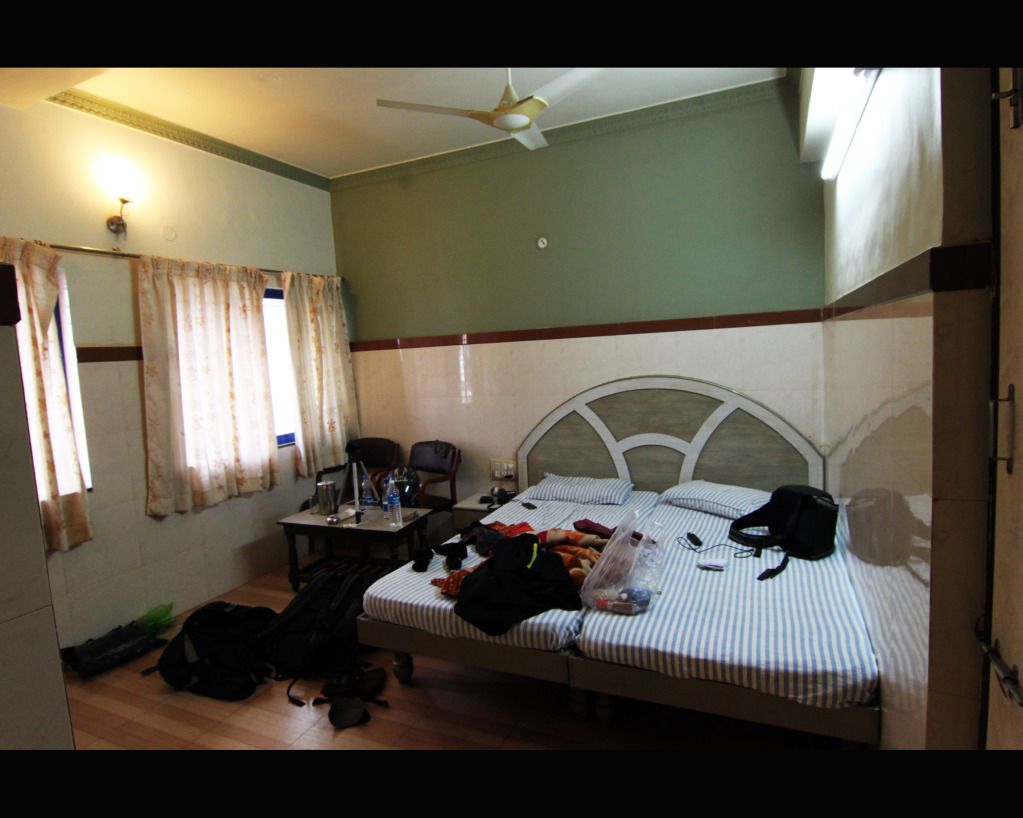 My room for the night for INR 400....
Some points which I forgot to add:

Rain: Apart from the JNPT phata I didn't get rain till Khed-Shivapur. But as it had rained few minutes ago, the road was wet, and whenever I overtook any truck or bus, I was treated with a sometimes-muddy-shower. This needed my left had to act as a wiper for the helmet visor. Once crossed Kolhapur, within 60 kms it started raining again. I was happy. The rain always makes me happy. I started smiling as soon as it started raining. Took this opportunity to clean my visor as well as the head lamps.
DAY 2: The Encounter with KA cops
Route Taken: Hampi- Hubli- Dharwad - Haliyal - Dandeli

Route Map (Day 2)

I had hit the bed early yesterday as I wanted to start the day early. The basic idea was to explore Hampi as much as possible and also to check if I can spend one more day here without getting bored because I had a feeling that I might get bored of the ancient temples at some point of time. Also the thought that I wanted to do other places also. There was a continuous conflict between the Biker and the photographer. Both wanted me to give maximum time to them.

I got up at around 6:00 AM and was read to started for Hampi by 6:30 AM. Most of the shops were yet to open so I decided to see some archeologically relevant places before breakfast. I took my riding gear and started, on seeing this the hotel guy commented " sir you are going just 12 kms, why so much protective gears?" And all I said was ATGATT.

I went to Hampi and from once you enter Hampi you come to a junction kind of point, where if you head straight you will reach Virupaksha temple and if you take a right turn , then the road will take you to Kamlapur. Enroute Kamlapur there are quite a few temples worth a visit there. I just thought of scanning that road first and then go for breakfast and if I find something very interesting then I will come back after breakfast. I went for about 4-5 kms and then decided to turn back as I was feeling hungry. While returning I saw a 'Nariyal-pani' wala on the way, so decided to stop there and have a sip of the healthy fluid.
I had an elongated discussion with the gentleman who was selling 'nariyal pani'. He also enquired about my riding partners, and on learning that I am alone he said that 'many people come here, but very very rare people come from Mumbai alone. He also gave me a list of the things that I should not miss while in Hampi. I told him that I had planned to go to other places also but cancelled the entire plan because of what the watchman had told me previous night. He then said that if I wait for 30 minutes, then he can come with me and show me all the places in a span of 4-5 hours and then I would be able to carry out with my original plan. He advised me not to fall in the trap of the available guides there and offered his service to show me around. I told him that I will go for breakfast and then will come back to him if needed. Before leaving for breakfast I clicked a few pics .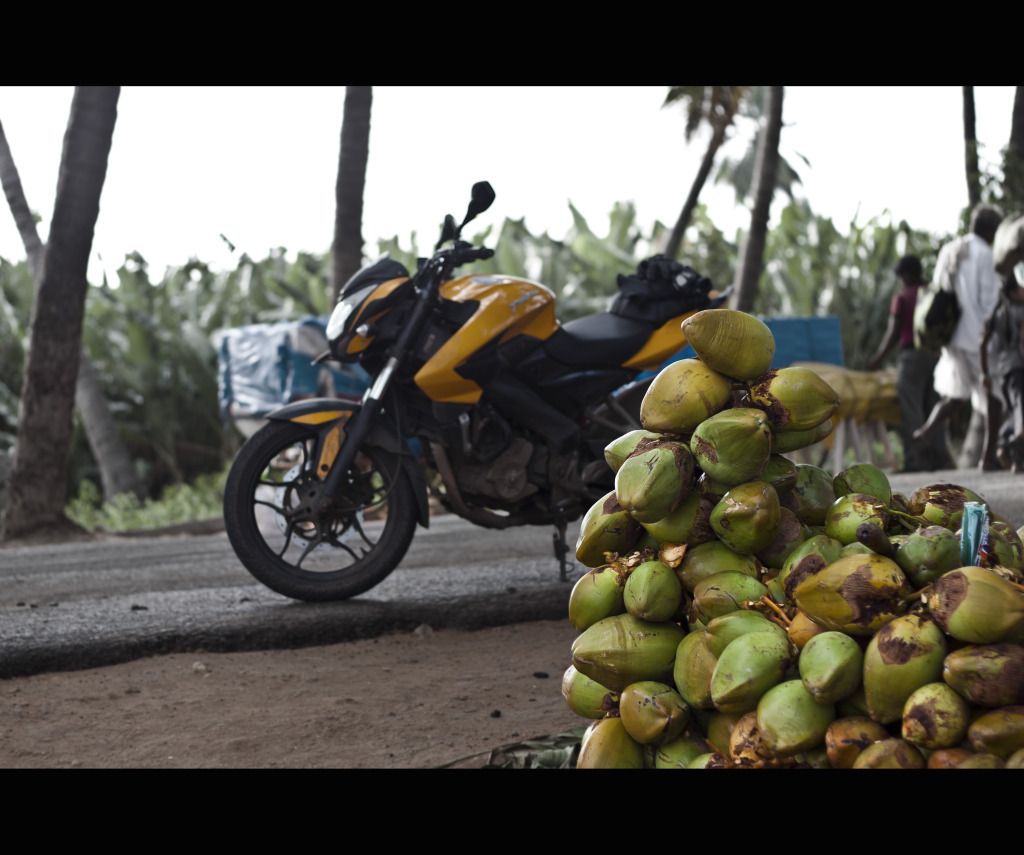 Re-Fueling Break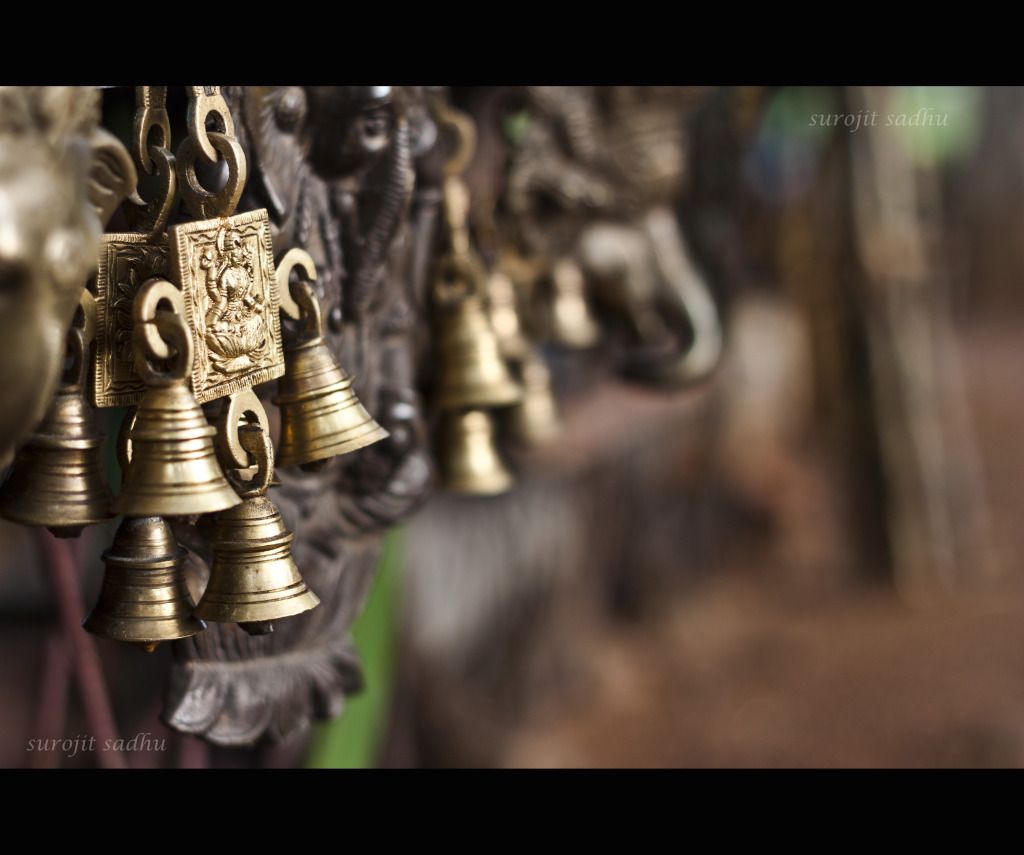 Clicked these at a local thela...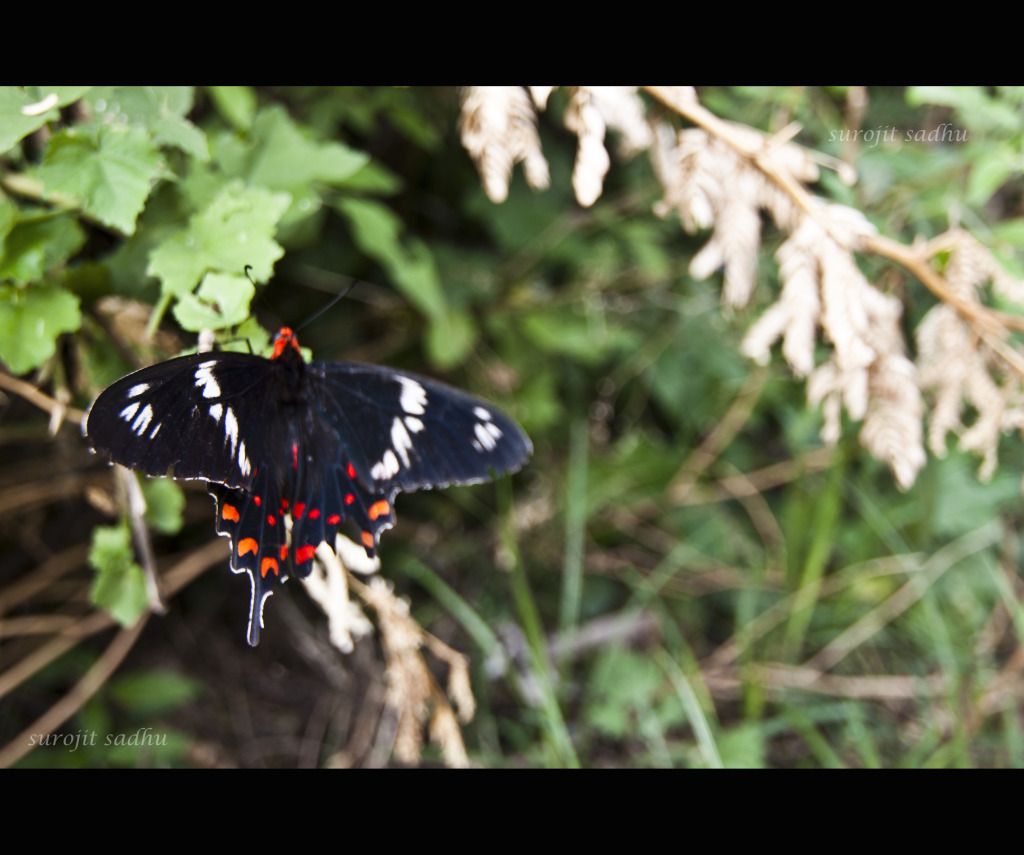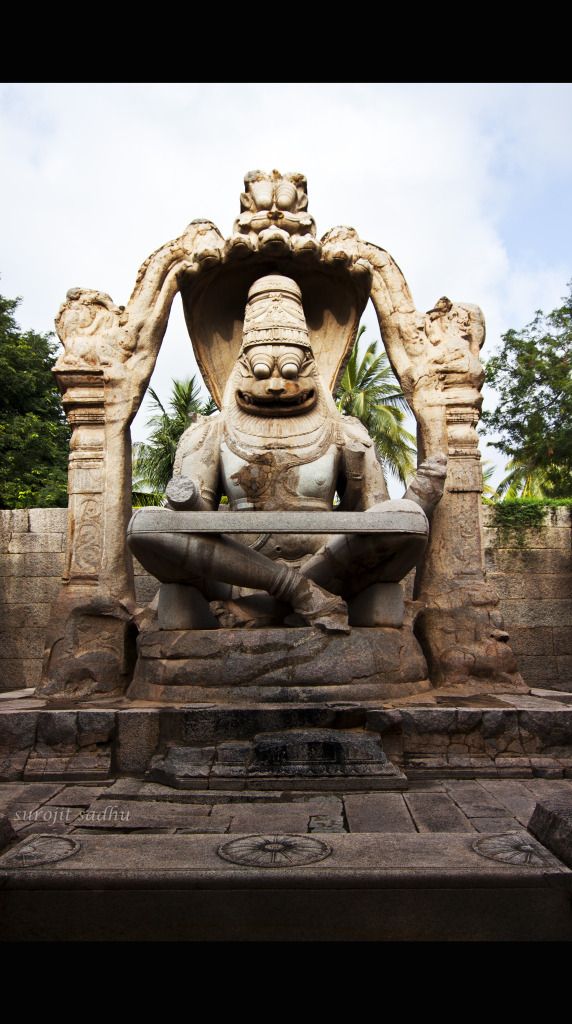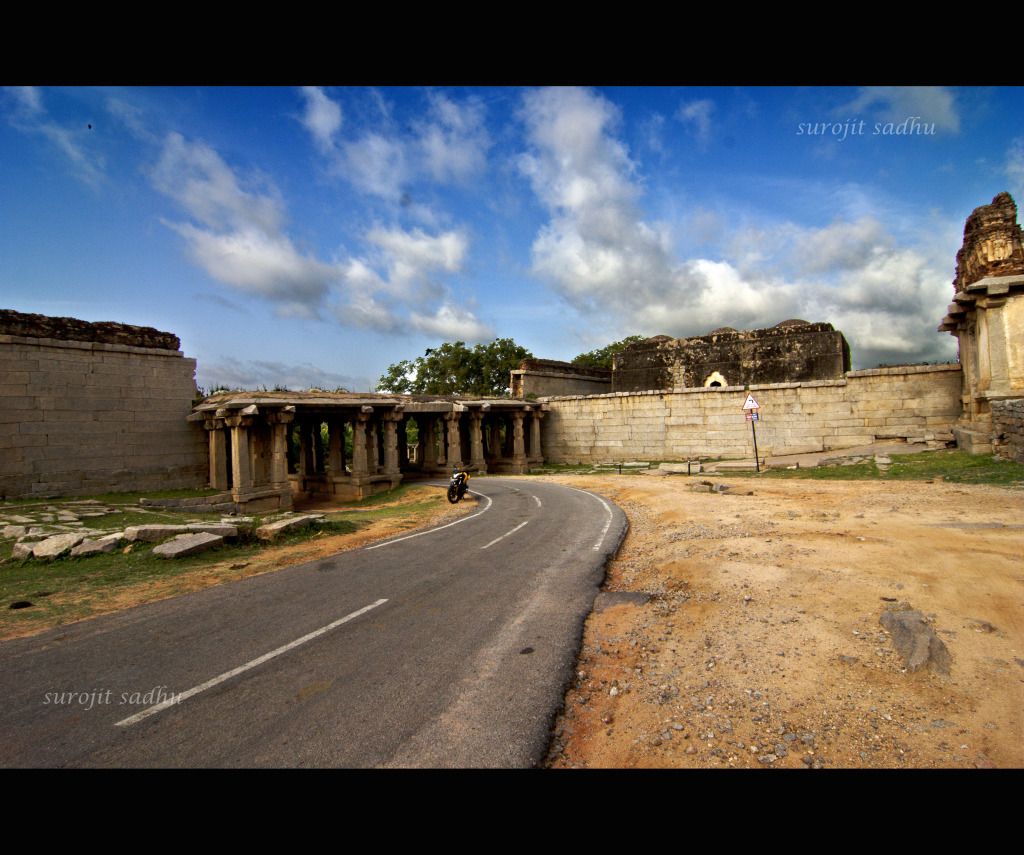 As I was having breakfast, I decided not to go back to him and just see whatever possible on my own. I asked around a few people and they guided me to the places. I guess the pics will speak more about the next 5 hours.
Courtesans-street - Once the liveliest of all the temple streets in Hampi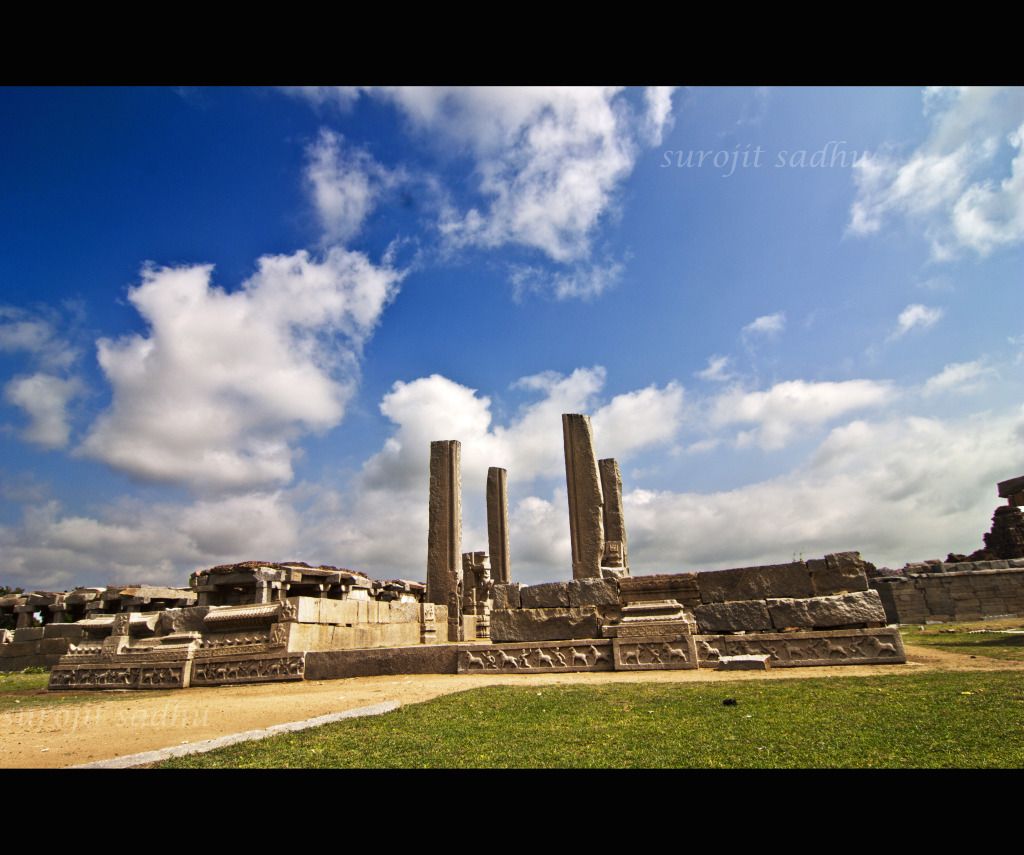 The Remains some temple
The entry to the Vittala temple complex.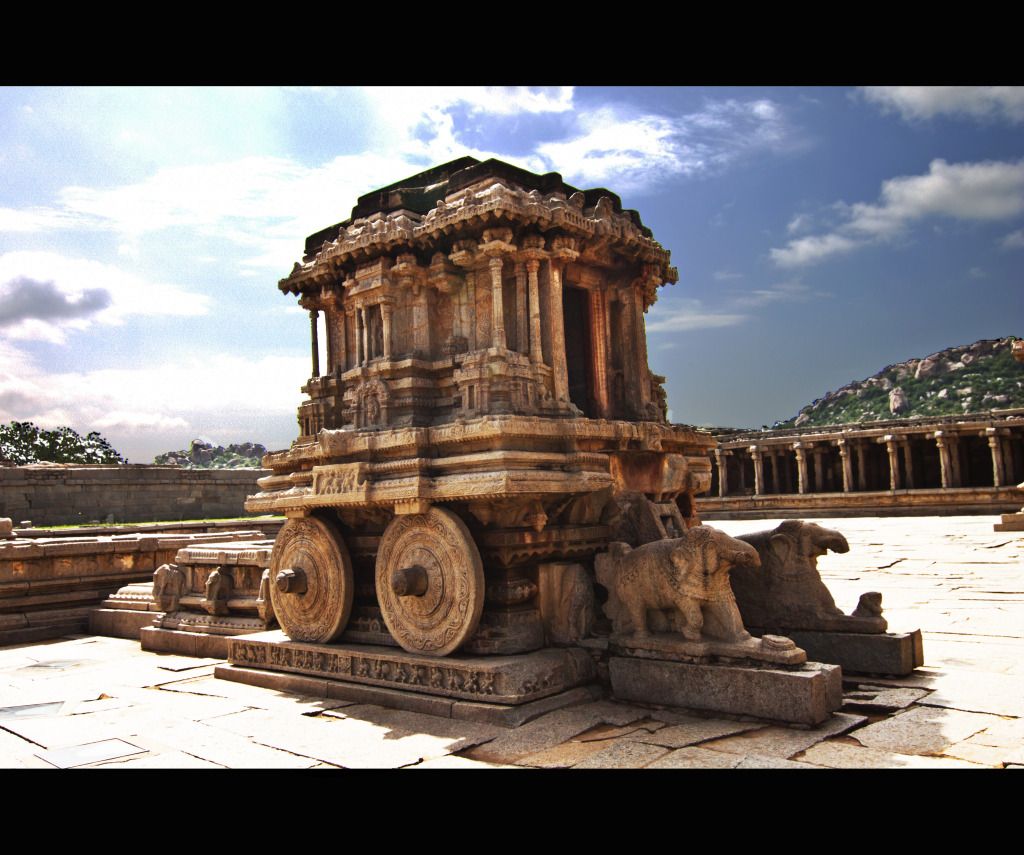 The Chariot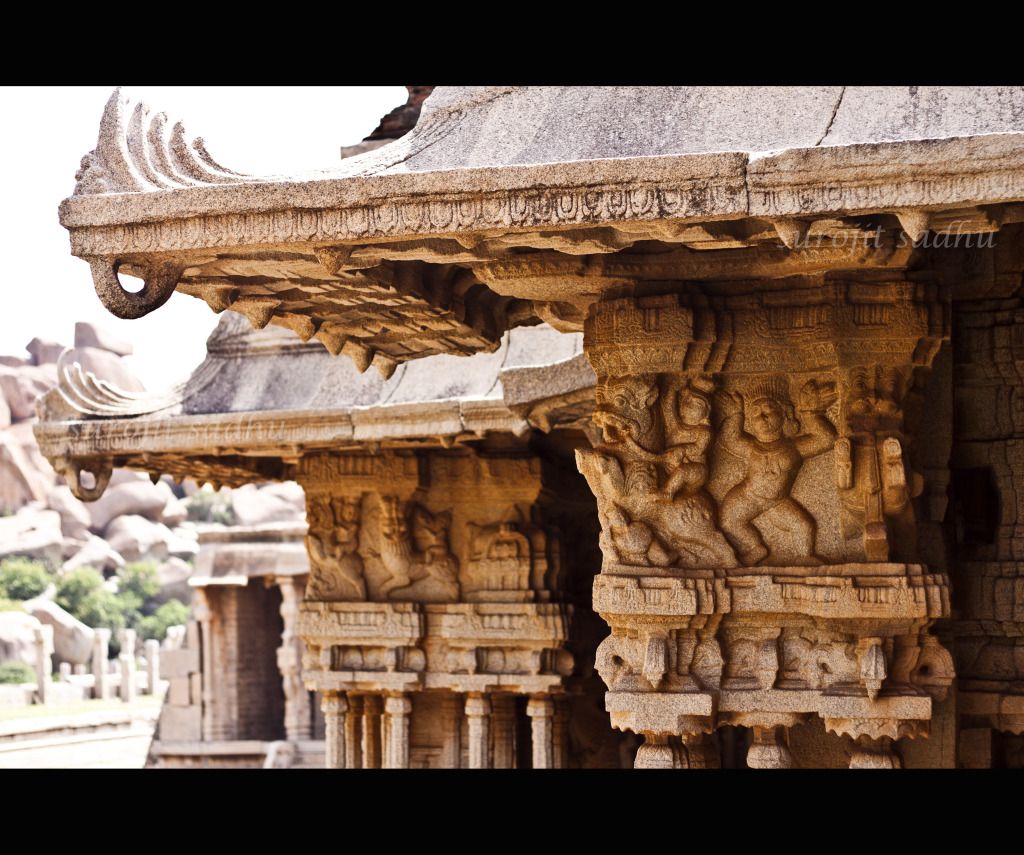 Something that defines the temples in Hampi, Intricate stone work.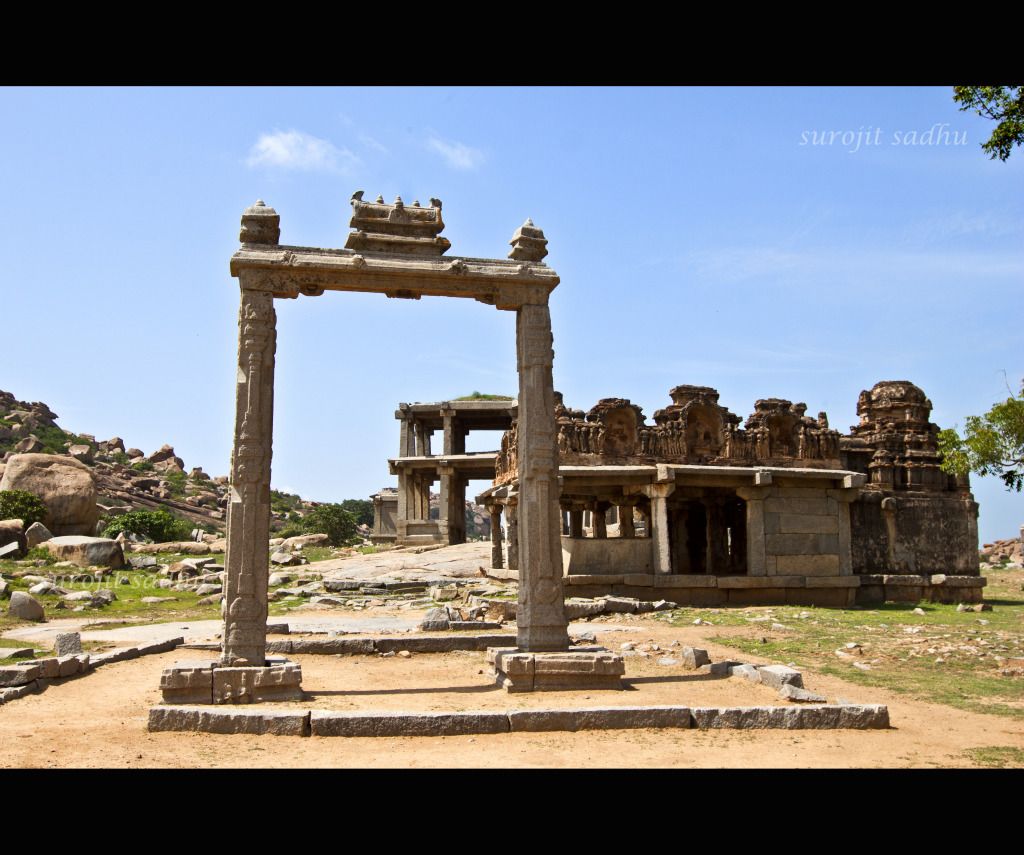 The Kings Balance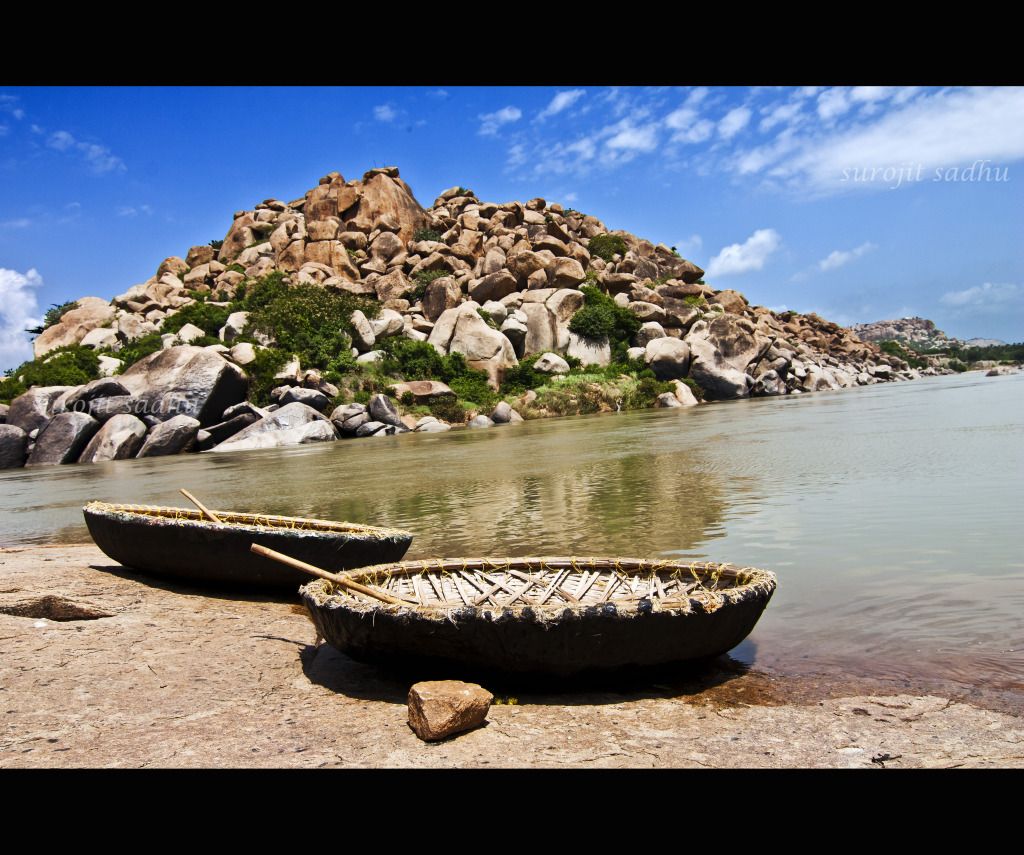 This is one of the must-experience things in Hampi... Known as the Tokri... the locals use these to cross the Tungabhadra.. I took a small round for INR 50. And boy I was shit scared for the first few minutes, but undoubtedly this was the bestest ride on water I have ever had...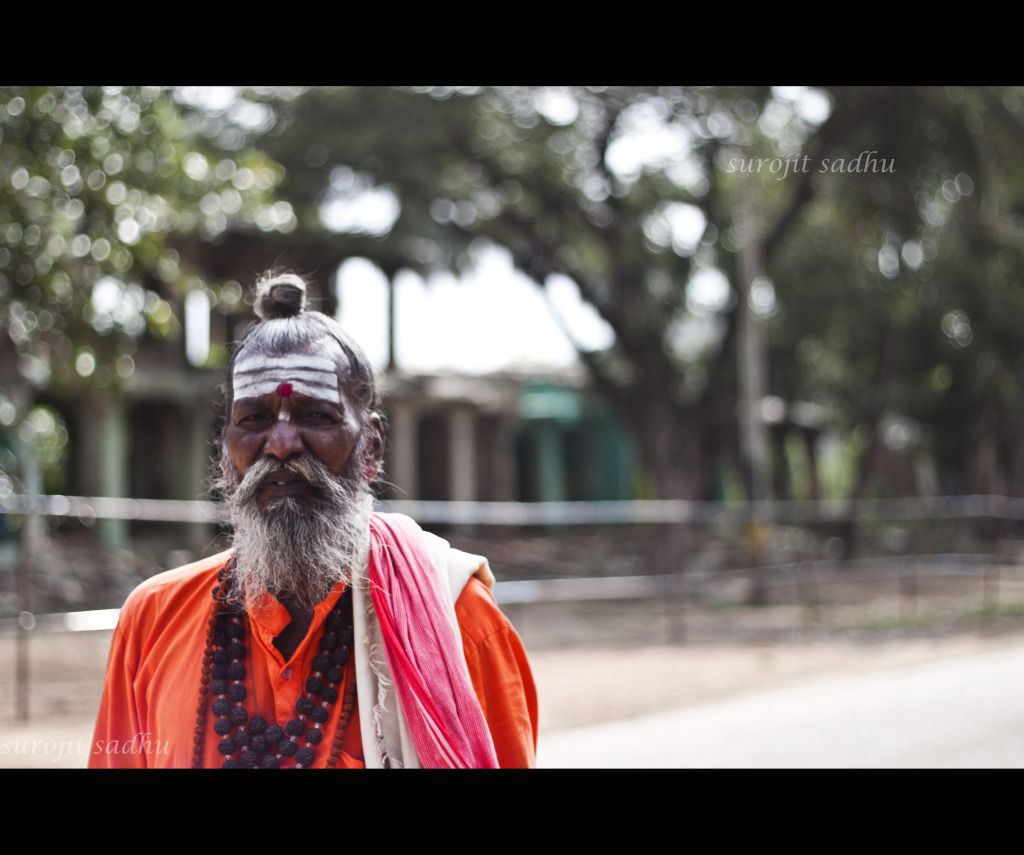 I asked " can I click a pic of you?"
He smiled back at me and replied " Yes, but be quick".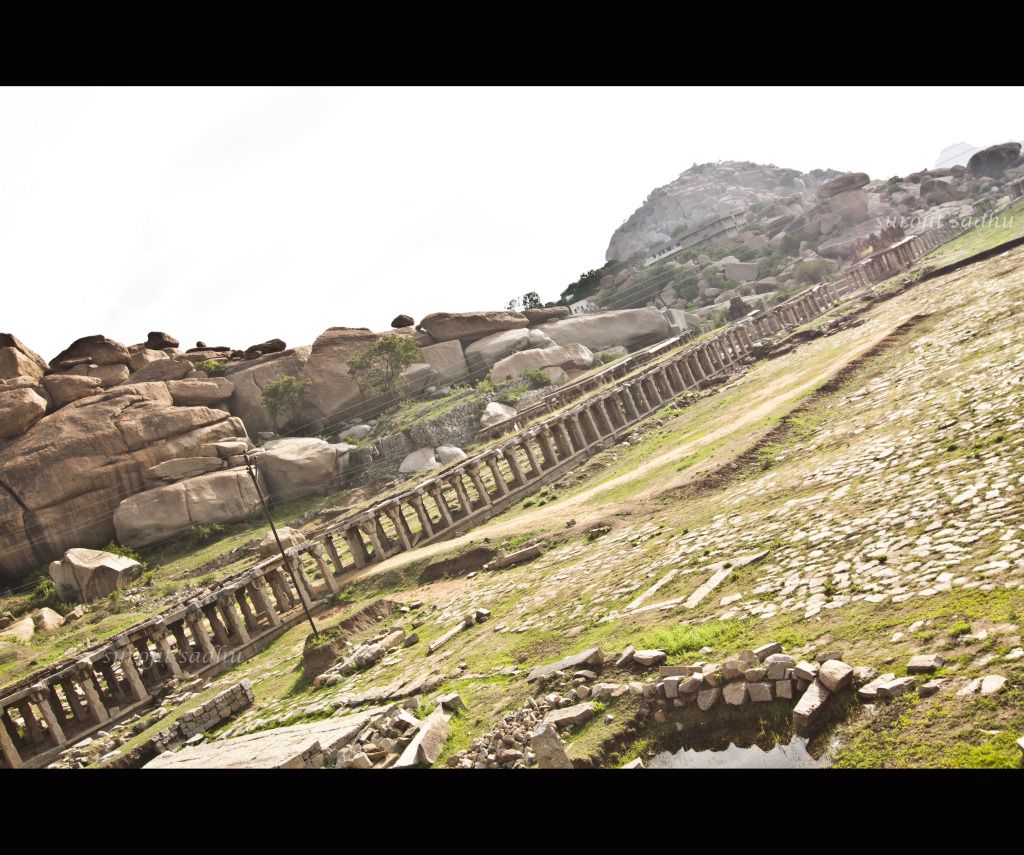 Market-place near Krishna Temple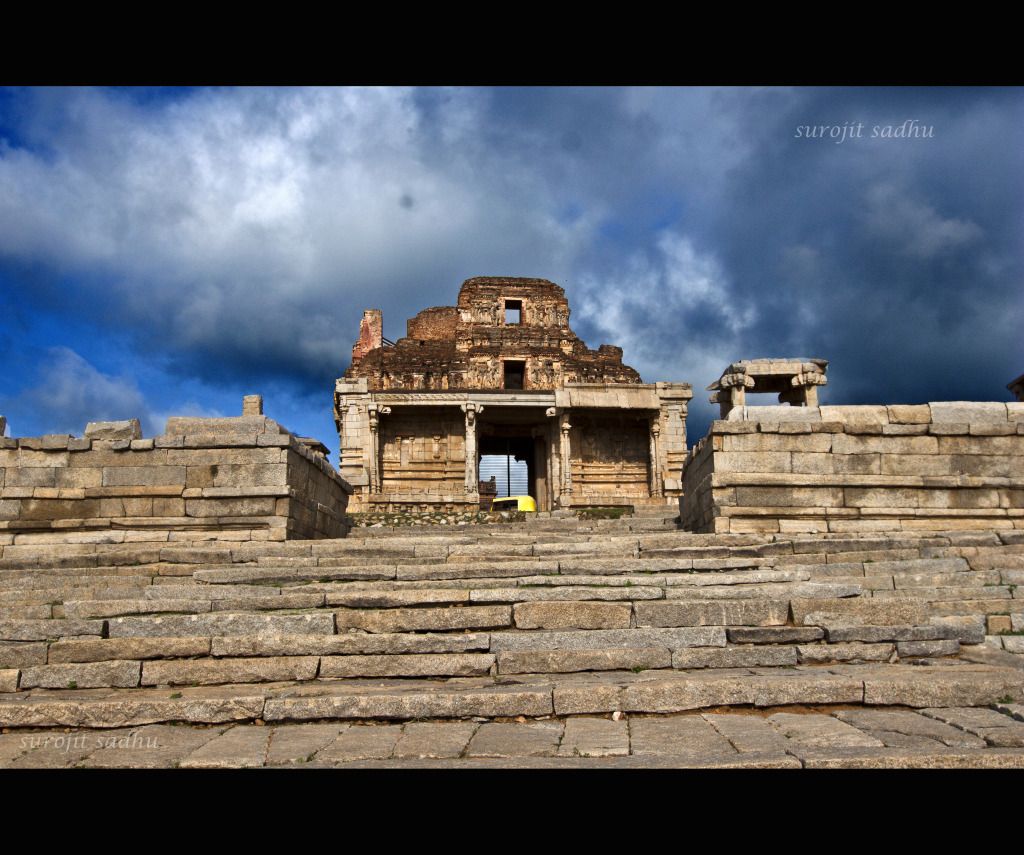 Krishna Temple.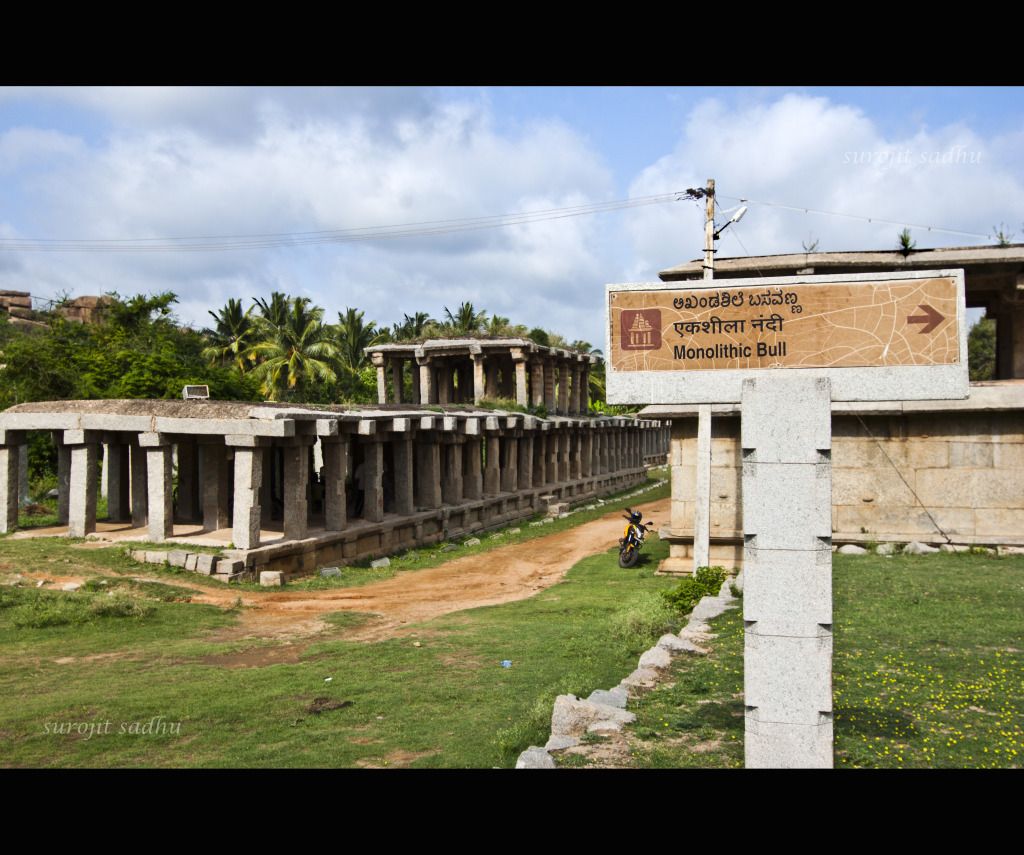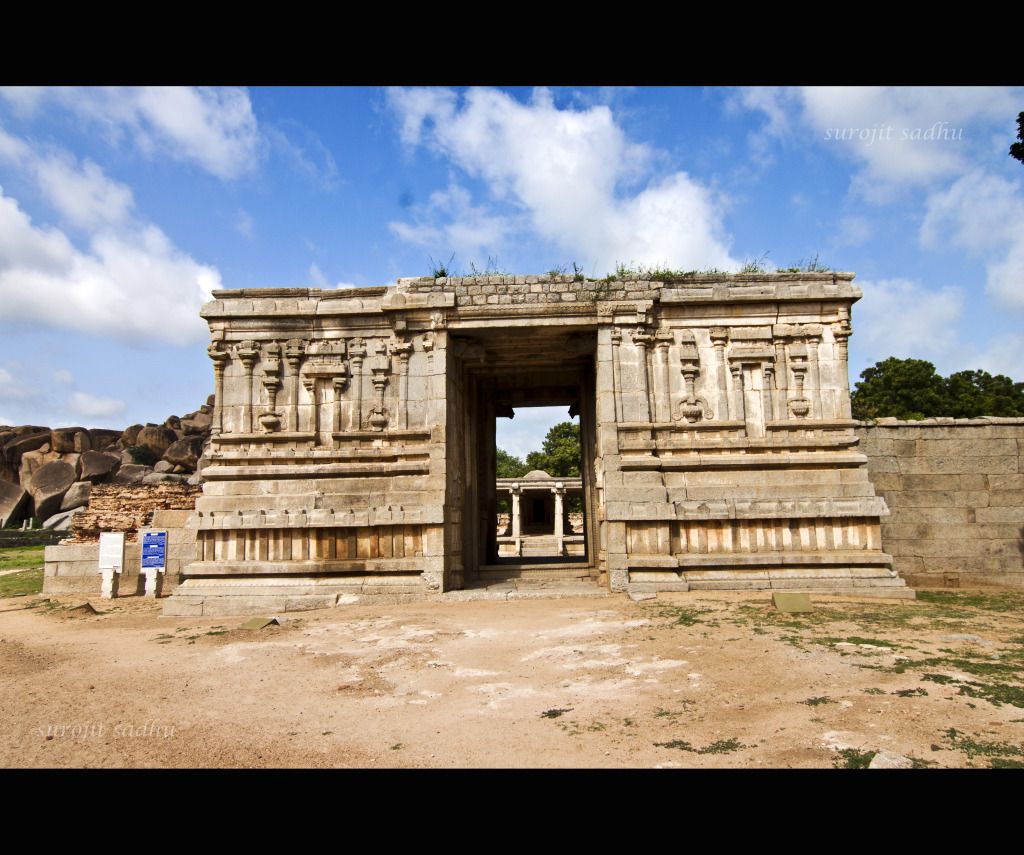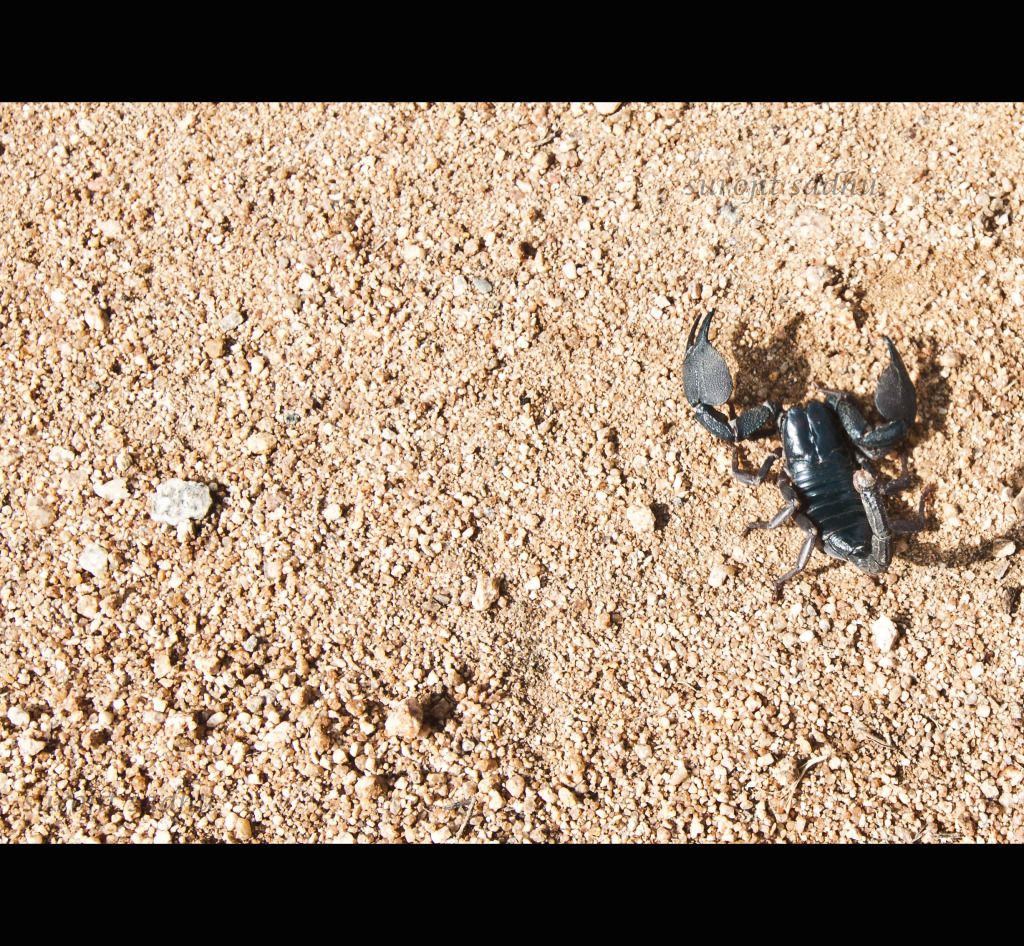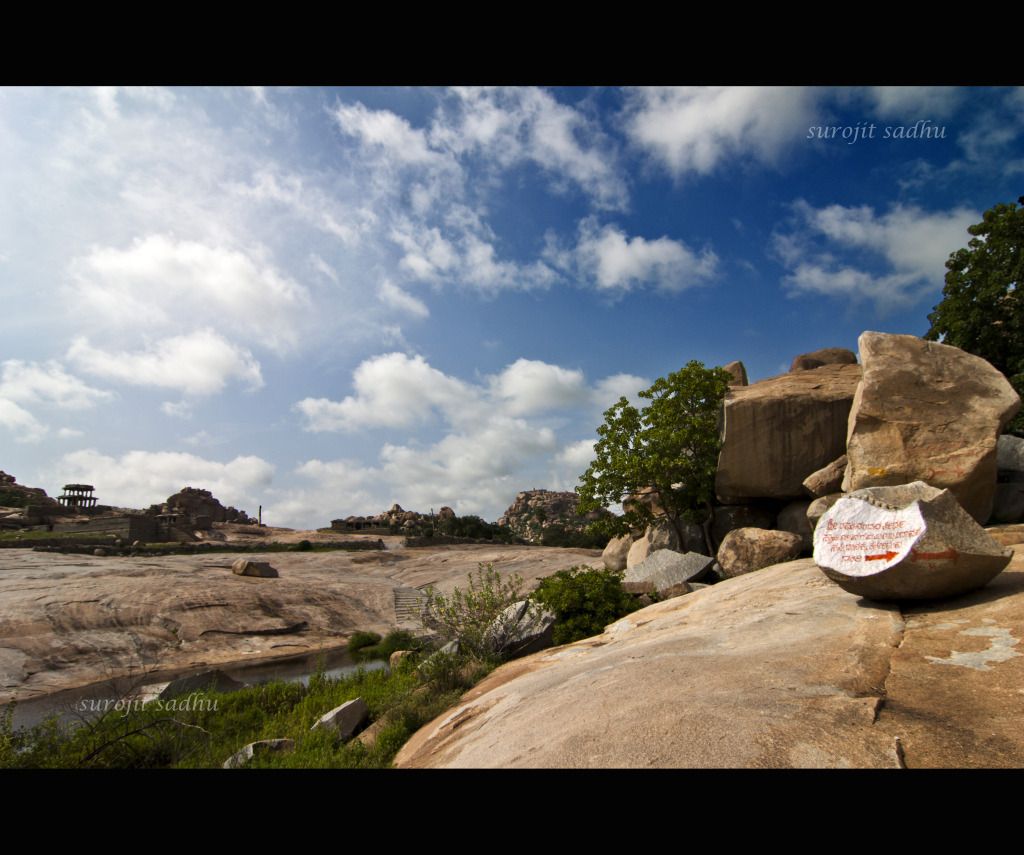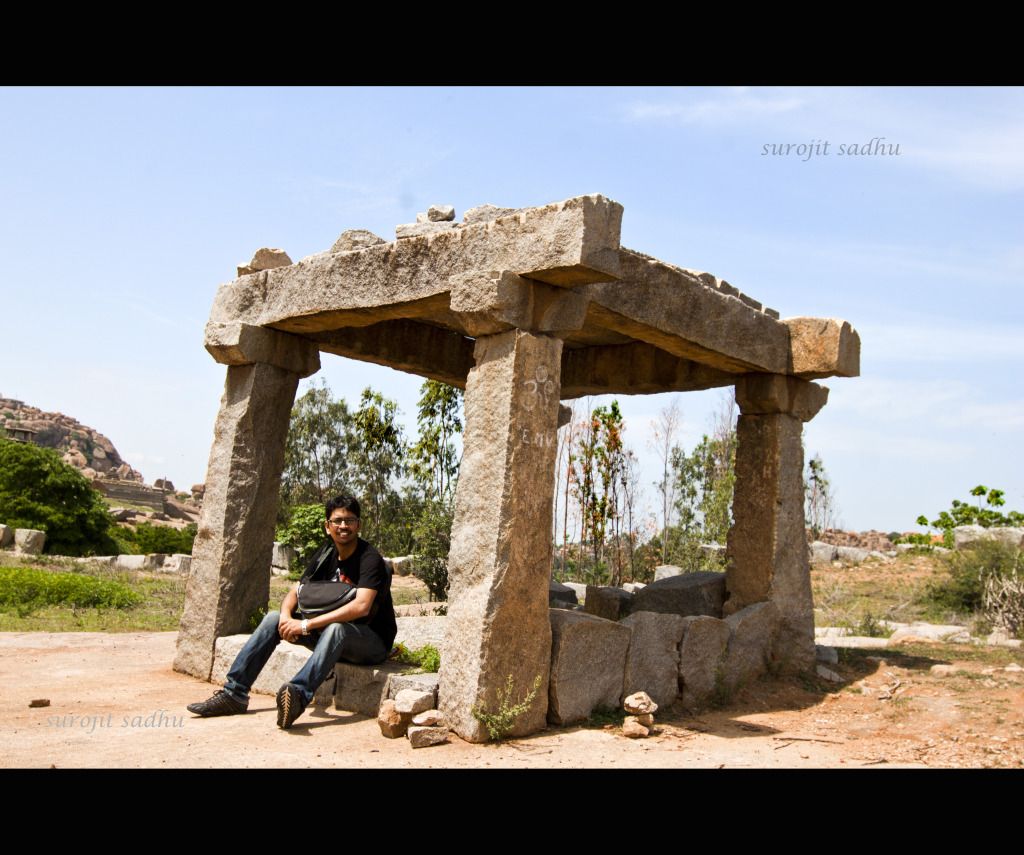 The only Poser Shot...

A Panaroma of the area near Virupaksha temple
At around 12:30 noon I felt that I should start for Dandeli, but the other thought that was coming to my mind was that I have not explored the Kamlapur side and so the Million-dollar question again was? Should I ride or stay back and click.
I choose to ride. I thought that I will come again to Hampi but today I need to reach Dandeli. Immediately I started for Hospet. Reached Hotel and packed my baggage and went for lunch. Asked the hotel guy about the nearest decent hotel. He directed me to a hotel with 'meals system' in the same building, saying that the food is very good here and we also have our lunch here only.
I had 3 chapati, 2 kind of sabji, salad, dal, 3 papad and was surprised when he told me the bill. It was just INR 25.00 . I was like WHAT? Just 25?
Encounter 1: Anyways after the super economic meal I started for Dandeli. It was not a good time to start I guess, the sun was at its peak and it was a hitting hard on me. As if that was not enough, a traffic police guy stopped me and asked me for documents and this is what followed:
Cop: Documents please.
Me: sure sir *took out my documents*
Cop: where is the NOC?
Me: NOC?
Cop: yes, since your bike is MH registered you need to have NOC to ride in KA.
Me: Sir I have been in KA for just 2 days.
Cop: So what you need a NOC
Me: *very politely* Sir AFAIK I don't need a NOC for atleast 6 months if I go to another state. All i have to do is prove that I m not riding in that state for more than 6 months.
Cop: It seems you know a lot, anyways don't ride fast.
Me: thank you sir.


While riding out from Hospet I decided to visit Tungabhadra dam also. The dam is located at the point where the road from Hospet joins the main highway for Hubli, and I guess is within 10 kms from Hospet. We need to park out vehicles outside the gate and then walk till the dam.
As soon as I parked my bike some people came over to me and started the cliché conversation " which bike? What's the mileage? What's the top speed?" and all. As I always do, I smiled and answered their queries.

Then we entered the next level of conversation "where are you from? Where are your friends? Are you riding alone?? When did you start?"
Actually I had this conversation almost with every person who I had a talk with on the road. I kept my knee guards in a stall near the entry gate. They told me that the dam gates are approx 1 km from the entry gate, I started walking and that 1 km seemed to be more than 10 kms, but finally I made it and could see the mighty Tungabhadra dam. I was a bit disappointed as I could not find a spot which gave me a clear shot of the dam. Still I somehow clicked some pics and moved on. While on my way back I took a ticket and walked through the garden.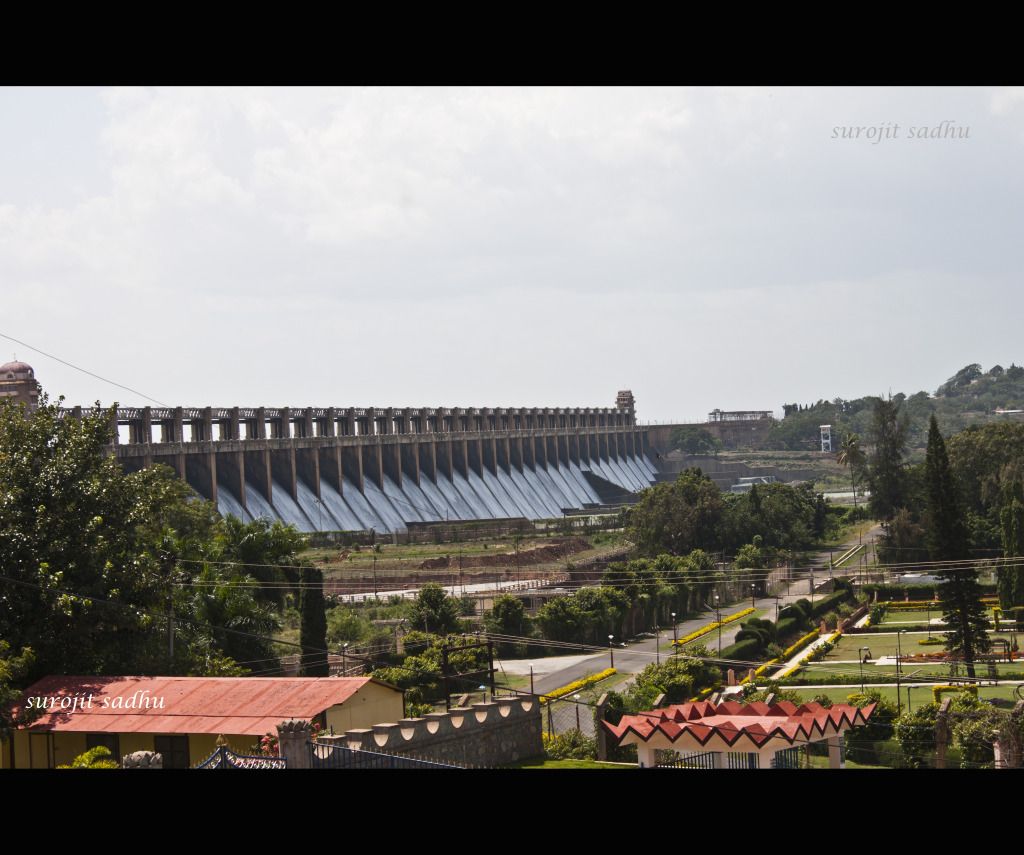 Soon I was on NH67 and was very hopeful that I would cover up the lost time as I didn't want to ride through the jungle roads of Dandeli after dark. I was kind of pinning the throttle for the first time in the ride still my bike couldn't cross 110-115 kmph, this started to worry me, but I noticed that the wind was very strong and was not at all assisting me. The crosswinds really slowed me down but after a certain point I crouched and in that position was comfortably doing 120+kmph. This time I didn't stop on NH67, primarily because I was running late and secondly as I had already clicked a few pics on my onward journey towards Hospet.

Encounter 2: I reached Hospet at around 4:45 PM. Plan was to take the Dharawad-Dandeli route. All the time-distance calculation that were active on my mind were brought to a standstill by the whistle of a traffic cop. I obediently stopped and asked him what happened.
He said "you have entered a NO ENTRY road".
I was like "OK sir, Its my fault give me a challan".
He said that the challan book was with his Boss and he will come in 5 mins. It was almost 20 mins now but still his Boss didn't turn up and he kept on saying that he needs his boss for the challan. Then I waited for another 10 mins and in the meantime an Auto rickshaw guy came to me and said "sir challan-wallan is not there, he wants you to give money to him, just give him 100 bucks and say sorry and leave, otherwise you will be here till he is in duty". He even told me the technique, that fold the 100 ka note in our hand, and tell him to shake hands and then pass it on to him. I did the same as directed and surprisingly the cop grabbed the 100 ka note and said "don't do this again". I said nothing and started off. I cursed him for wasting my 40 mins.
Now I was running super late now, I had no choice but to ride faster. But I was super hungry also, so stopped for some snacks in Hubli and grabbed a few pakodas and a couple of cups of chai. Asked for directions to Dandeli and started off. I soon saw an open stretch of road with minimal traffic. I started pushing.
Encounter 3: All was fine when suddenly I saw a cop ahead who was signalling me to stop.
Me: what happened sir?
Cop: There is a speed limit here.
Me: How much?
Cop: 30 kmph
Me: *with a smile* sorry I was doing 9o+ kmph. Please give me the challan.
Cop: *takes out his blackberry and types something and gives me a challlan* here it is.
Me: 300 INR is it?
Cop: yes
I took out my wallet and see that I just have 220 bucks left on me. I tell him that and then he points me to a person standing nearby. We discuss the options for a while and the final solution was. The person who was well-known by the cops will pay Rs 100 from my side to the cops right now and will come with me to the nearest ATM, where I would withdraw money and return him his Rs 100.

Without wasting any time I agreed to it and went to the nearest ATM on my way and returned him the amount. We had a small chit chat session also. He asked me some cliché questions and I answered them. He suggested me that keep within the speed limits in Dharwad and once you cross the NH4, then there will be no one stopping you. I did as directed and I took the Dandeli road (SH 28). Once I crossed the city limits, I tried to make up as much as possible, but it had already started getting dark and there was no way that I could make it to Dandeli as planned in daylight. I still decided to ride on and soon it was completely dark. And I could make out that I was riding through a jungle I was happy that there were some lights around and there were some other vehicles also on that road. I reached Haliyal at around 7:45 PM. Enquired about the route and the availability of ATM and petrol bunks in Dandeli. The person said that you get everything in Dandeli, and before I could leave he asked me " doesn't your back hurt if you are riding for so long?" I didn't have time to elongate the conversation so just said " No, I guess my body is used to it" and pushed ahead.
After a few kms from Haliyal, things started getting a bit spooky, there was a stretch of about 7-8 kms where apart from my bike, I couldn't spot a single source of light.

I wanted to stop and click, but then I calculated in my mind that I need to stop ->keep the lights on in the bike, so need to keep the engine running -> then get off the bike -> take off my gloves and Helmet -> take off my backpack -> take out the camera bag from it -> take out the camera -> shoot -> and the do the reverse of all the things I did till now, that was for sure a 15-20 minute job, and I knew anything could come out of the bushes. Frankly I was shit scared and didn't want to stop, but somehow I made myself believe that I need to click this and stopped my bike and clicked.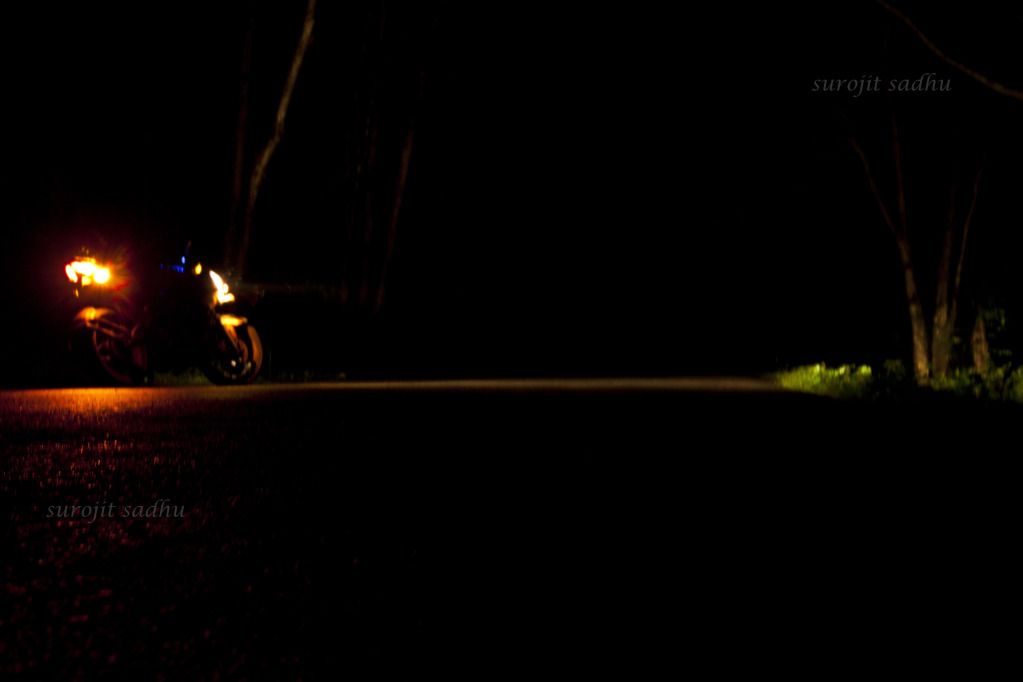 I was frustrated with the things that happened in the second half of the day, but soon something worse happened....
I had kept my helmet on my tank, as I always do and moved away from the bike to click it, soon I could hear that the helmet fell from the bike. I immediately ran towards my bike and thanks to the darkness couldn't find my helmet only. I then turned my bike's headlight around and saw that the helmet has rolled into the bushes, I picked it up only to realize that the visor was missing. I soon found out the visor also, tried to fit it into the helmet. But then I saw that the visor lock that locks it with the helmet on the right hand side is gone, so it cannot be kept in place and it would keep dangling from the left side. It got really pissed by my ignorance, because my friend Ashutosh always used to tell me not to keep the helmet on the tank. I then thought that on the last day of the trip I will have to do atleast 650 kms and that is not possible without a properly functioning visor. I then decided to move ahead and not waste any more time in the wild jungle.

Soon I reached Dandeli, I inquired for a forest camp and some people directed me to a kind-of resort. Upon entering that resort I got a feeling that it would be too expensive and so was it. Then someone suggested 'State Lodge' to me, but still I wanted to camp at the night. I went to the Karnataka state tourism's guest house, but they said that I need a prior permission to stay there. With no option left I went to The State Lodge. It was decent one, a typical non-AC double bed room costs around Rs 350/-. Booked a room for 2 days, as the plan was to stay there and do some activities. Inquired in the reception about the options available for river rafting and other activities. Got a contact no of the concerned person and got the details. But as always decide that I will take a call in the morning.

Went out and tried to hunt for a good restaurant, but then had to satisfy myself with a not so good masala-dosa and some cold drink. After coming back I saw my helmet, and decided to fix it, luckily I was carrying a black cello tape, somehow fixed the visor, with some limited functionality.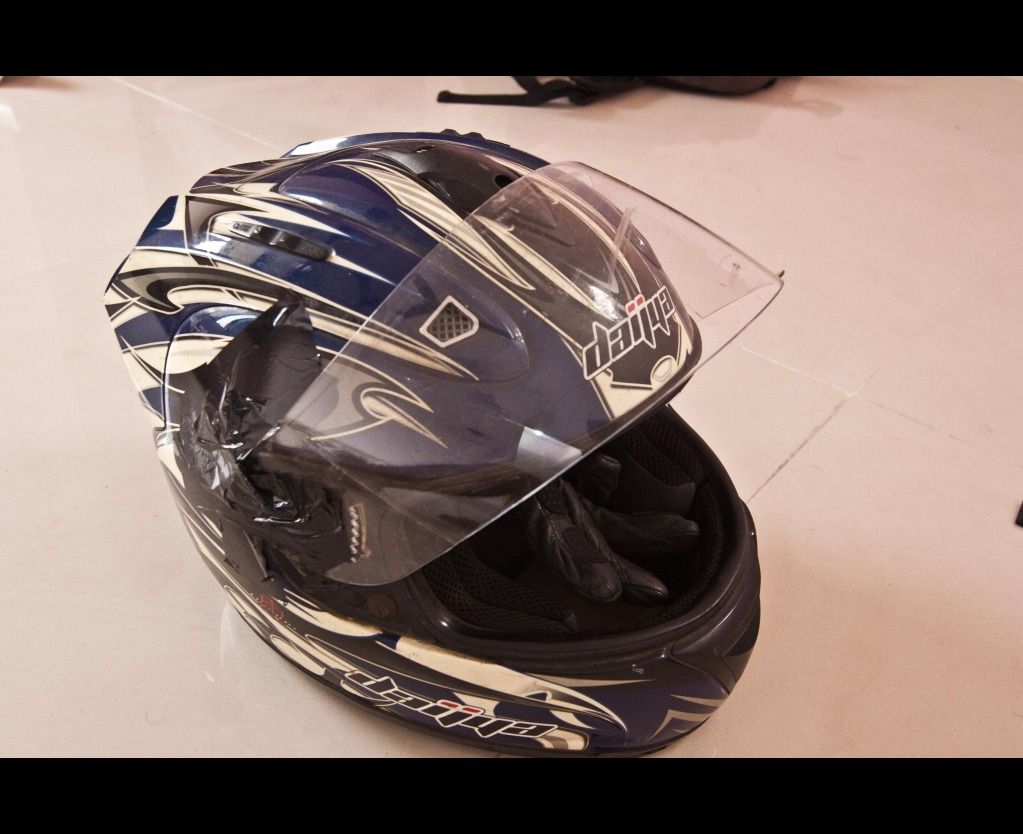 That was all for the day. Did around 290 kms for the day. I was happy that a frustrating day had finally come to an end and hoped that the next day would be better.
DAY 3: Change of Plans
Route Map (Day 3)

I got up at 6:30 AM, freshened up, took my camera bag, strapped my raincoat to the pillion seat and started by 7:00 AM. Plan was to go to Ganeshgudi, where all the activities happen. I had also planned to go to the forest camps and visit Supa Dam. Ganeshgudi is around 22 kms from Dandeli. Local people suggested me to take the Barchi road, as it was in good condition and short, approx 5 kms till the main highway. It was still a bit foggy in and around Dandeli, once out of Dandeli the roads started to get bad and this continued till I reached Barchi. In the T-junction at Barchi the road joins SH 28.

I started wandering through any road that came my way now, however after going about 10 kms I realized that I had no cash with me, and was not sure if Ganeshgudi hosts any ATMs or not, hence decided not to take any risk and headed back to Dandeli for cash. The roads were super awesome, apart from the Barchi-Dandeli stretch.

Inquired with a local and he said that the jungle safari and all has been stopped by the Supreme Court. That was one of the most disappointing news that I had heard in recent times.
He also added "You are a bit late if you had come a bit early, say 10-20 days you could have captured the migratory birds that come here every year at this time. Even everyday early morning at around 6:00 – 6:30 AM you can spot some peacocks."
I was disappointed that I missed it. I inquired further "Can we spot some animals anywhere at this hour?" to which he replied " Nope, not at this hour but 'they' come out at night, so at night you have to be very careful on the roads". Suddenly I remembered my halt to click a picture last night in the dark, and then realized the risk I took tin doing that. I thanked my stars and the guy and decided to move ahead... spotted some spider webs over there tried to capture them but failed. Still could click a few pics of the NS.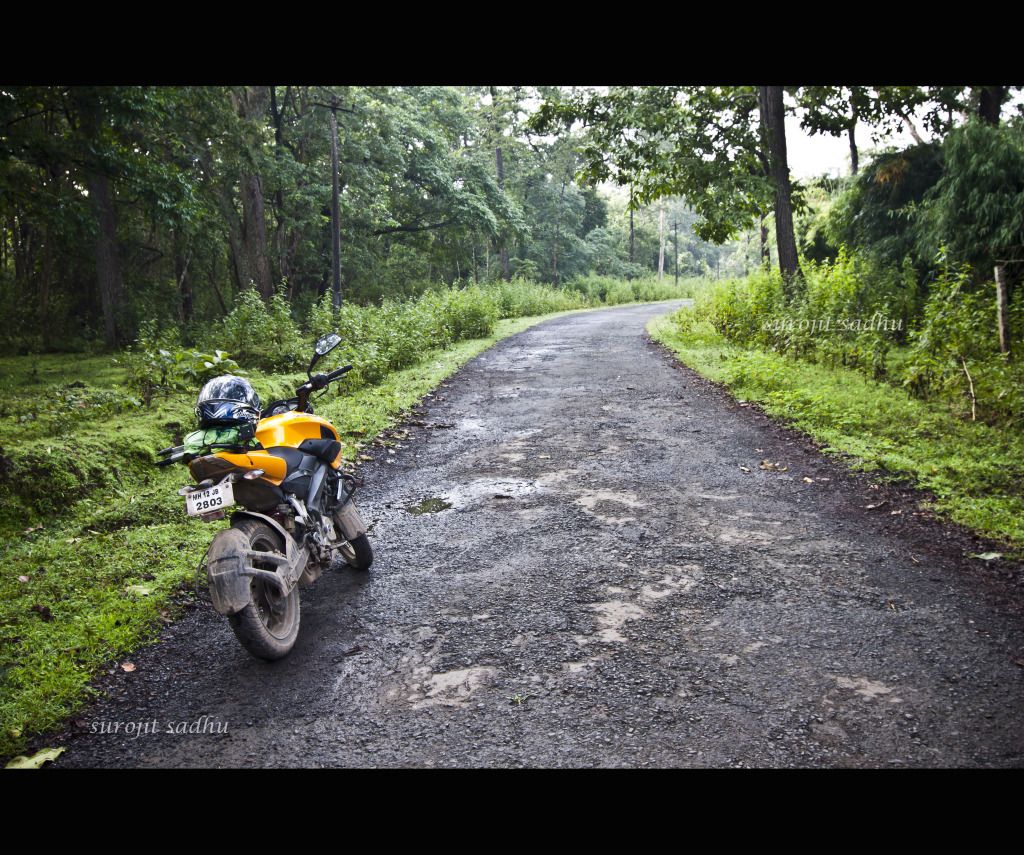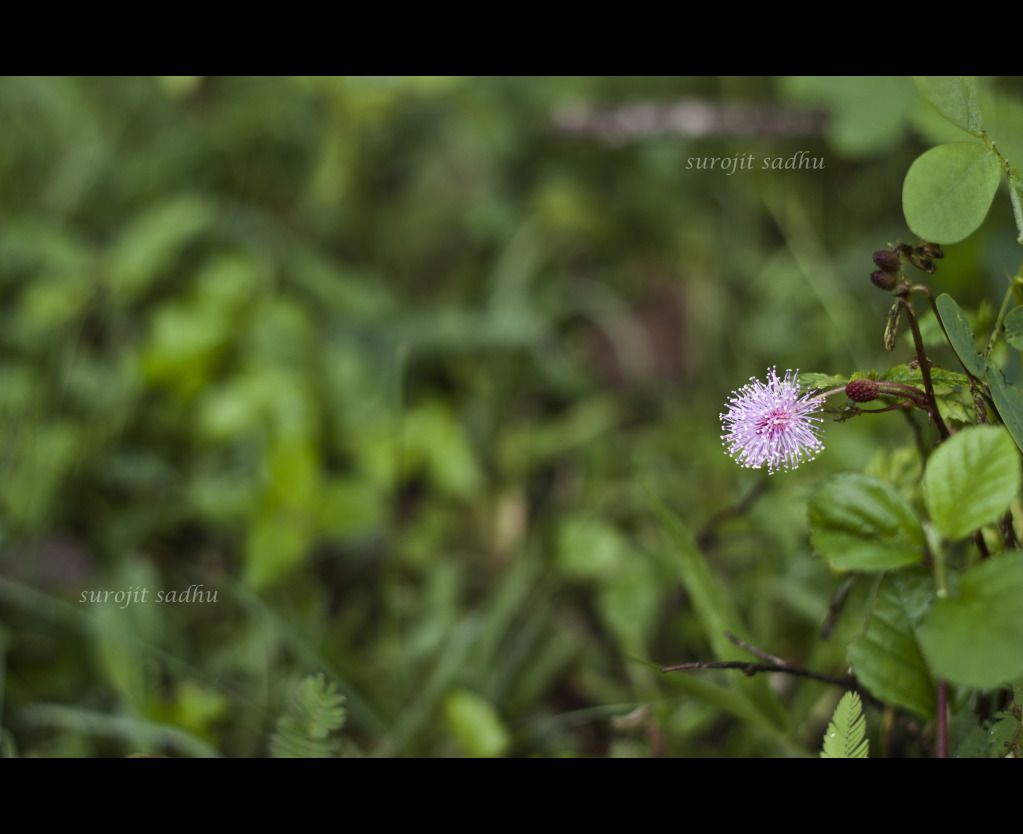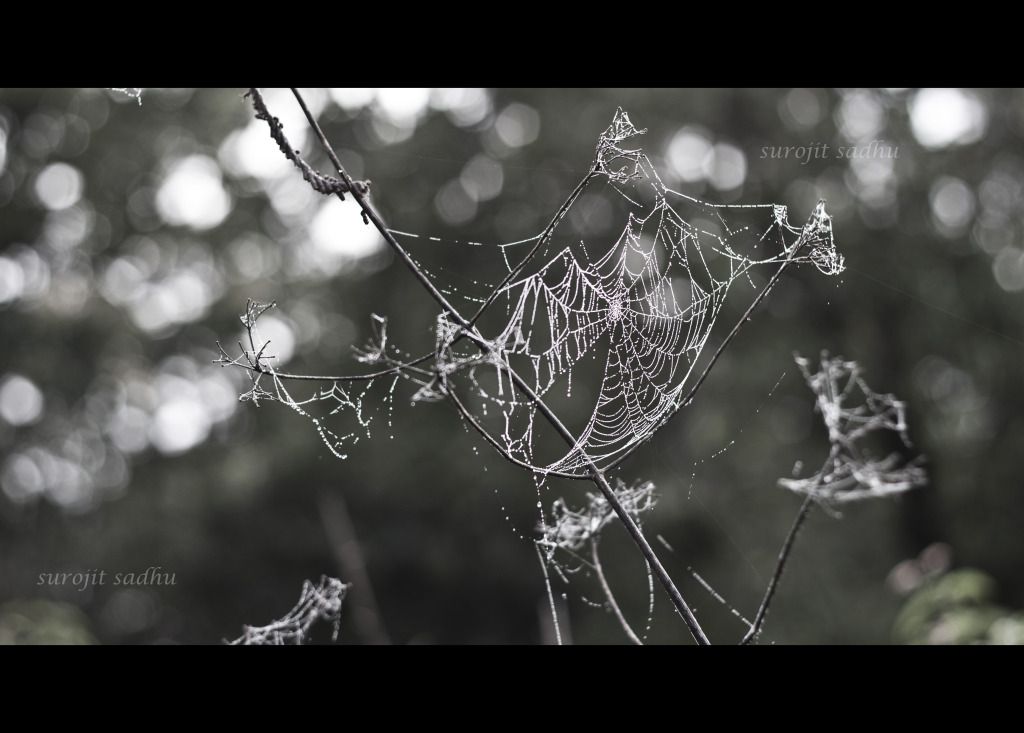 I was enjoying riding through the jungle roads and the cool breeze was adding to that. I wanted to capture lots of things but taking out the helmet and gloves again and again was becoming tiring. I distinctly remember that I wanted to click the huge ant-hills that were scattered alongside the road, but never stopped to click one because I was tired of removing and then again wearing the riding gear. Finally I decided to put my gloves in the bungee net and strap my helmet with the bungee net. I even took some trails expecting to see something beautiful but returned empty handed.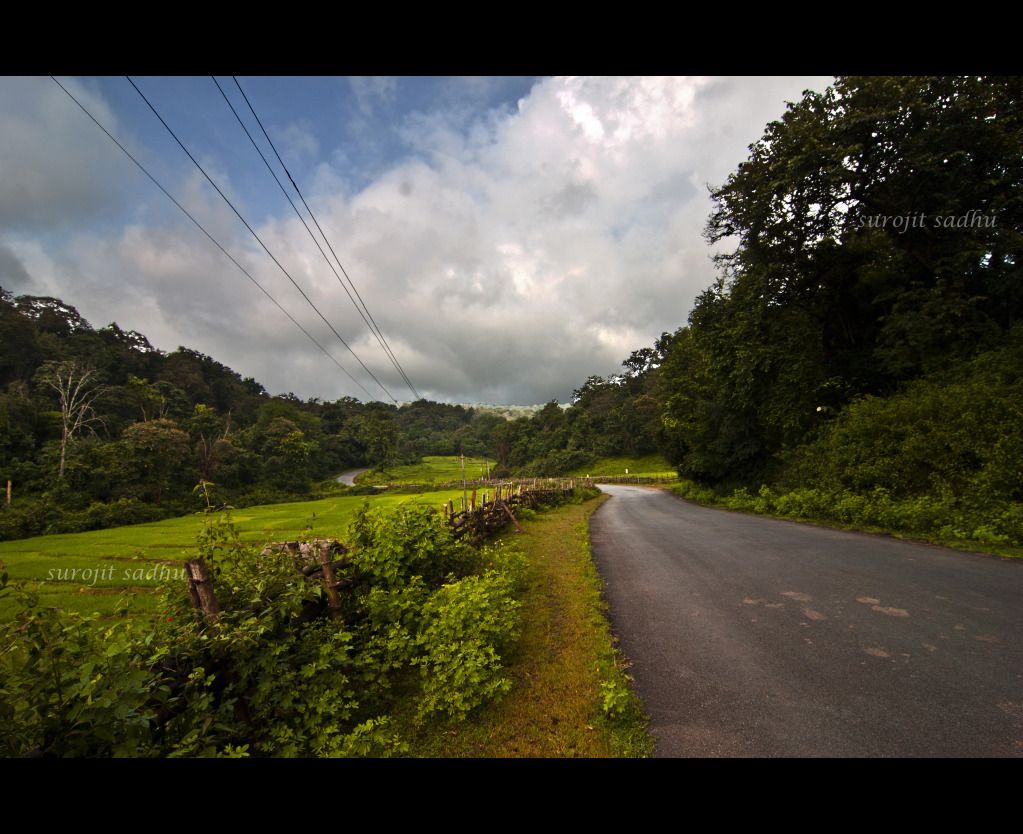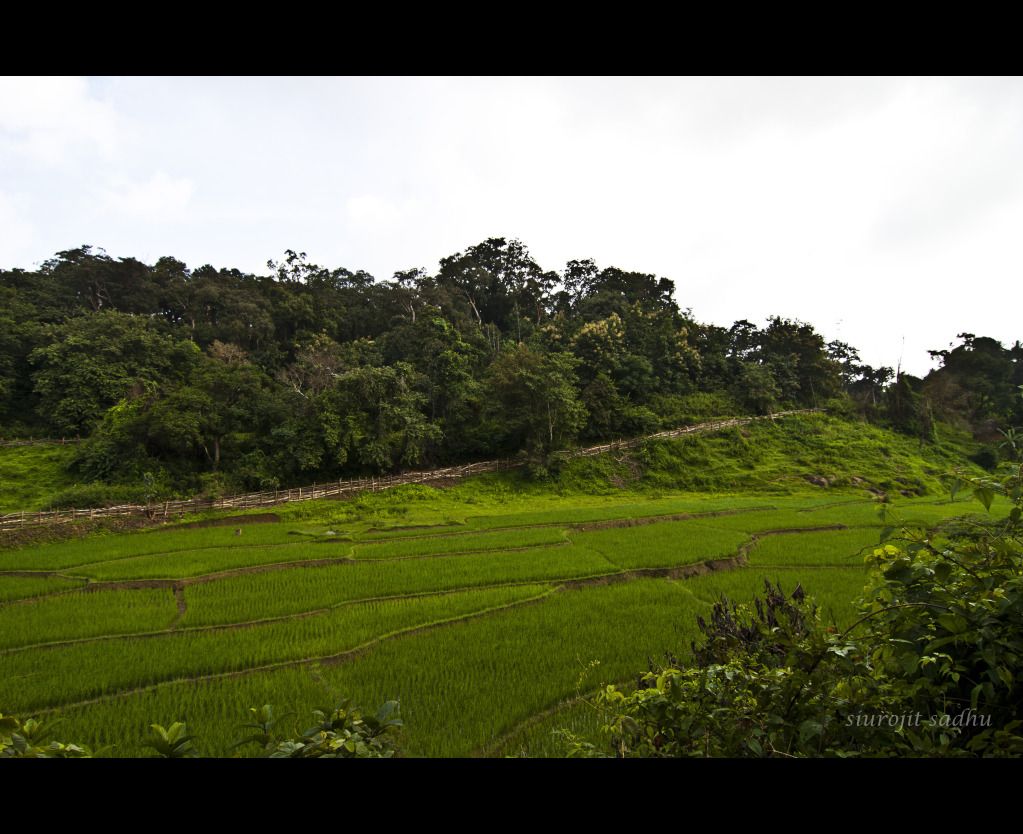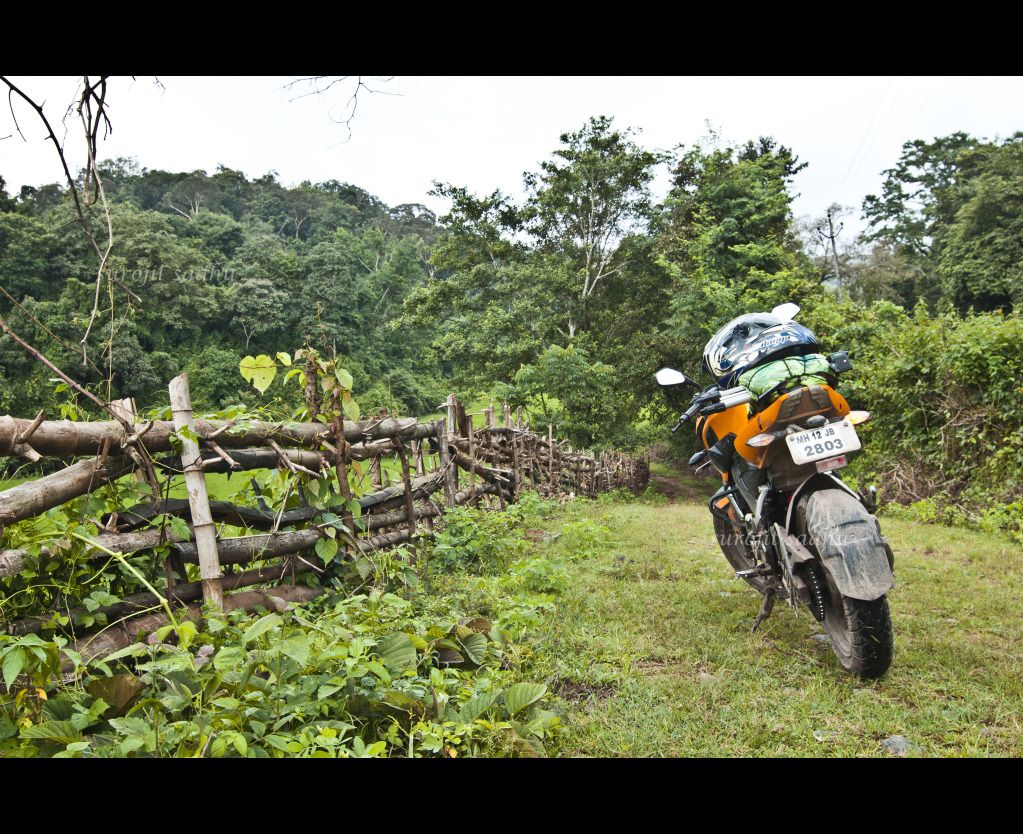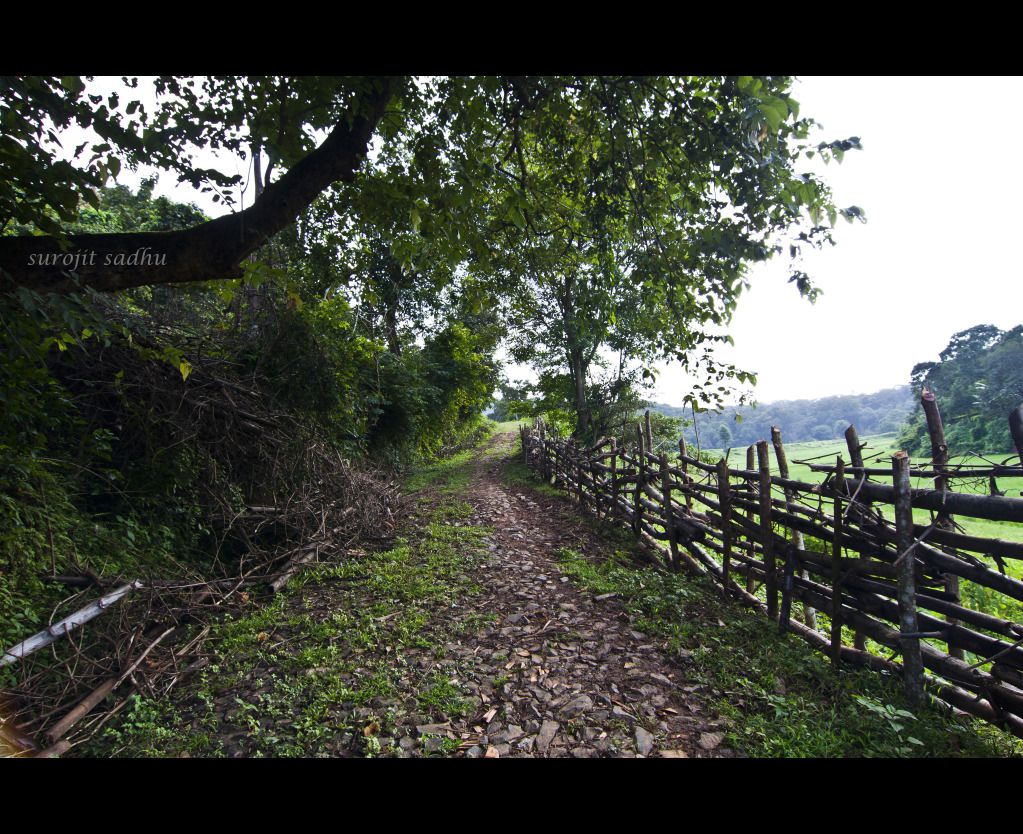 Ganeshgudi was hardly some distance from this point, and I convinced myself to ride without a helmet saying that "I won't cross 40 kmph and I will take corners at speeds below 30 kmph." I just wanted to capture things with my camera. I later started cursing myself for missing out so many good corners. The road is out-of-the-world, smooth tarmac, minimal traffic, tree canopy all around, what else does a biker want. I still controlled myself and rode at the speeds I had promised myself.
On reaching Ganeshgudi, I decided to have breakfast as it was almost 10:30 A.M. I saw a small eatery where a ST bus was parked. I had a plate of idli and while eating I was having a good conversation with the conductor of the bus. Suddenly I recollected something I had said to my colleague "Yaar, I will be going so close to Goa, but won't be going to Goa", and my next question to the bus conductor was "How far is Goa from here and how is the road condition?".
He looked surprised and commented " it's around 160-170 kms and the roads are good for bikes". The next thing that came to my mind was "let's do it".
It was anyway going to be a boring ride-less day in Dandeli, so why not hit the road and head towards the beach. Apart from the ride the sea would also give me a good chance to capture the sunset. Forget everything else, it GOA. I paid the bill geared up, and started back for Dandeli. This time I knew I could ride as I wanted to. In no time I was standing in the reception of The State Lodge. I told them to return the remaining money as I was leaving for Goa right now.

With a surprised look the receptionist said "Sir, you not doing any activities?"
I replied: "I guess the rider in me overshadowed the tourist in me".
He smiled and I smiled back at him and went back to my room and packed my luggage.

I again took the same route to Ganeshgudi. On reaching Ganeshgudi I e\inquired about the most scenic route to Goa. I also had in mind the Anshi route, but people suggested that the route via Ramnagar is much better and shorter than the Anshi-Karwar route.

I was supposed to follow SH34 till Ramnagar and then turn left and join NH748 which joins Belgaum and Goa. I was yet again enjoying the ride, I was riding along the Supa Dam reservoir. The ghat roads were enchanting with a wonderful view of the Supa Dam. I slowed down to find a good spot to click , but didn't find any for a few kms, then decided to make up some distance quickly and in this process missed the viewpoint that was there, which I realized later. After about 10 kms from Ganeshgudi I saw a Y junction, the straight road was for Ramnagar, but there was no board giving information about the road on the left. I stopped for a moment took the left road rode for about a km and found it to be really good. I then decided to take this road, I actually made the following geometrical calculation in my mind :

Ramnagar is in North direction of Dandeli and from Ramnagar I have to turn left, i.e. West, so I imagined these two roads to be the two sides of a triangle and assumed that the road i was in was the hypotheses of the triangle.
Then I thought that it's better to explore this not-so-used road than taking the common Ramnagar road. I had a feeling that I had taken a wrong route but still decided to continue.

I stopped a couple of times for clicking the awesome landscape that lay before me. Soon the road turned bad and continued getting worse, but the good feeling was I was alone on the road, amidst the thick canopy of forest I was all alone, owning the entire road, I could ride anywhere I wanted on the road. After about 20-25 kms I came to a railway crossing, the gates were closed and hence I had to stop. A ST bus and a tata sumo were my companion in the wait for the gates to open. As soon I a put my bike on side stand and glanced at my companions I realized that they were looking at me as if I were an alien. The landscape and the sky scape was beautiful. I could make out that there was a station/loading-unloading garage nearby. I pulled out my camera and clicked a few pics. While waiting I asked the gateman, what route I am in and what station is this. He said that the station was 'Castle Rock Station' and if I kept following this road, this road would connect me to Belgaum-Goa road. I was so happy on hearing this. My calculations didn't betray me. The roads after the railway crossing were pretty decent, not smooth but not too bad also.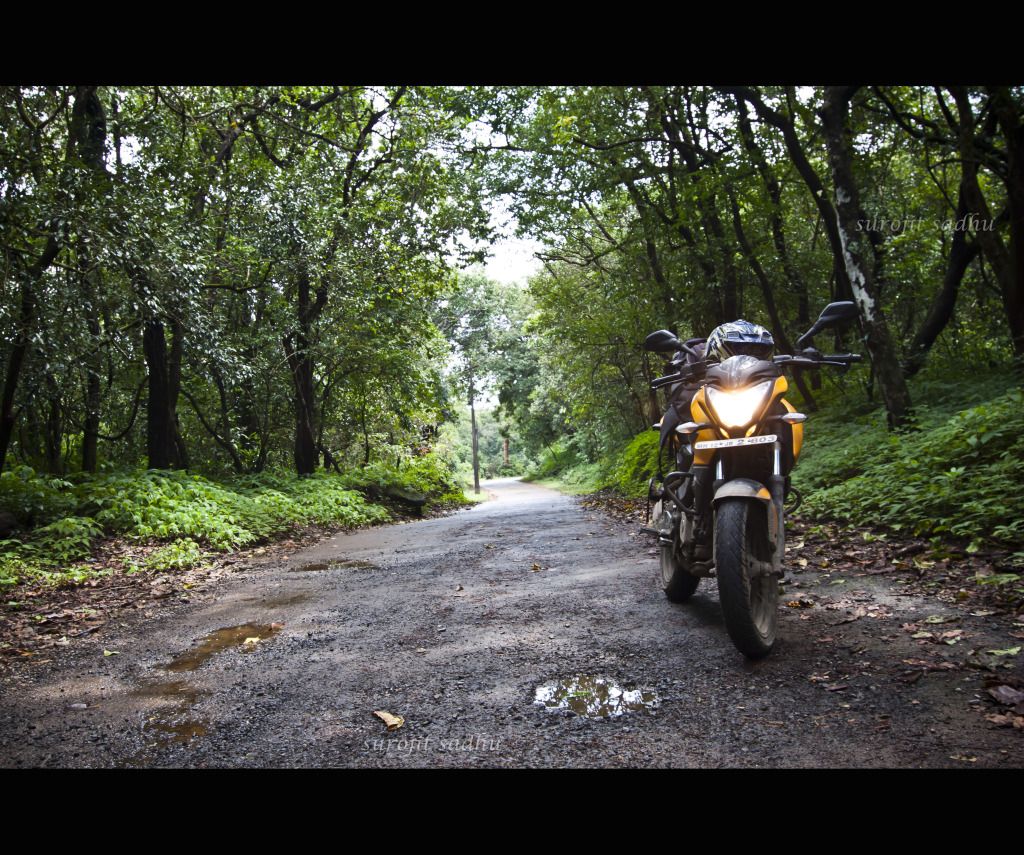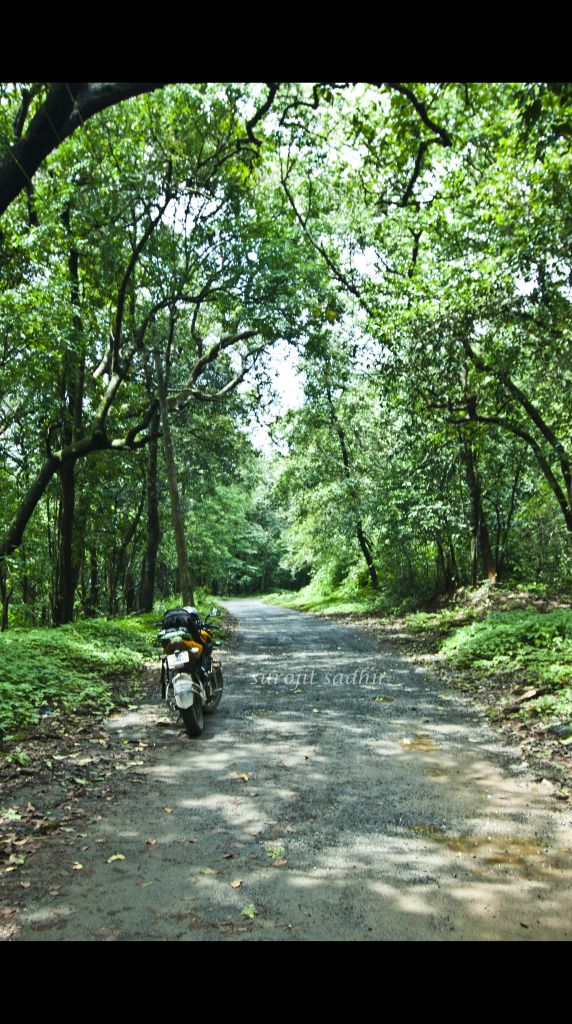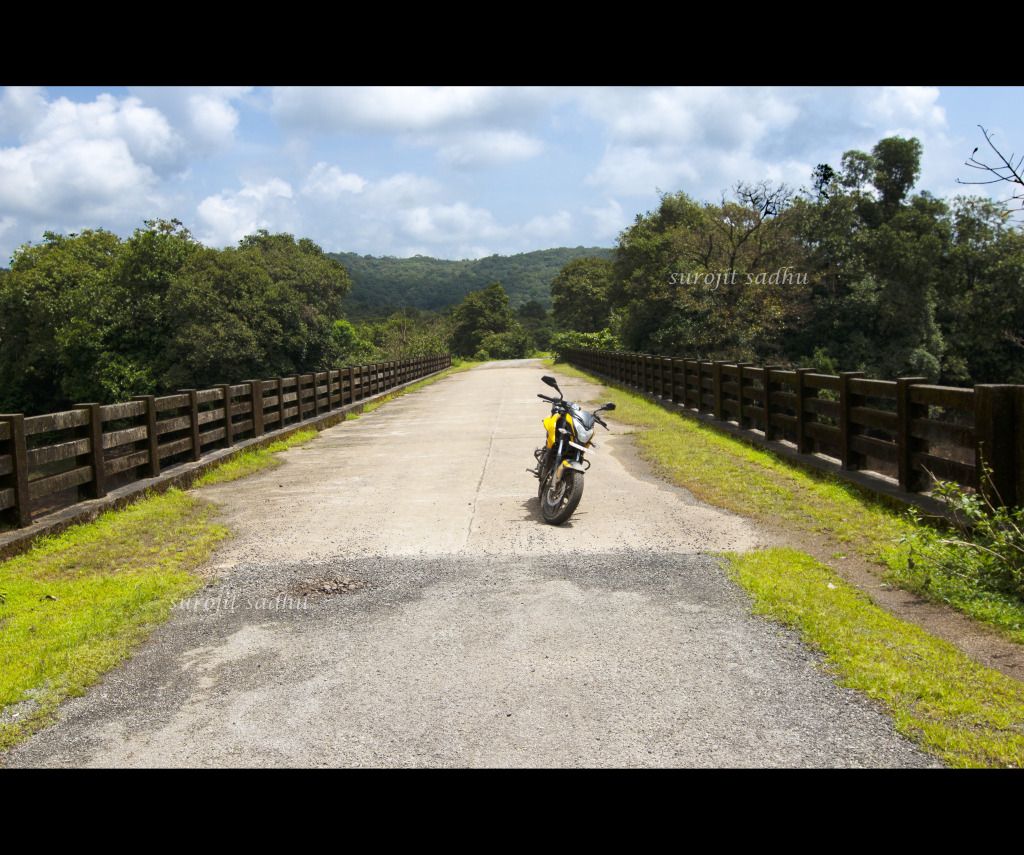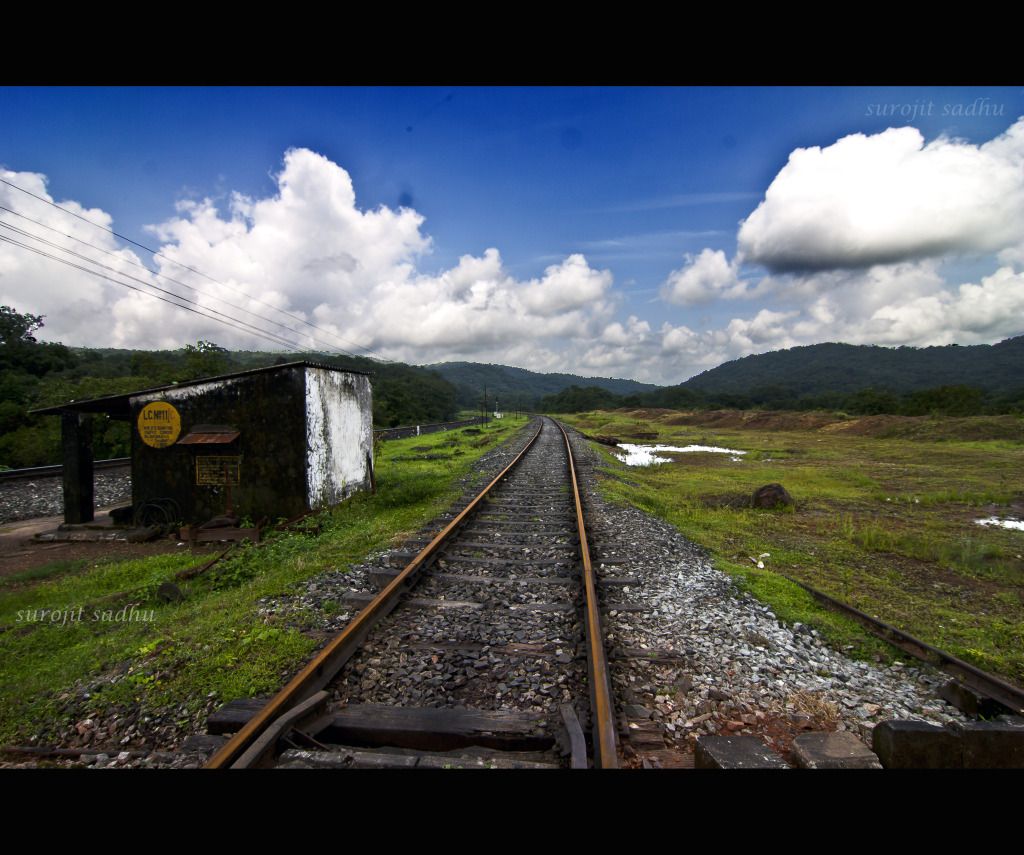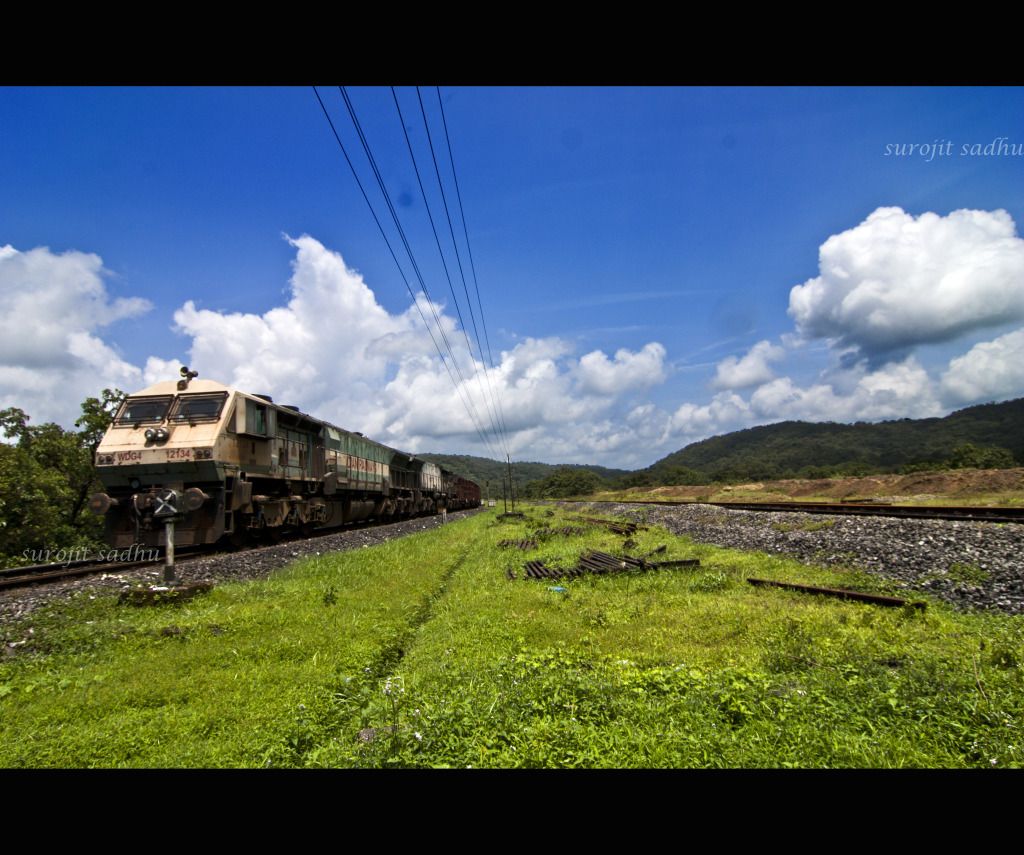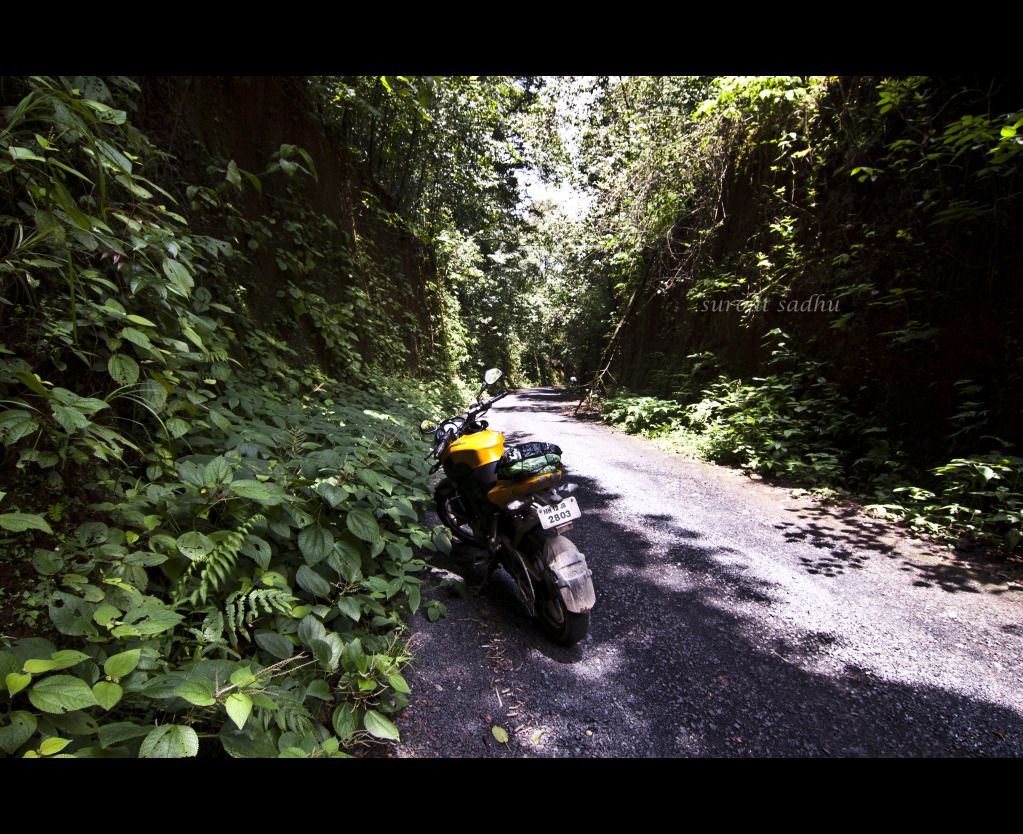 Soon I was on NH748, and the road threw some lovely twisties to me. I loved this part of the road, super smooth single-lane road. Just like a State highway. I reached Mulem at around at around 1:00 PM, and confirmed the route directions. I actually wanted to go to Palolem beach but nobody was able to direct me to that. Whomsoever I asked pointed me to Margao. So the decision was to reach Margao and then ask for directions.


Just a few Kms before Ponda, where the road converts to a 4-laned road, I stopped again and asked for directions for Margoan, and came to know that there is a shortcut also, which will help me avoid the Ponda-city traffic. The road was pretty bad for the first kilometre but after that it was as good as a highway. And most importantly it had very thin traffic, mostly trucks.

After joining NH566 I could see boards for Margaon, and was happy that I have come in time and would be able to take enough rest before I go out and shoot the sunset. I still wanted to go to Palolem beach, but then I started thinking that tomorrow, the last day, it will add up 40-50 kms more and somehow I didn't want to do that. On reaching Margaon, I stopped and asked a teenage guy about the nearest good beach and the distance to palolem. He said that don't go to Palolem if you just want to stay for the night, rather go to Colva beach, which is very near and good also. Then he gave me directions for the beach . On my way to the beach I again stopped and asked a local guy about an economical place to stay in Colva Beach. He suggested Jimmy's cottage, and told me to mention his name over there, he might give some more discounts.

After some more enquires I finally decided to go to Jimmy's cottage. I told them that I need the room, just for the night as I will be leaving early morning. They agreed at 500 INR, and I was happy to get a room for 500 INR in Goa. Paid them the full amount and went to my room. The room was a decent one again with clean bedsheets and bathroom. It was around 3:00 PM. Refreshed myself with a bath and then headed out for Lunch.
Had awesome prawns-curry and rice and came back to room and slept for around 30 mins. It was around 4:30 when I went to the beach. I had parked my bike in the common parking and was a bit worried about it. Even Jimmy's Cottage didn't have a safe parking, I had to park the bike in open air near the main gate, but the receptionist convinced that its 100% safe.

Rest of the story for can be recited by the pics I guess...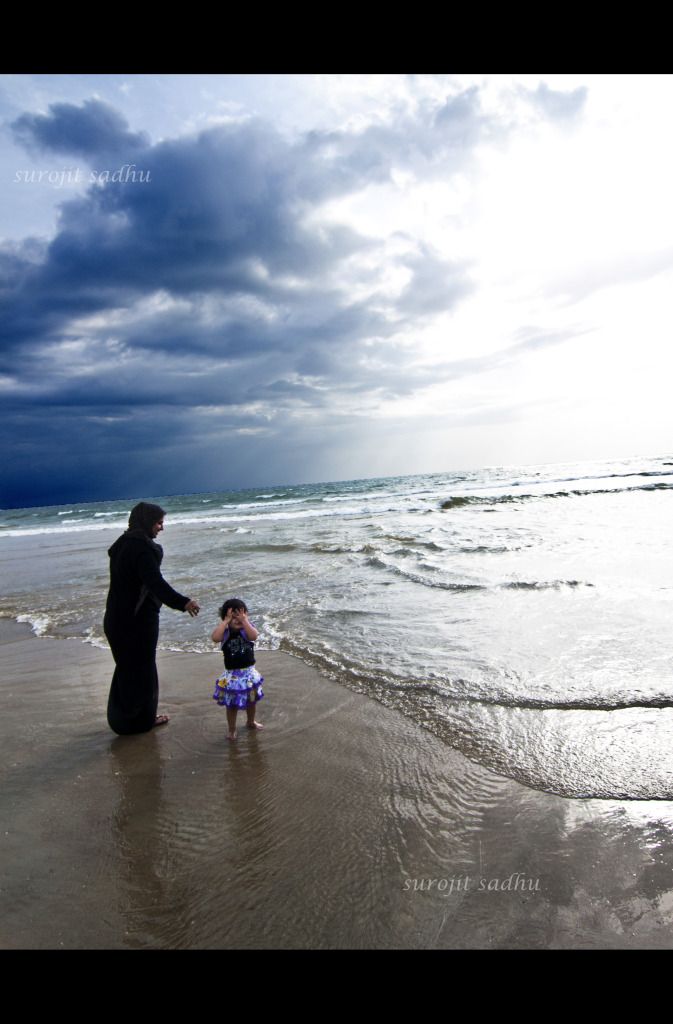 "Mommy, I m not in mood for a photoshoot right now....."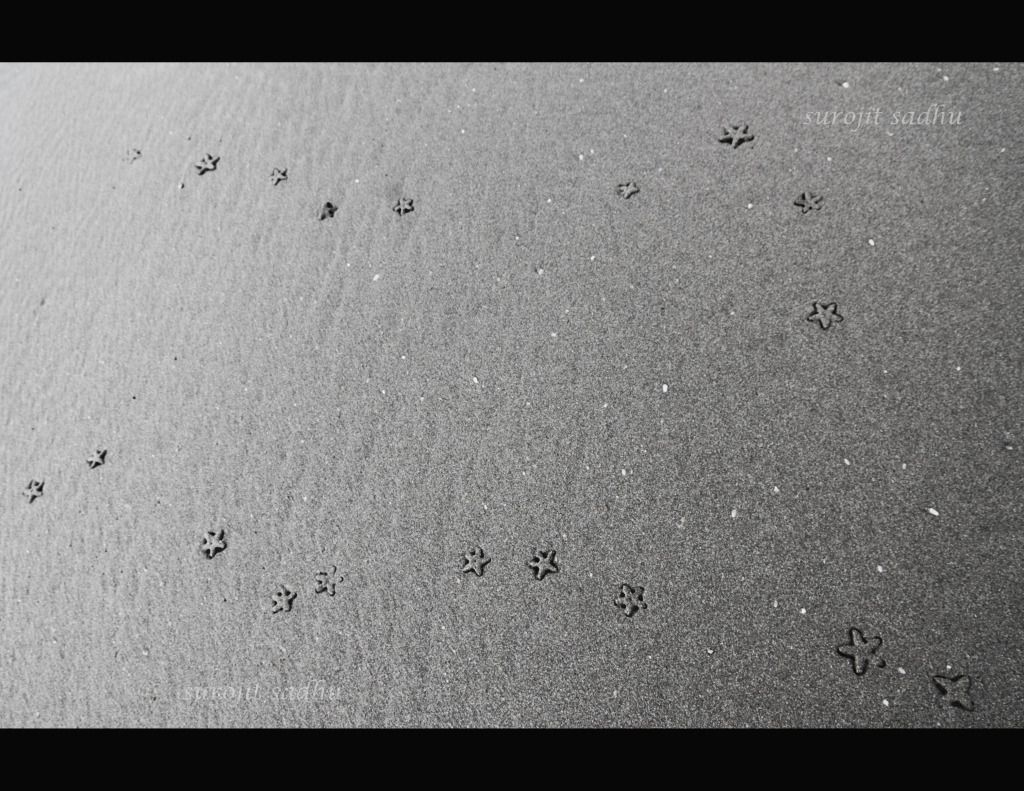 The star-studded Colva Beac, Goa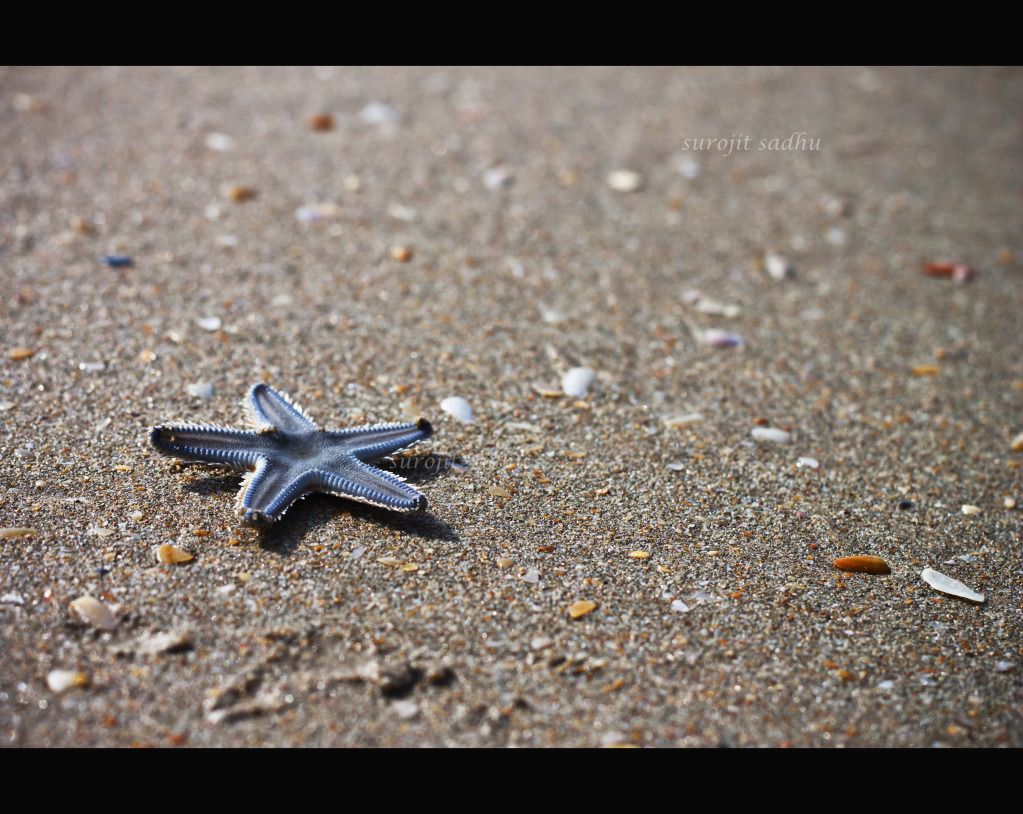 One of the many star-fishes lyin on the beach...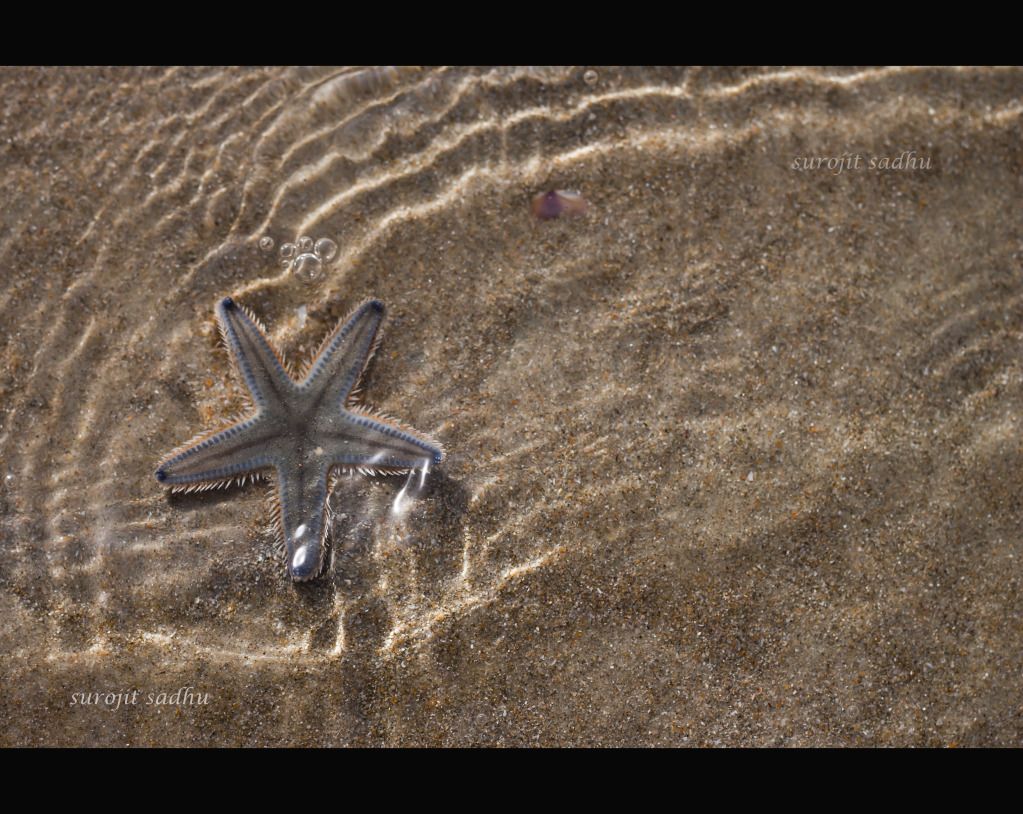 I was surprised to see so many star fishes on the beach, I don't know if they were alive or dead, but they surely kept my camera busy till the sunset.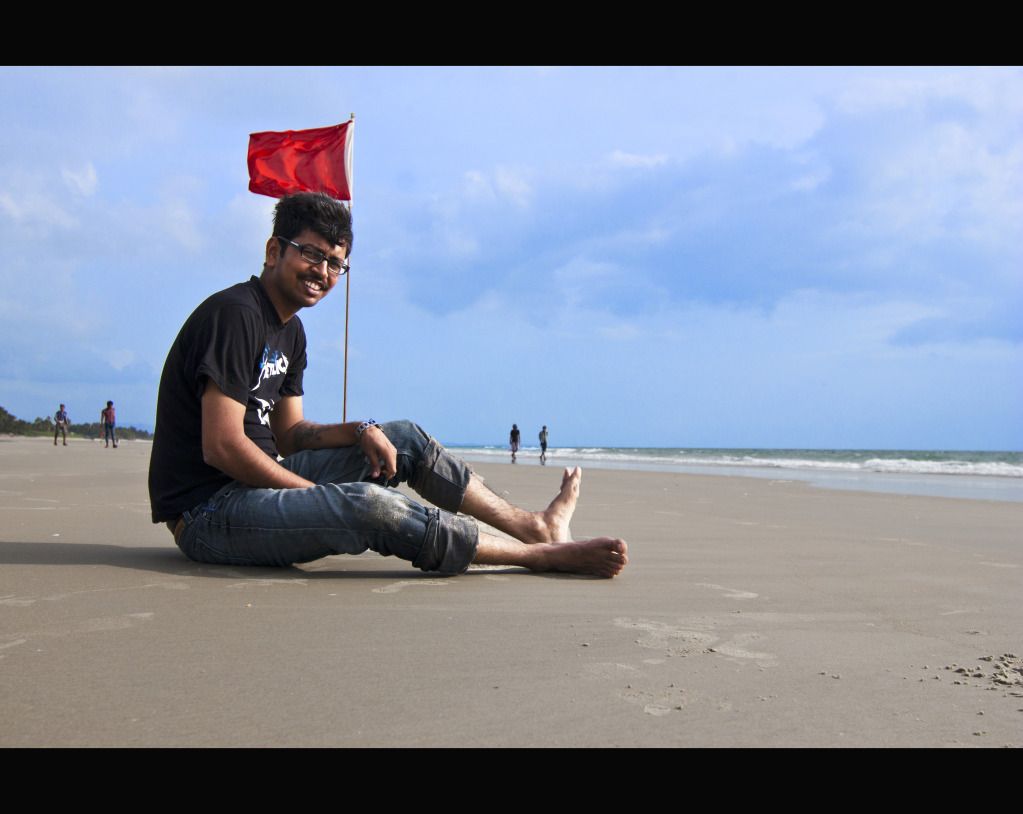 Did some self-portrait experiments also......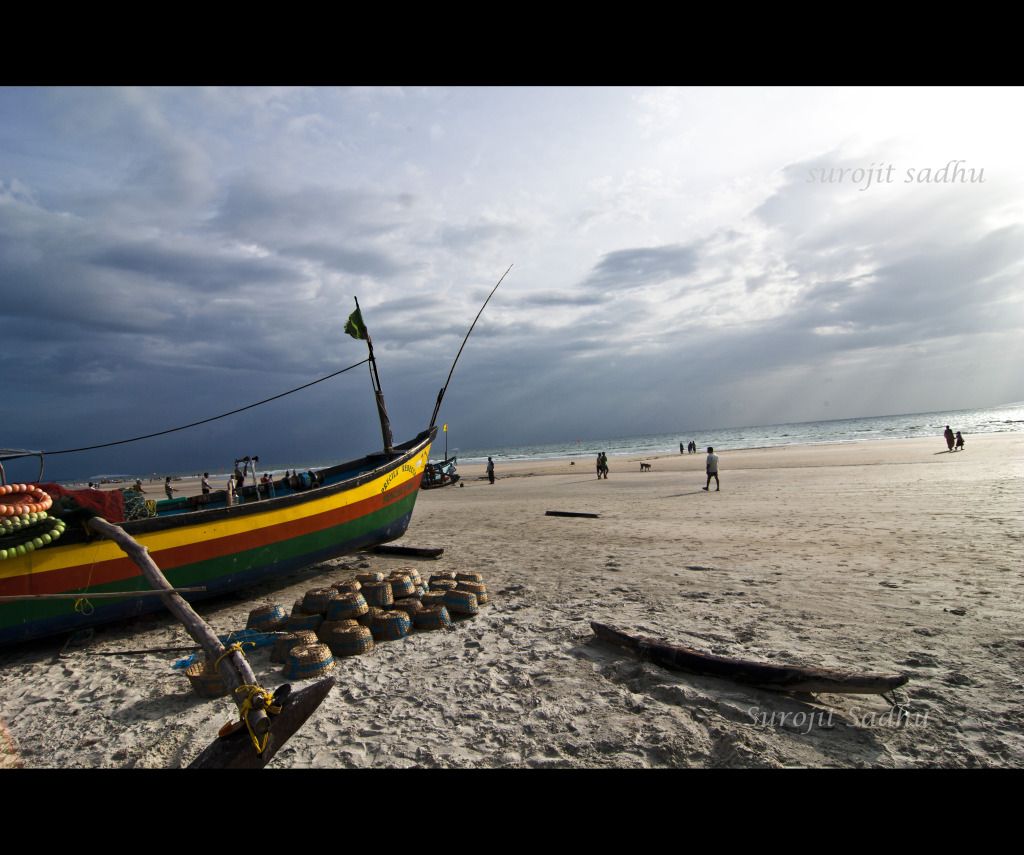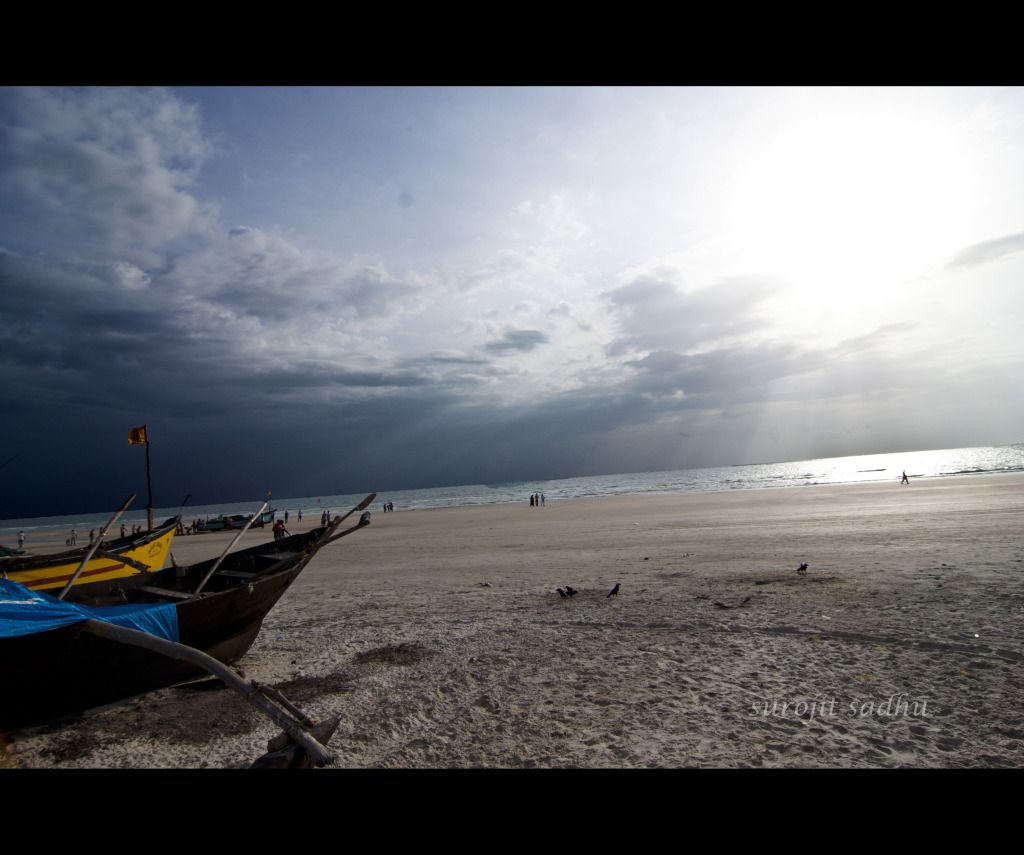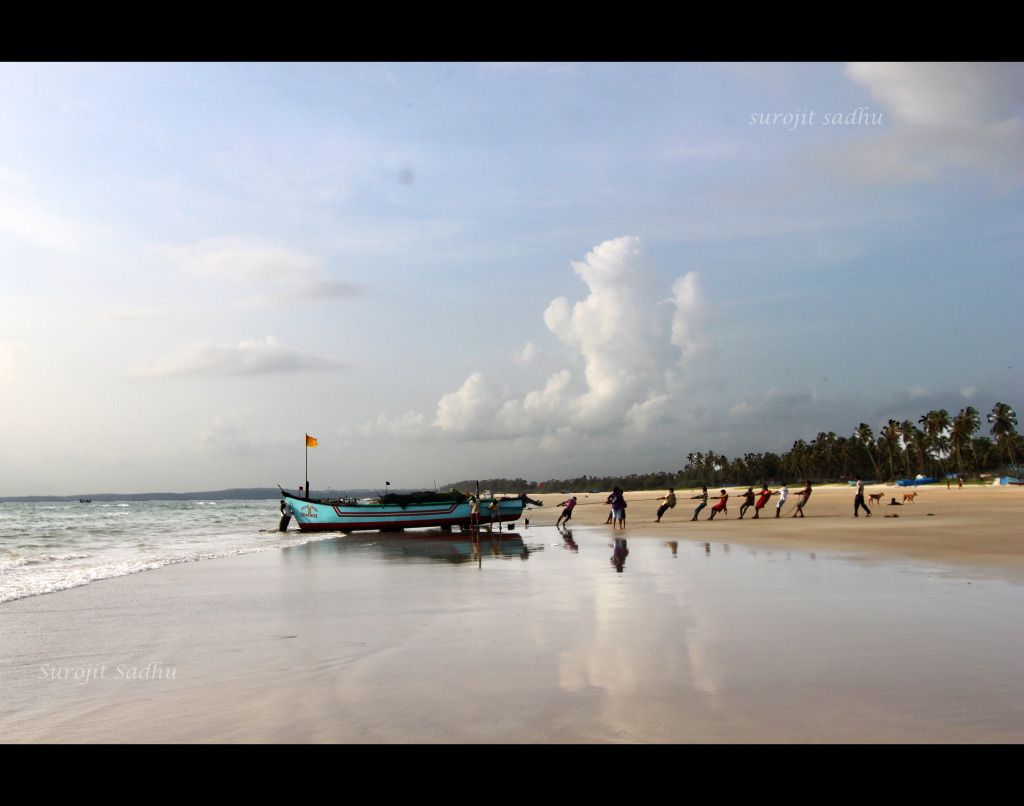 The boat had got stuck because the fishermen didn't return on proper time and the low tide had set in, so they were dragging the boat, clicked them and then joined them in dragging the boat, they were actually surprised to see a person with a big camera come and join them.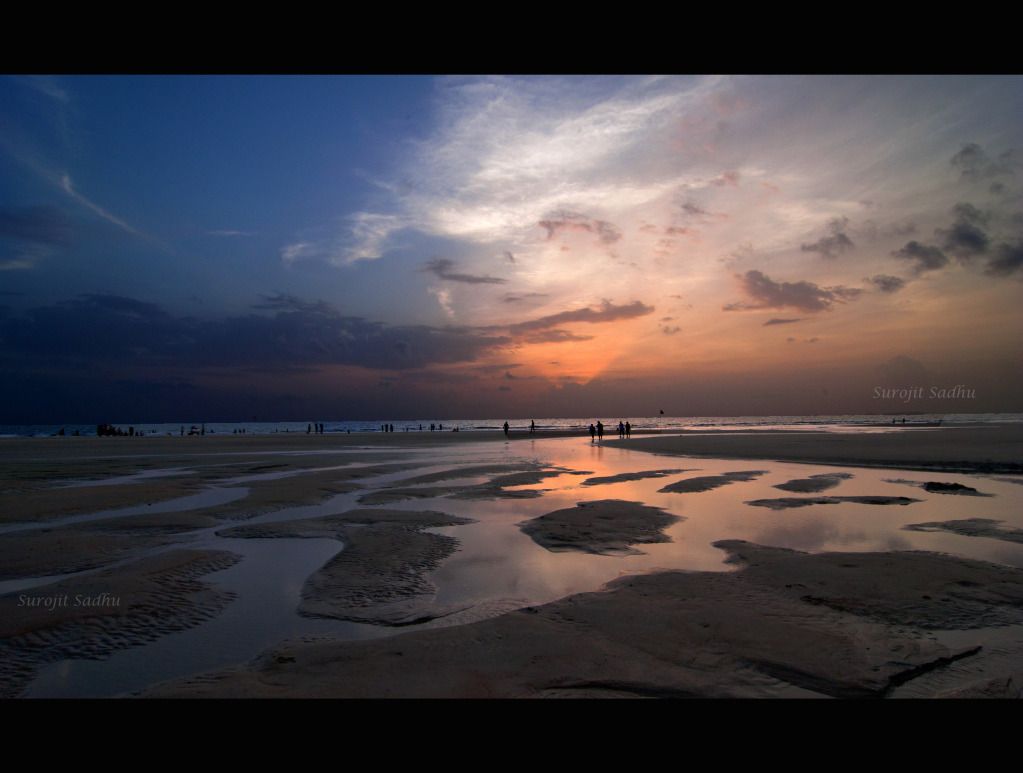 Finally after the sunset I decided to head back to my room and change and go to Margaon.
I realized that my bike's chain had become excessively loose and was making a bad noise, hence went to the nearest mechanic to get to fixed, but he refused to fix it as my bike didn't have a centre stand and he said that he would be unable to do so and directed me to another mechanic, who fixed it. Later I did some window shopping.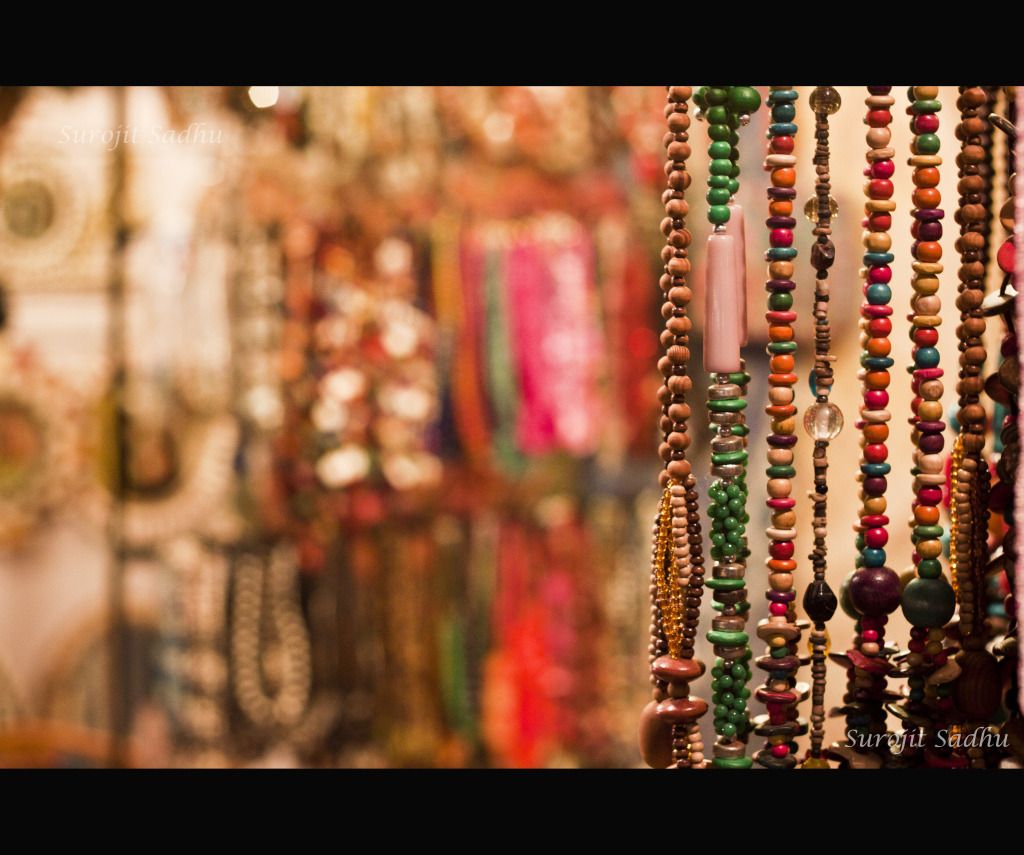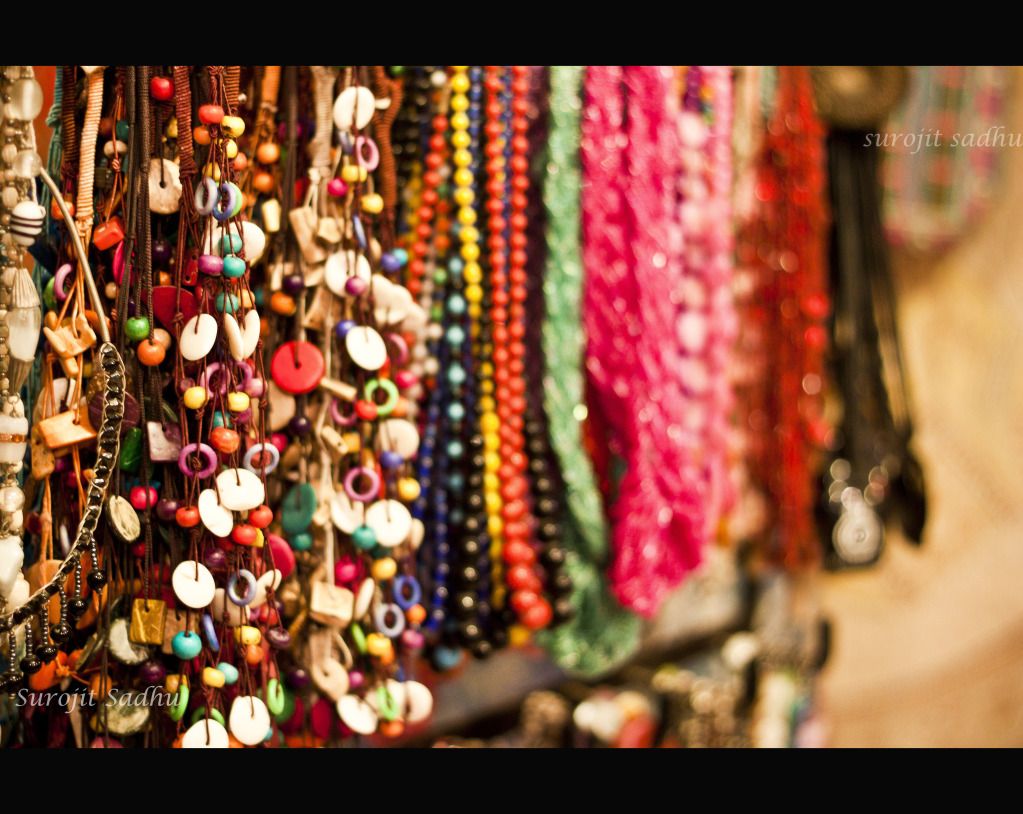 Then again had an awesome sea-food dinner and walked on the beach and went to sleep at around 12:30 in the night.

I was satisfied with the ride (~ 280 kms) and the pics for the day.
DAY 4: The 'Unexpected Sceneic' Return
Route map (Day 4)

Plan was to start for Goa at around 5:30 AM and reach Mumbai before 10:00 PM, however, nothing worked as per plan.
The day started really early for me, to be precise 3:30.

Reason: Mosquitos. There was a window in the room which was supposed to be shut all the time, but I was unaware of it and opened it before going to sleep. At around 2:30 AM, I could sense some insects biting me, I tried to ignore them and go back to sleep, as I knew that I have a long day ahead and I need proper rest for it. However things got out of control and I didn't get any sleep till 3:15 AM.
I decided to start riding without wasting time. I was on the saddle at 4:00 AM.I was pretty dark till then. I decided to ride slowly as I was not very sure of the route and had to locate the direction boards. After coming to Margaon I thought that I will ride through Ponda city as the route I had taken while coming to Colva Beach might not be safe at this hour. I don't know what struck me, despite deciding against it, I took the same route that avoids Ponda city. I came to a junction, which I hadn't noticed while going to Colva, now I was confused which out of the four roads was the correct one. At this hour it was difficult to find a person who could have guided me. I then took out my mobile and switched on the GPS, it showed me a direction, but thanks to my superb direction-sense I ended up in someone's house, took a U-turn and came back to the same junction. This time I found a person, probably a truck driver and asked him directions for Belgaum.

He gave me proper detailed directions and also told me about a shortcut after the Goa border. I was riding very very slow, I was mostly doing 50-60 kmph since the start, probably because the road was completely new to me and I was a bit apprehensive about it. The atmosphere was very spooky, not even a single soul around. It was around 5:15 AM when I joined NH748.

I was very hungry by now, as I didn't have anything since morning and started to look for some eatery en route. Not even a single shop was open at this hour. The hunger kept on increasing but having no choice I kept moving ahead, stopped once for a photo break.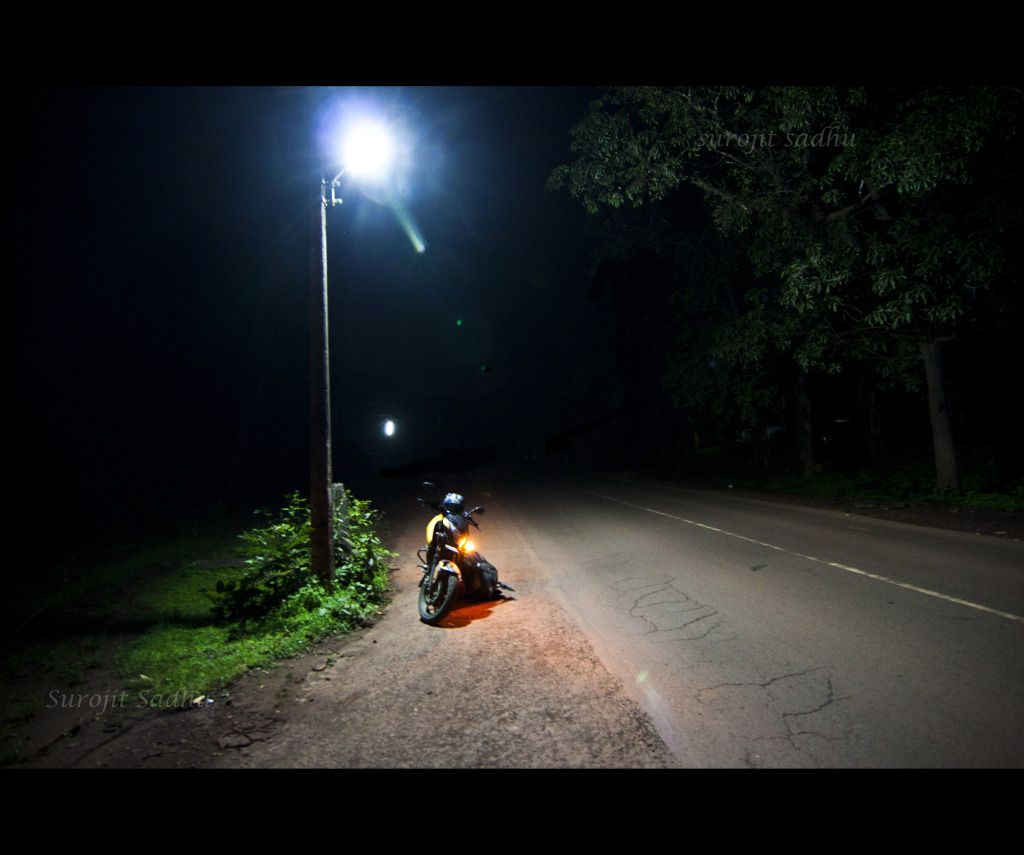 The well lit but desolate roads...

Upon joining the NH748 things had started to get better, I could see other vehicles on the road. The milestones suggested that Mulem was the next big town. I decided to rush to Mulem, hoping that it would have some shops open and would offer me an opportunity to fill my empty stomach. By the time I reached Mulem it was around 6:00 and it was still dark and foggy. A few meters ahead I noticed lots of cars and bikes parked alongside the road and lots of people walking around. Upon reaching there I saw that there was a tea stall, which was stocked with biscuits and tea. Without thinking for even a split second I parked my bike and went in there. I repeat I was damn hungry, I ignored the strange looks others were throwing at me, courtesy the yellow bike and riding gear, I ordered a packet of good day biscuits and tea, I guess it devoured them within a couple of mins and the other people again started looking at me. I ordered one more round and then decided to move ahead. Luckily things were falling in place now, I had filled my empty stomach and the streets were now filled with daylight. I knew that I have already wasted a lot of time (as per my one km per minute calculation) and now the plan was to cover up some distance quickly.

I could see some boards showing directions to "Mulem National Park" but give the speeds I was doing I wasn't left with much choice other than riding. The road soon turned into a wonderful series of bends and I got a feeling that I have to stop again for some clicks... I stopped once to click the turns in the road and then moved ahead, soon after a couple of kms, I noticed something on my right and I just couldn't believe my eyes. I was like "FCUK, this is awesome, it can't get any better" I had to stop, parked my bike at the edge of the road and pulled out my camera and clicked this: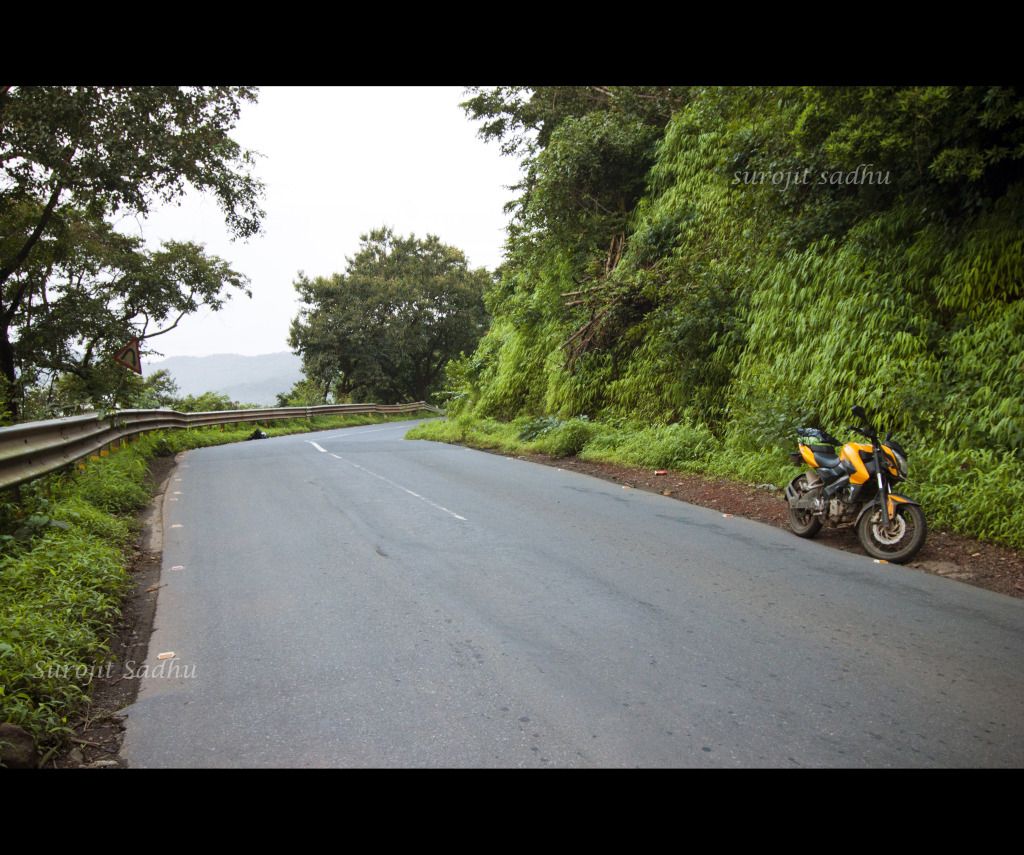 But I wasn't satisfied with the capture and started walking back and forth for a better viewpoint, but alas there was none. I again geared up and started moving at speeds less than 10 kmph, as I was hardly able to focus on the road. Again after a hundred meter I found another spot but couldn't capture anything worthwhile. I moved ahead and then found the actual viewpoint. It was truly one of the bestest sights I have ever seen, the huge mountains covered with clouds and I was above them. It was a sight to behold. I made futile attempts to capture the view in camera. This is all I could get.
A HDR of the scenic view

After a few mins I came back to reality and saw two tucks drivers washing their trucks there. I enquired about the route, they said 'if you want to go to Belgaum don't take this highway, immediately after the border check post, you will find a small road on your left where nobody will be going, take that route, that is shorter and much more better than the highway, and since you are on bike you will have no issues on that road. The highway is nowadays littered with potholes and you have heavy traffic'.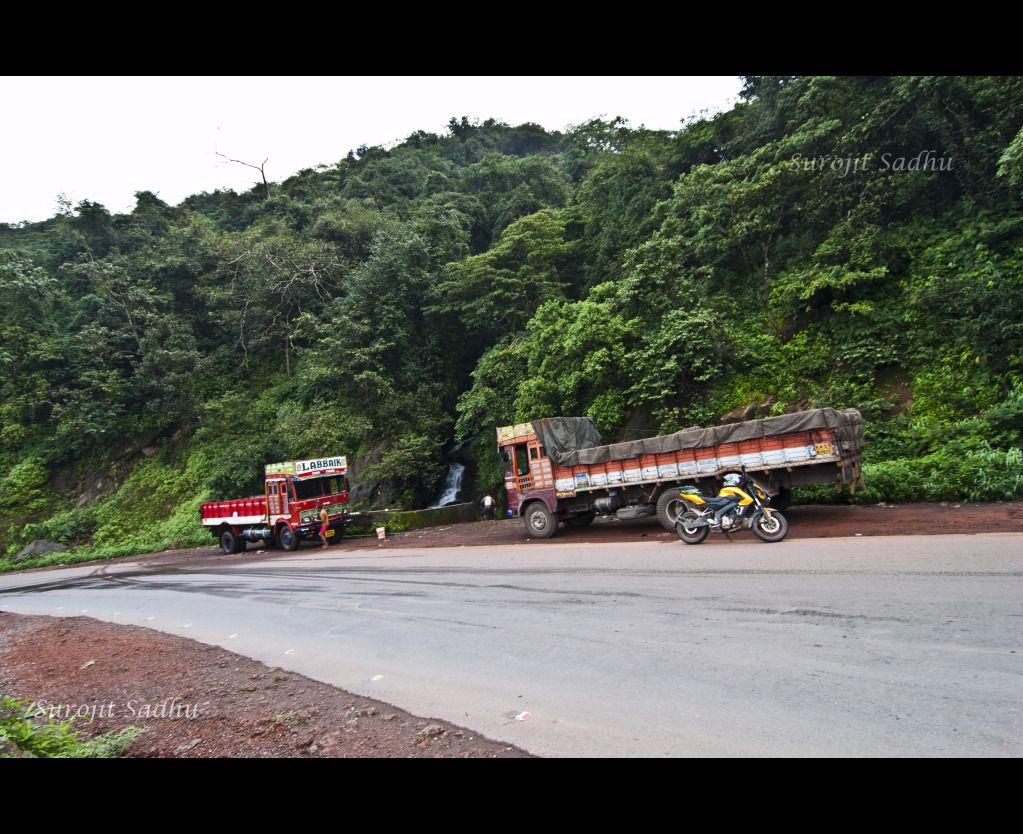 Thanked them for their advice and moved ahead. This road was supposed to take me to Khanapur form where I would join the NH748 again and head to Belgaum.

It was already 7:40 AM and I had hardly covered any distance.I started to increase my speed and tackle the corners at good speeds, but soon I had to stop as I had reached the Goa-Karnataka border and the cop indicated me to stop.

Cop: How many bottles are you carrying?
Me: bottles?
Cop: bottles of alcohol.
Me: none
Cop: park you bike and open your bag.
Me: Sir I have packed it with great difficulty, and trust me I don't have any bottles.

He didn't listen to me and I had to open up my bag to make his believe me.
Before leaving I said "thanks for wasting 20 precious minutes of mine"


As directed by the truck drivers I took the road on the left. The road was not in very good condition, but it made me happy. It was a desolate road, no vehicles around, and yes no tarmac for the first few kms. Stopped for a photo break and then moved ahead.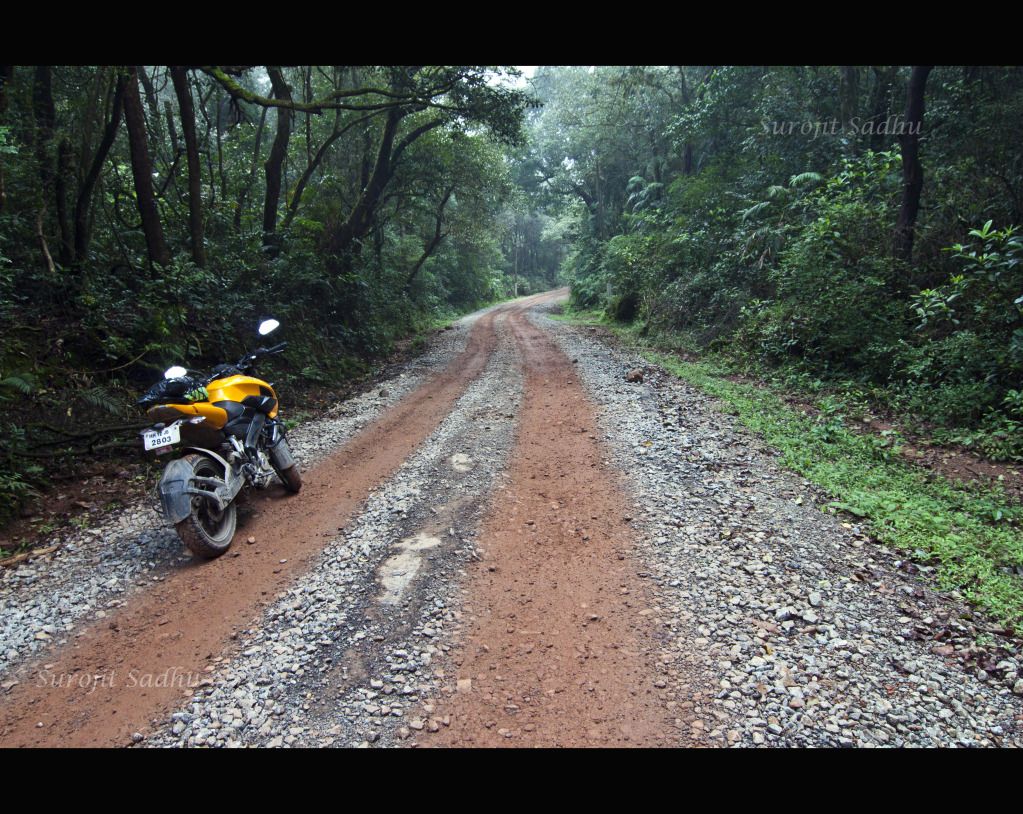 The road was really amazing, after a few kms of gravel-ish road it turned into smooth tarmac. I was easily doing 100-120 kmph again. This was the first time in the day that I was doing such speeds. But Nature had other plans. I soon came to a point where there were green probably-rice fields on both sides, and the fields were barricaded with a fence. I pulled out my camera bag and started clicking. Saw a villager coming asked for his permission and clicked him also. After clicking showed him the snap and boy he was elated.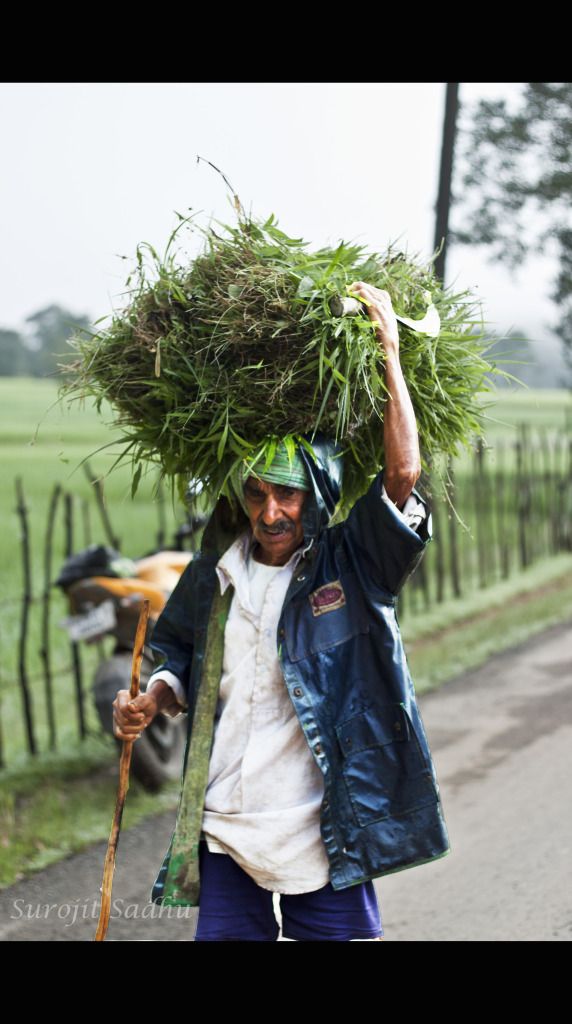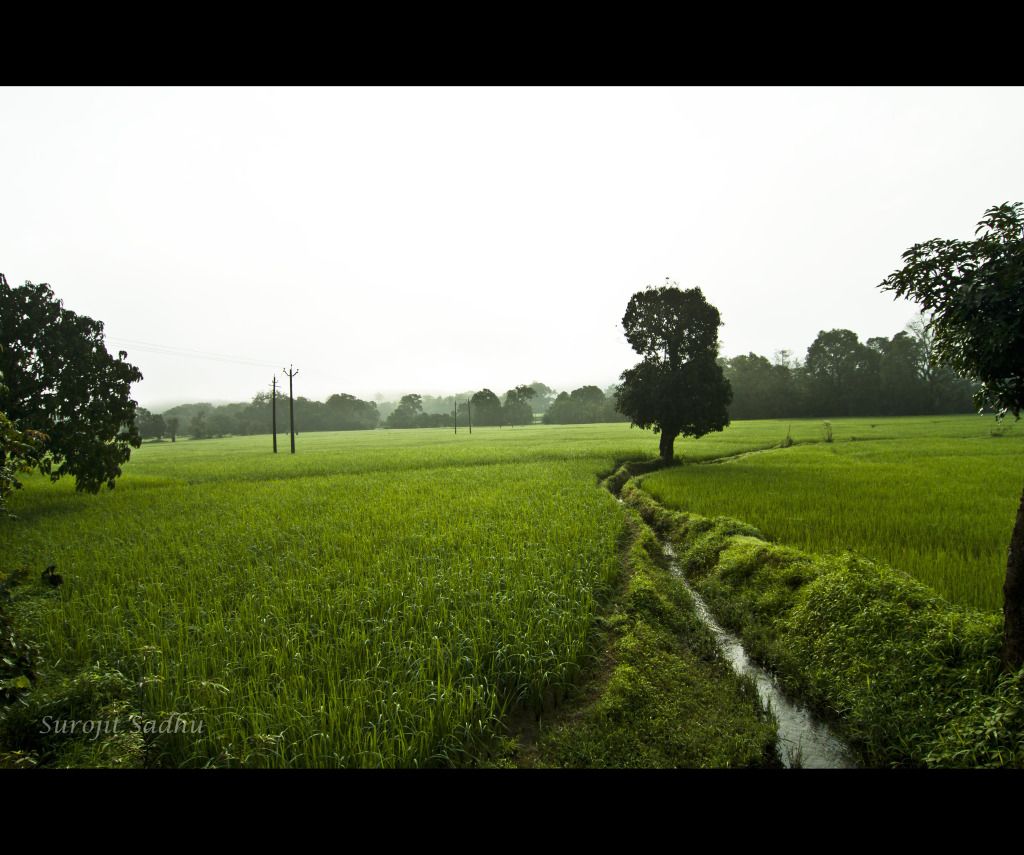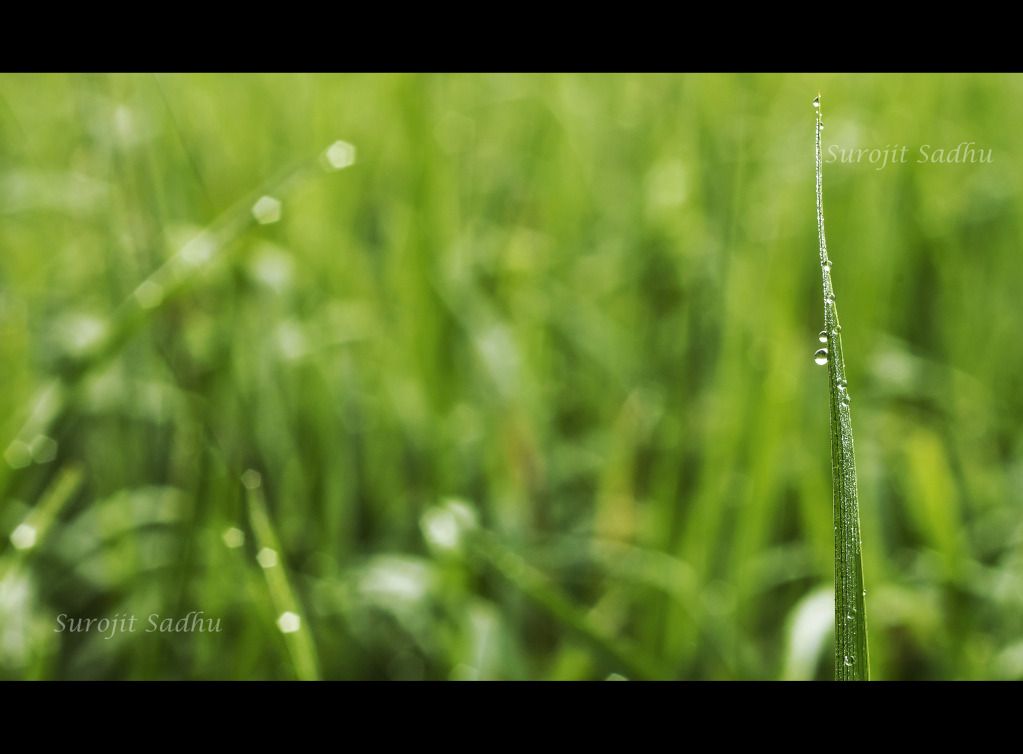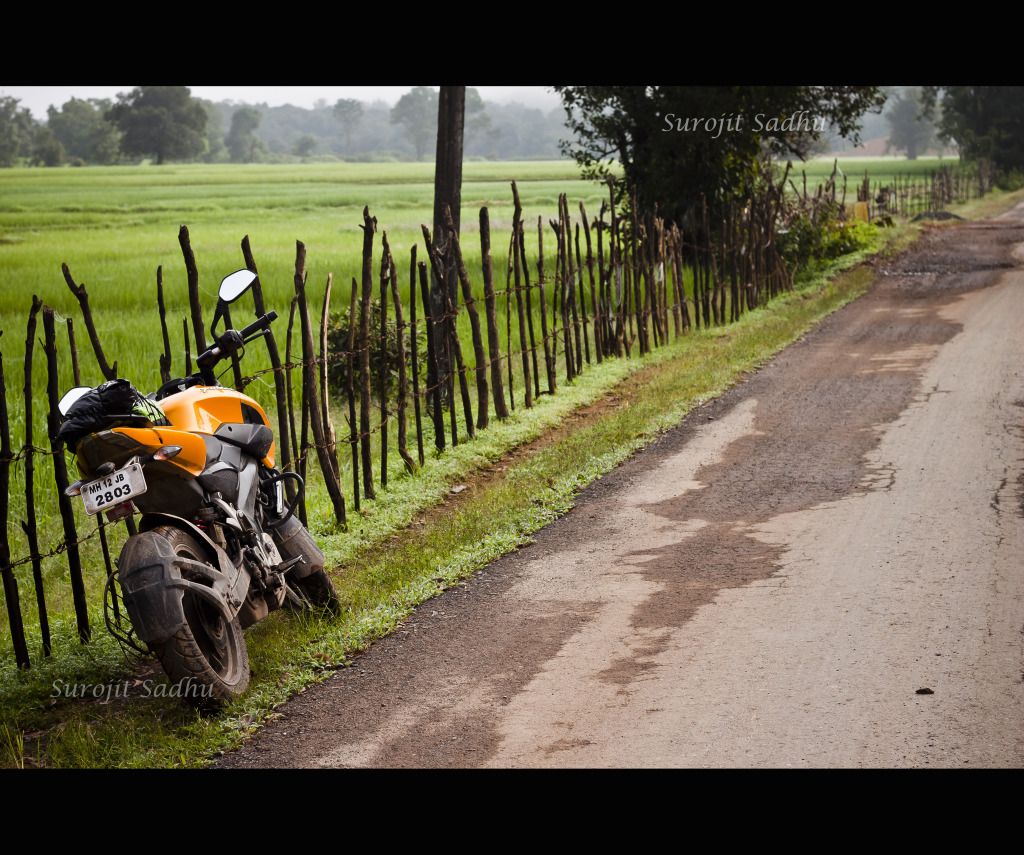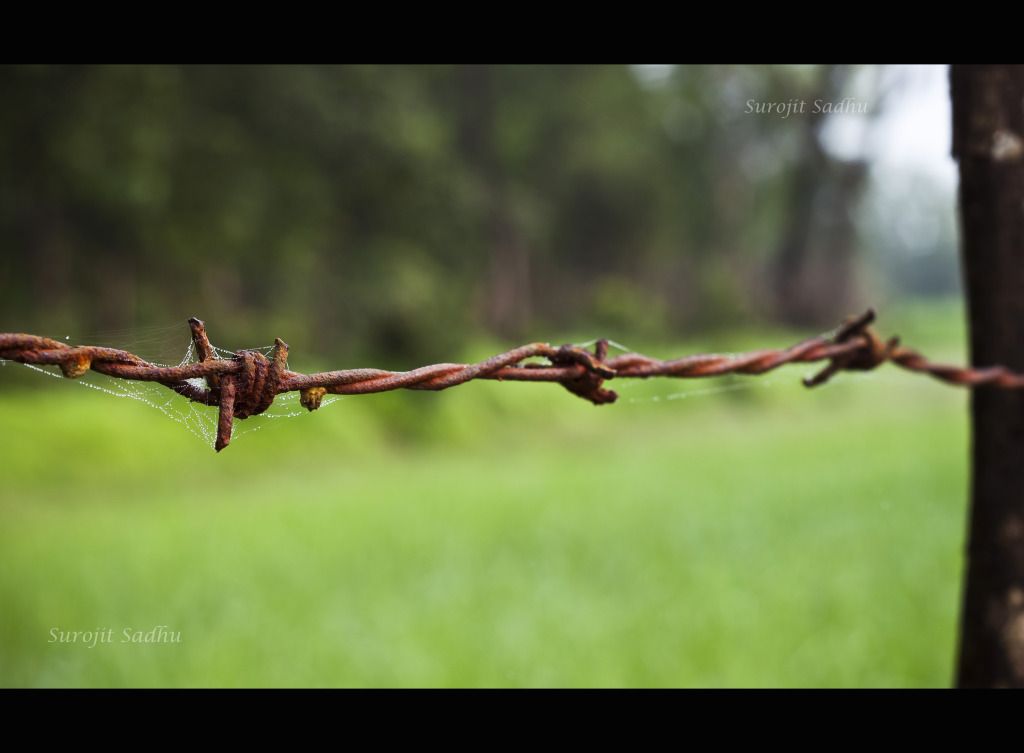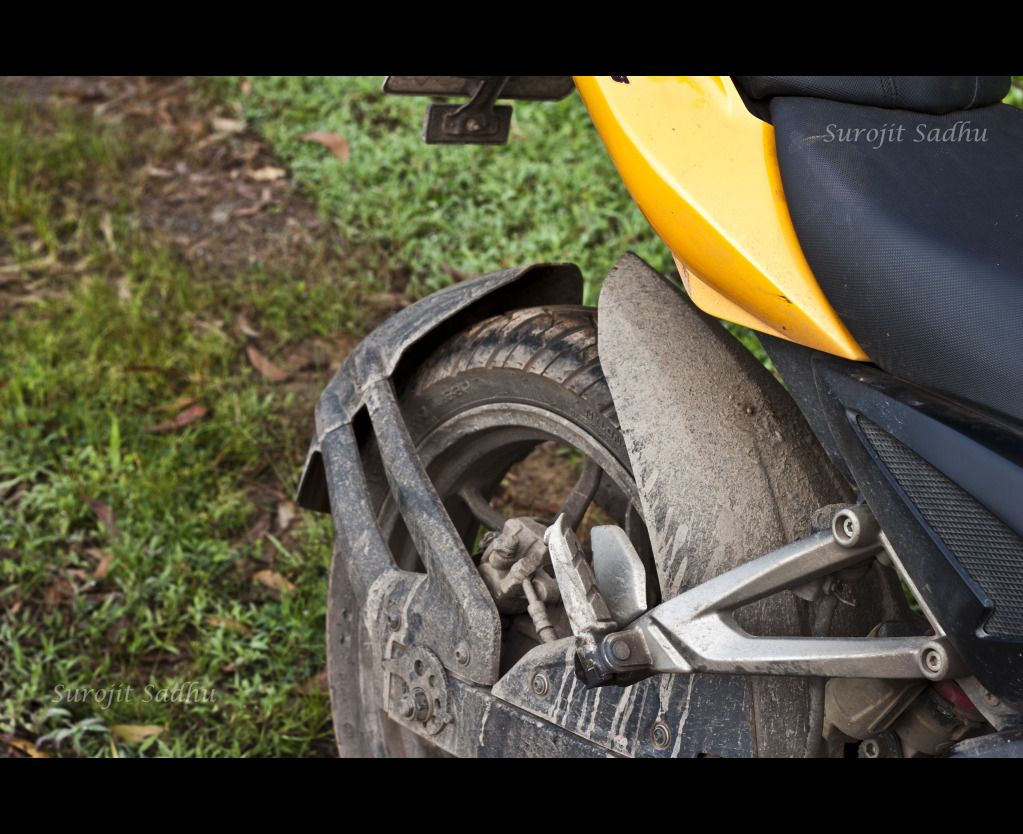 Finally I was happy that I could click a good pic of the spider web... this was a dream pic for me...


I was standing at the same spot for about 45 mins, trying to get some good shots, when suddenly my inner voice said "sir you have to reach Mumbai also and you have done hardly 100 kms in ~270 mins. I then decide that I won't stop any more till I reach Khanapur. I started riding at good speeds again. I repeat, I love riding through forest roads, roads having thick canopy on both sides. After 7-8 kms the road again started to get bad, I didn't mind it though, as along with bad road came another spot where Nature forced me to stop and make another fruitless attempt to capture its beauty in the camera sensor. Nevertheless I clicked a few, this one is one of them. I wish the pic could tell you guys what the place actually looked like.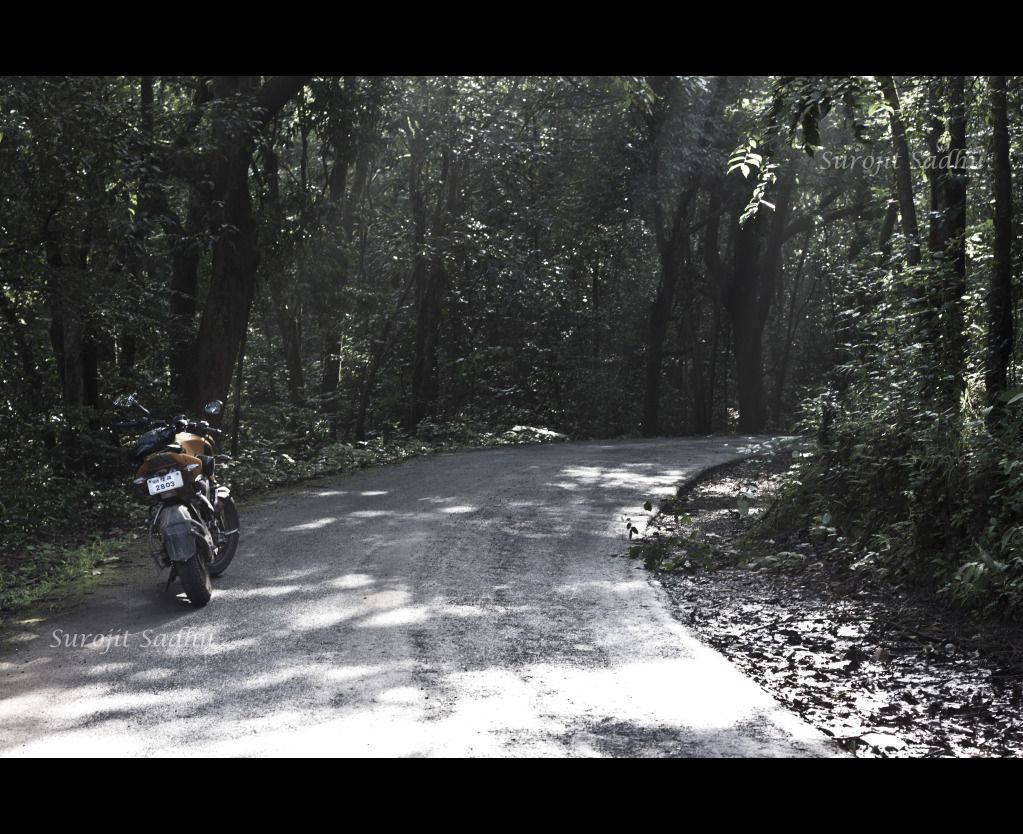 The roads after this point were good till the gate of 'Bhimagad Wildlife Sanctuary' and allowed me to cover the distance very quickly. I crossed a couple of points where a handful of people were waiting for some mode of commute, may be a bus or something. This made me think, we get all the facilities in city, we have trains, buses, cars, etc etc, and just imagine about these people, they have a couple of buses from the govt. serving their daily commuting needs. Hard life I must say.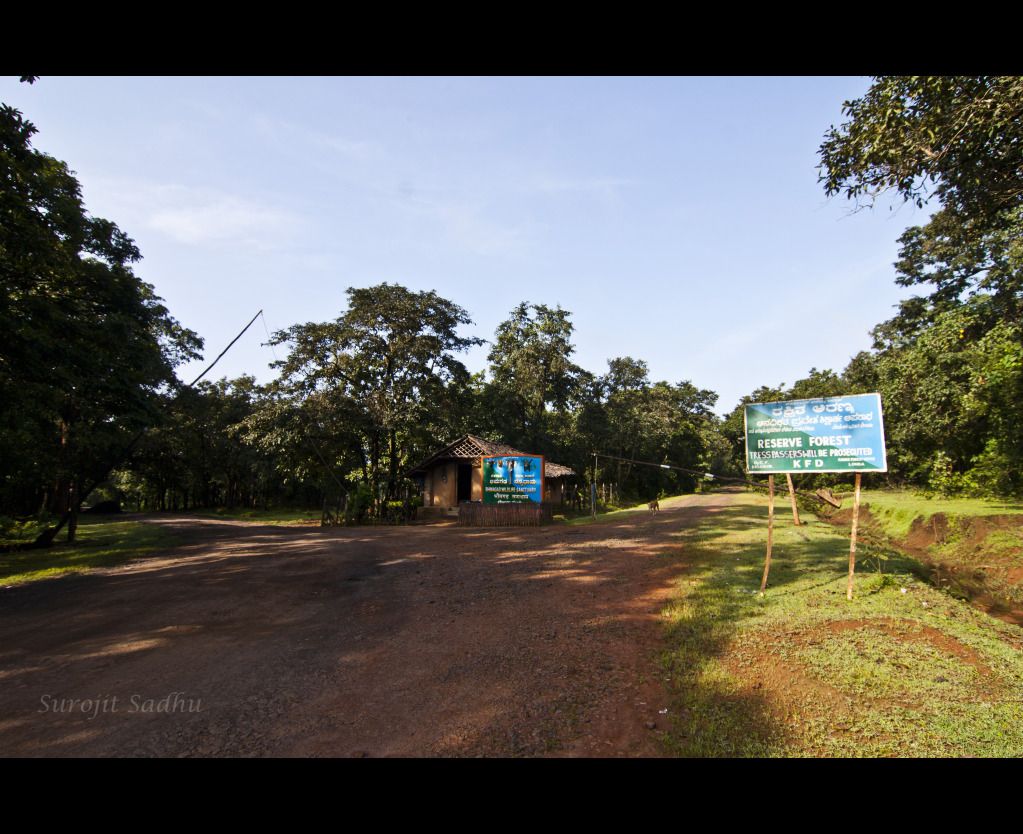 I reached gate of 'Bhimagad Wildlife Sanctuary' at around 8:45 AM. The roads ahead of this were really bad, well most of us would say so.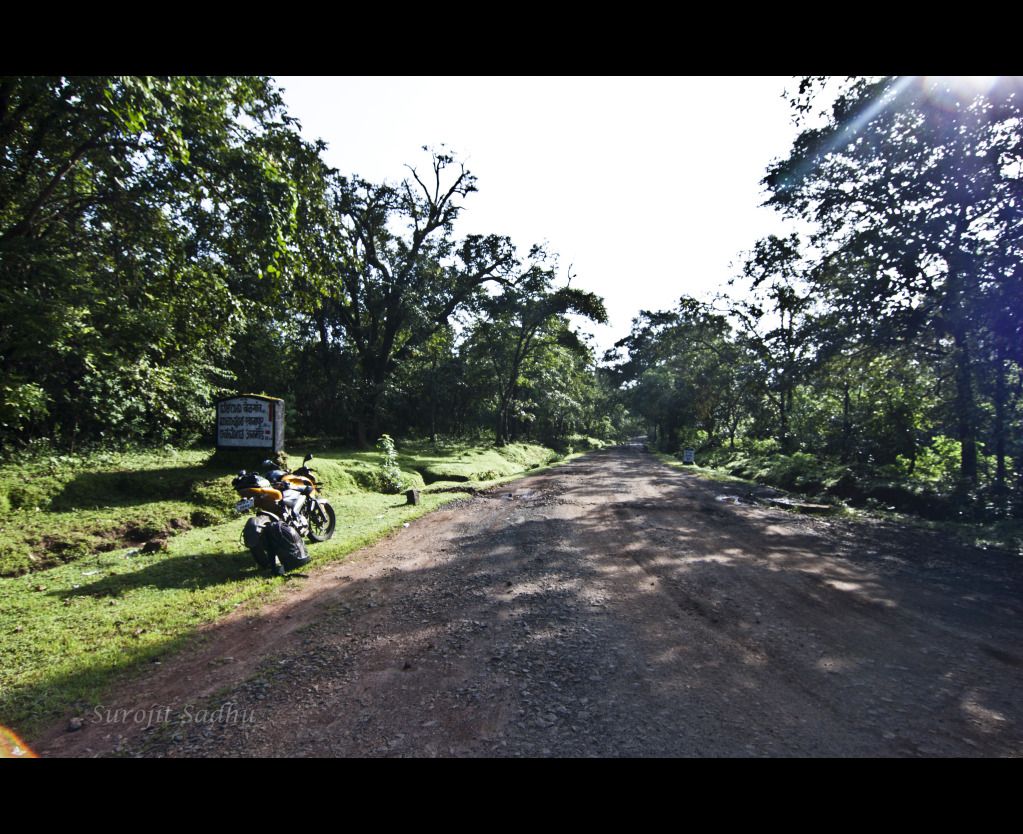 Now the board says that Belgaum is 47 kms from here. That means starting at 4:00 AM I had covered a total of 100 kms in 5 hours i.e. 300 mins, an average speed of 20 kmph. I now knew that I will be super late than my plan. Then I decided that I will not take any breaks till Belgaum, apart from asking directions, and ride as fast as possible depending on the road condition. I reached Belgaum at around 9:50 AM and after confirming the directions I joined NH4. This was such a relief for me. Now I knew that I can make up the lost time. Atleast I can make my average speed 35 kmph for the entire return trip. Within some time I started feeling hungry, so I stopped at the road-side dhaba "SriRam Dhaba" near Ghatprabha reservoir. It was around 25 kms from Belgaum.

The kitchen didn't at all make me comfortable, but still I decided to have something over there and then ride back home. Even the jugs were chained to the table. After having puri-bhajji and a 500 ml of thumbs up. I thought of clicking some pics as these would most probably be the last pics of the trip.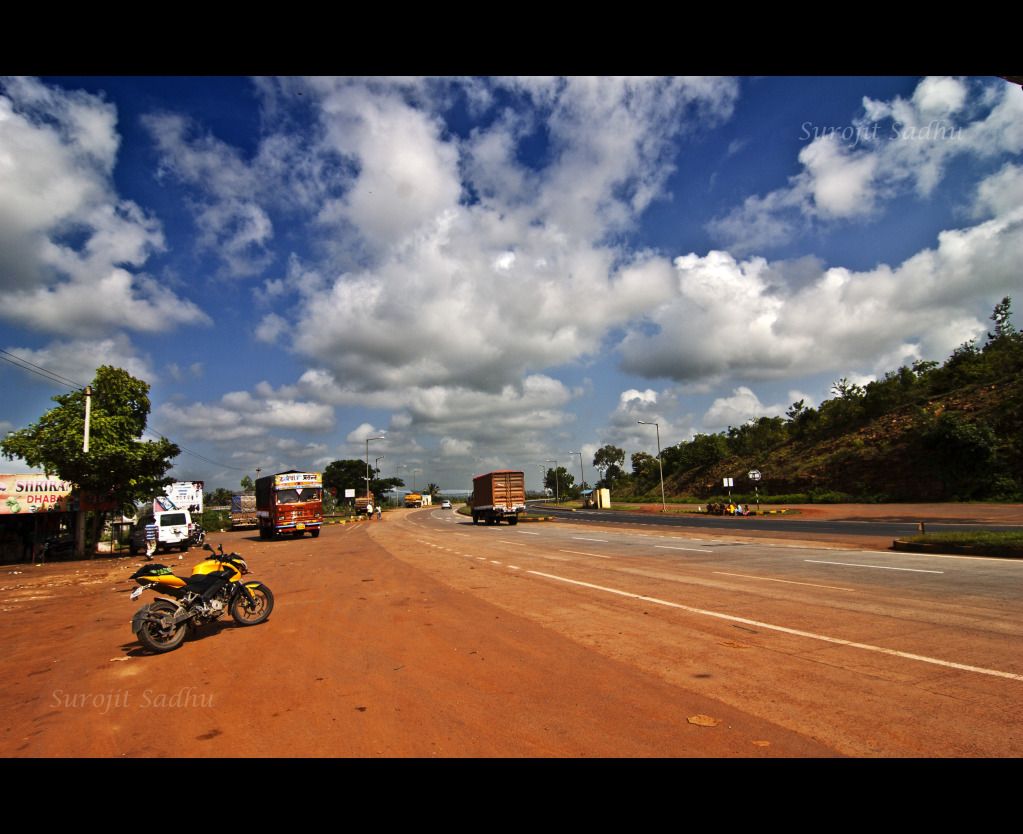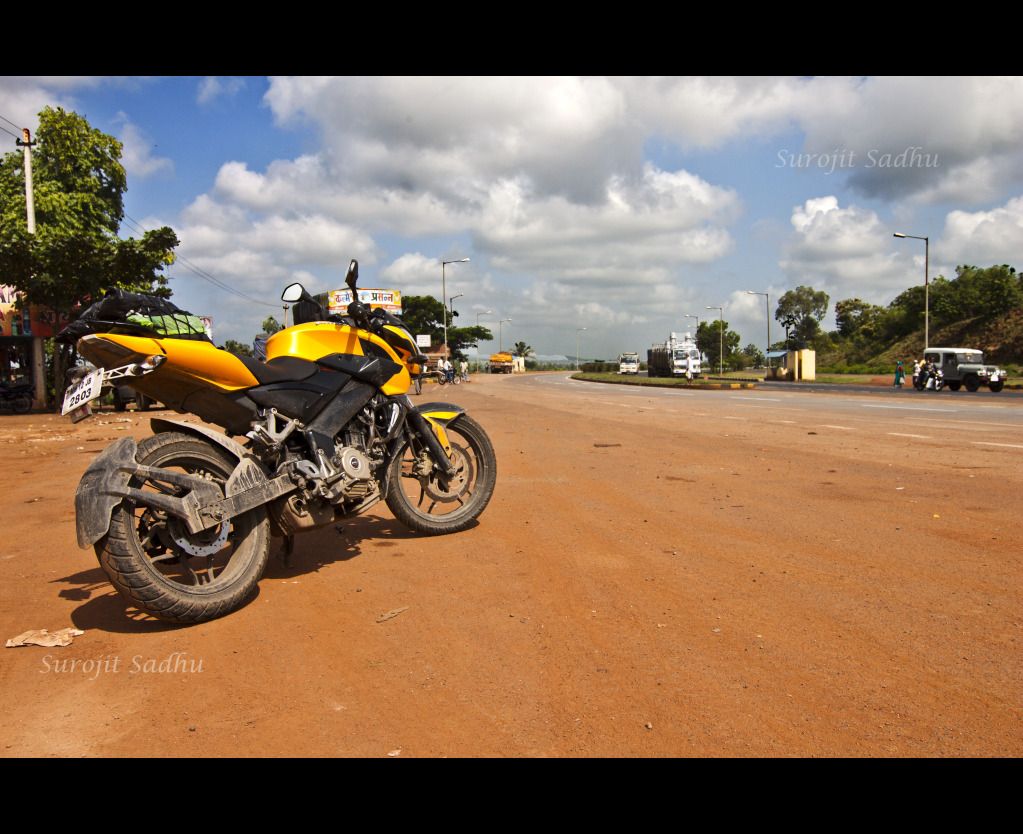 I started back at around 10:15 AM and was instantaneously doing 120+ kmph, hats off to the Pulsar NS, it is super fast while accelerating. Now the plan was to ride continuously. I had to drop the plan within the next 10-15 mins as I started feeling sleepy, thanks to the enormous amount of sleep I had last night. Decided not to take any chances, stopped my bike and spotted a small tree with a good layer of grass underneath it, yeah that was my bed, decided to take a power nap, as that was the best solution I could think of. I was not sure how far would I need to go for a coffee shop, hence power nap it was. A villager came and asked me what am I trying to do , I just said that I need some sleep. Strapped my bag and helmet to my leg and went to sleep. I guess I needed it badly as I didn't even realize how quickly I went into deep sleep. Soon I woke up and saw it was already 10:45 AM. So I had a good sleep of about 10-15 mins. I was feeling very refreshed.

Plan was to utilize this fresh energy and ride as far as possible before the next break. Started off quickly.

10:55 A.M. : I saw a milestone Pune – 275 kms. I kept doing 1205+ kmph continuously, and decided not to stop before 100 kms. I kept pushing myself. After about 110 kms the low-fuel indicator started glowing, I pulled over at the nearest petrol pump and tanked up and started again. I was just the road and me and noting else mattered. I kept on telling myself that lets ride a bit more cross Karad, then will stop. Crossed Karad, then I told myself that lets cross Satara and then stop for lunch.

1:00 P.M. : I saw a milestone Pune – 90 kms. I was happy with the speed I had covered the distance, so decided to slow down a bit. For the next 10-20 mins I was doing sub 120 kmph speeds.

Soon I realized that I will be home even before sunset. It was a good feeling. I stopped for lunch after Surur. I knew I would be riding fast as the roads were very well known to me from this point. Took atleast a 60 min lunch break, got rid of the tiredness that had crept into me. Refuelled at the nesrest petrol bunk and started the final leg of my journey, plan was to take the next break after Dehu-road. This part as usual was uneventful and boring. I was lucky that I didn't get much traffic I guess if I woyld have been on the same stretch at around 5:00 PM things would have been completely different. I however took a break after about 40 kms to release the pressure of my urinary bladder.

As mentioned before the roads were pretty well know to me and once I neared Pune, I recollected the oops moment of Day 1 and said to myself ' no matter what happens, you are going to ride slow in the diversions'.

I do Pune- Mumbai almost every weekend, hence didn't stop at Lonavala also, headed home directly. I kept on lowering the speed as I came closer to my destination, I had a fantastic, safe ride till now, didn't want to ruin it now. I guess I was home by around 6:10 PM.

The ride ended, but even after parking my bike, I didn't feel like getting off it. It felt like as if it was just yesterday when I started the journey, I was so apprehensive about it, and now after ~1870 kms I was still hungry for more. But I had to stay happy with what I got.

I would really thank Bajaj for the Pulsar 200NS. It was rock stable during the entire ride, the handling inspires confidence and blah blah blah... :P
I learnt a lot of things from the ride, learnings that will make me a better rider for sure...

Sometimes we underestimate ourselves, sometimes we need to throw away our inhibitions, sometimes we need to do something that makes us believe ' yes I can do it', sometimes we need to take paths that others don't , sometimes we need to thank ourselves for taking those paths, sometimes all we need to do is trust our machines, sometimes we just need to become one with the machine and the road, sometimes we just need to let ourselves free and lets our minds wander, wandering that is not limited by any physical limitation.

Would like to end the log by quoting James and Lars from Metallica \m/


And the road becomes my bride
I have stripped of all but pride
So in her I do confide
And she keeps me satisfied
Gives me all I need

And with dust in throat I crave
Only knowledge will I save
To the game you stay a slave

Rover, wanderer
Nomad, vagabond
Call me what you will

But I'll take my time anywhere
Free to speak my mind anywhere
And I'll redefine anywhere

Anywhere I roam
Where I lay my head is home


See you soon with may be another solo triplog
Cheers...